HU Ag Receives Swine Booster Support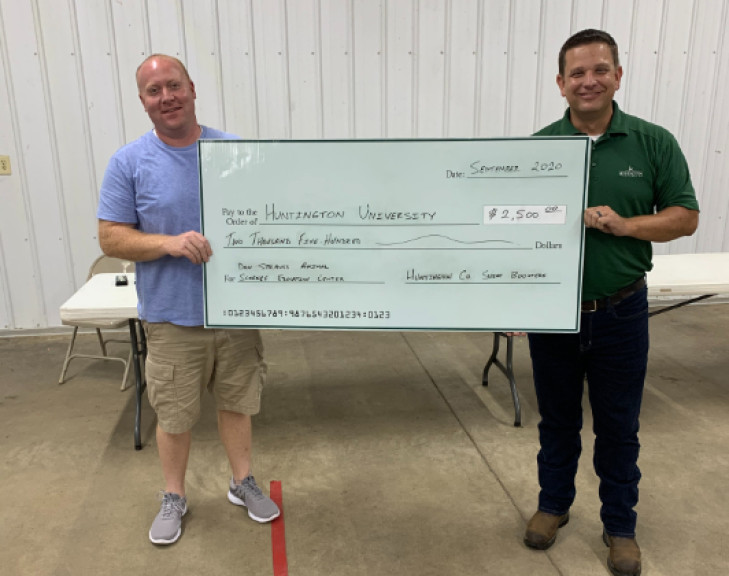 FOR RELEASE: Wednesday, October 7, 2020
HUNTINGTON, Ind. — Huntington University appreciates the support of the Huntington County Swine Boosters, whose gift of $2,500 toward the Don Strauss Animal Science Education Center will amplify the University's impact on and investment in agriculture students.
"The Swine Boosters are committed to making things better for local youth in Agriculture," said Matt Buckland, president, Huntington County Swine Boosters. "When approached by HU about being part of this project, we were happy to contribute. With this facility being used for animal education for kids from kindergarten through college, we were happy to support the cause and the Agriculture Industry in our community."
Buckland also pointed out that having the option to obtain a degree in agriculture from a local university is a great opportunity for area youth. Huntington University's strong program is an attractive option for those who want to remain close to home, and its location in the heart of the greater Huntington area's agriculture community is an asset.
Launched in the fall of 2014, the Haupert Institute for Agricultural Studies at Huntington University promotes a Christian perspective on agriculture, which recognizes a responsibility to be good stewards of God's creation and to examine questions of sustainability and justice. The program is intended to meet the growing need for agribusiness innovation and entrepreneurship, communication and public policy, crop production, agricultural education and ministry and missions. For more information about HU's ag program, visit huntington.edu/Agriculture.
Huntington University is a comprehensive Christian college of the liberal arts offering graduate and undergraduate programs in more than 70 academic concentrations. U.S. News & World Report ranks Huntington among the best colleges in the Midwest, and Forbes.com has listed the university as one of America's Best Colleges. Founded in 1897 by the Church of the United Brethren in Christ, Huntington University is located on a contemporary lakeside campus in northeast Indiana. The nonprofit university is a member of the Council for Christian Colleges and Universities (CCCU).