HU Arizona Volunteers for Peoria Nonprofits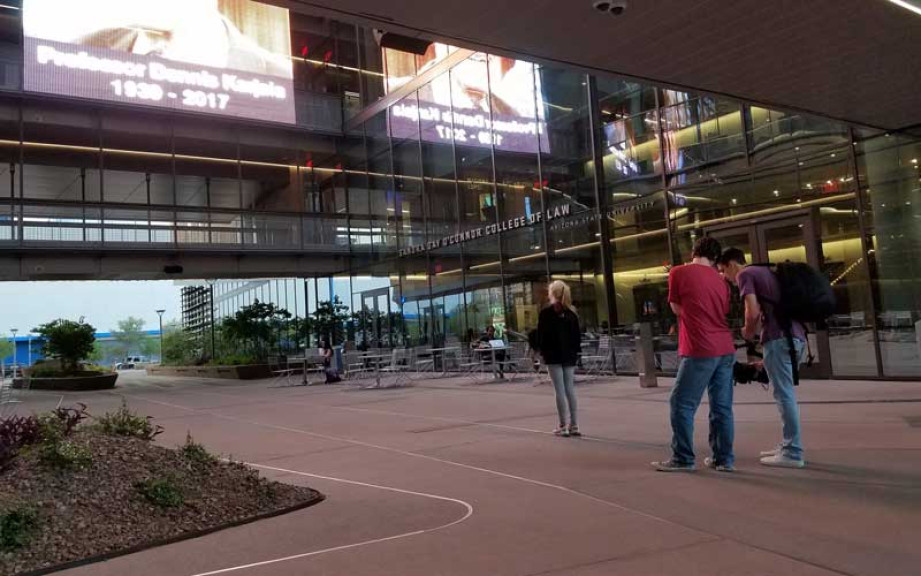 FOR RELEASE: Monday, July 10, 2017
Huntington University Arizona (HUAZ) students have produced 10 videos for 10 Arizona based non-profit organizations. The video projects were produced free of charge and were included as part of the film editing curriculum taught by the university.
"The Arizona Center for Digital Media Arts offers academic programs in animation, broadcast media, film production and graphic design with an emphasis of hands-on learning. Huntington is also a non-profit, Christ-centered university which compels us to be community contributors. Those key elements led our faculty to design student projects that would benefit non-profit organizations in the community," stated Jeff Berggren, Director of Arizona Operations.
The local organizations who worked with the HUAZ students included the Scott Foundation, West Valley Crisis Care Center, Teen Challenge, CARDADDY.org, Utu Humanitarian Alliance, The Peoria Chamber of Commerce, Challenger Space Center, Peoria Diamond Club, "End the Stigma: Shining a Light on Addiction in Your Community" Awareness Event in Peoria, and Unified Progress International Education (UPI Education).
Colleen Walski is the Chief Executive Officer at the Scott Foundation, an organization that enhances the social emotional well-being of children in the Arizona foster care system. Walski met Berggren at an internship awareness event sponsored by the Glendale Chamber of Commerce. Their discussion focused on the Scott Foundation's need for a short promotional video that would help them share their passion with a wider audience. Walski was then paired with two HUAZ students, Jacob Moncayo, a film production major from Peoria, Arizona and Kameron Striplin, a film production major from Yuma, Arizona. The video, from concept development to final edit, took approximately two months to complete.
"What I thought was going to be a fun experience for our growing Thought & Service Leaders to be directly involved in a media project, actually turned into a very emotional healing process for foster kids. As their classmates watched their story unfold on a big screen, they cried tears of pride and asked to please be given the opportunity to tell their story in such a beautiful way," stated Walski. "The creative approach Jacob & Kam shared in the filming, not only educated everyone along the way, but also turned it into a healing adventure that others now wish to experience. I deeply appreciate Huntington for sharing and supporting the Scott Foundation, but on a much deeper level thank them for helping our foster kids feel peace inside. The opportunity was priceless." To view the Scott Foundation video or many of the other non-profit projects, go to www.huntington.edu/peoria.

"Working with the Scott Foundation was a blessing. Hearing the stories from the kids was extremely humbling and just shows that they have so much to offer. Being able to film the young ladies (Sarahann and Autumn) was an experience I will never forget," said Moncayo.

Striplin added, "It was an amazing experience doing this project and quickly realizing that I was doing something important so early in my schooling. From the time we started recording, I knew it would be a project I could dedicate quite a lot of care to. Creating the video was seamless because of the fantastic people at the Scott Foundation, and gave me the experience necessary to do similar work in the future."
HUAZ has plans to continue the synergy with the community by working with as many organizations as the student's and university's schedules allow.
The Huntington University Arizona location just completed its first year of operation with a cohort of 47 students. The facility, a 30,000 square-foot building, houses bachelor's degree programs in animation, film production, broadcast media and graphic design. The facility features film and TV studios, high-end computer classroom/labs, private editing suites, a state-of-the-art TV control room, Foley pit, a host of EFP and cinema cameras, and lighting gear for student production work.