HU Celebrates National Agriculture Day with 4th annual Feed a Farmer event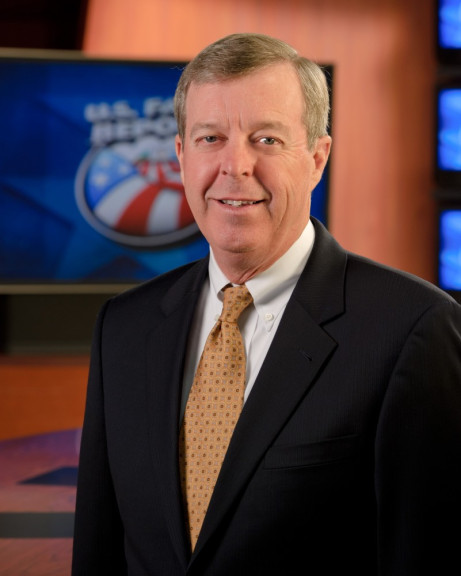 FOR RELEASE: Monday, February 27, 2017
On March 21, Huntington University and The Haupert Institute for Agricultural Studies will celebrate National Agricultural Day by hosting John Phipps, former host and current commentator of the U.S. Farm Report, at its annual Feed a Farmer event.
"We are looking forward to providing Feed a Farmer attendees with another high-quality speaker to challenge and inspire them. John Phipps has an extensive range of experiences in agriculture," stated Dr. Raymie Porter, Director of the Haupert Institute for Agricultural Studies. "Not only is he a family farmer himself, he has gained a broad understanding of agriculture in his various roles throughout the agribusiness sector."
Phipps was raised on a five-generation farm in east-central Illinois. He graduated with honors from Rose-Hulman Institute of Technology in 1970 with a Bachelor of Science in Chemical Engineering and a minor in Economics. He is past president of the Edgar County Farm Bureau, past member of the Illinois Commission on Atomic Energy, a former director of Illini FS, past President of the Edgar County Board of Health, and has served on the Illinois Corn Marketing Board and the National Corn Congress. Phipps is a 1988 graduate of the Illinois Ag Leadership Program. He is active in the United Methodist Church, serving as a Certified Lay Speaker and Choir Director. Phipps is also a director for Kongskilde, Ltd. a farm implement and industrial equipment manufacturer based in Denmark.
Phipps is the former host and current commentator for U.S. Farm Report, America's longest-running farm TV show. He also writes humor and commentary, appearing regularly in Farm Journal and Top Producer magazines as a contributing editor. His work has been published in Farm & Country in Canada, Produktion in Denmark, and The American Enterprise.
The March 21 Feed a Farmer begins at 7:30 a.m. in Huntington University's Habecker Dining Commons and will conclude by 9:45 am. The event includes a free breakfast and is open to the public. RSVPs are required by March 15 to Barb Baker at (260) 359-4069 or bbaker@huntington.edu.
"The purpose of Feed a Farmer is to celebrate National Agriculture Day and express appreciation to our local agricultural professionals and community. The event is also an opportunity to thank the many donors who have contributed more than $1 million toward the Haupert Institute for Agricultural Studies and have fully funded the Plant Science Production Facility coming in the summer of 2017," said Vincent Haupert, Huntington University's Vice President for Advancement.
The Haupert Institute for Agricultural Studies opened in the fall of 2015 and promotes a Christian perspective on agriculture, which recognizes our responsibility to be good stewards of God's creation and to examine questions of sustainability and justice. The institute is intended to help meet the growing need for agriculture professionals and offers eight concentrations in agribusiness as well as an agricultural education degree.