HU Honors Faculty, Staff Milestones, Awards and Retirees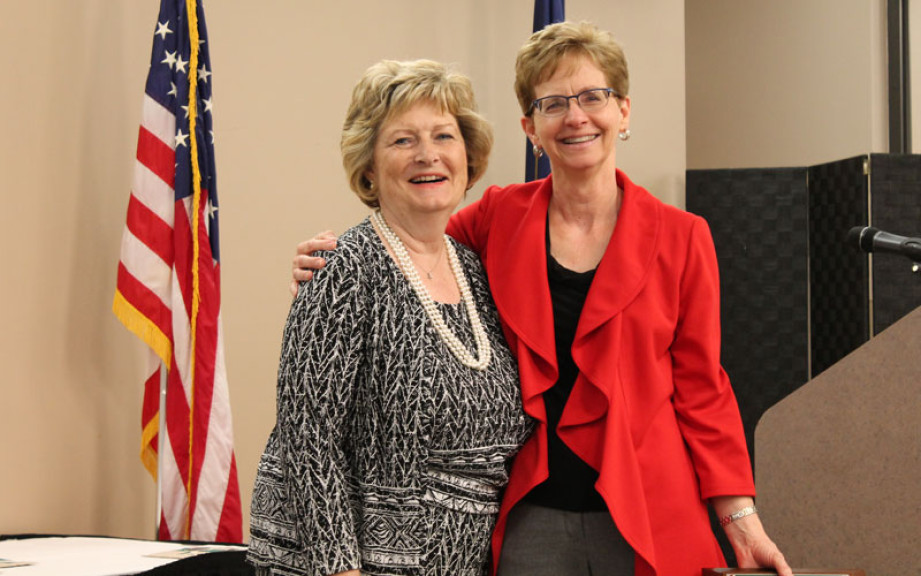 FOR RELEASE: Wednesday, May 18, 2016
Huntington University's Community Enhancement Council hosted its annual Celebration of Service luncheon on May 17. This event brings together the university's faculty and staff for a time of fellowship and celebration. It also is a time for the university to recognize the Professor of the Year and Staff Member of the Year, and retirees, as well as those individuals who have reached milestone anniversaries in their careers.
Dr. Tim Smith, professor of non-western history, was named the 2016 Professor of the Year. This is the second time Smith has received this award. The first time was in 2010. He was honored on May 3 at Forester Night, a senior awards event.
"I am honored to have been recognized by our students with this award. But in truth, the opportunity for faculty to serve our students is a team effort by all at Huntington University. Thus, I'd like to recognize the joy of working with the History Department, the Registry, and institutional role models such as Martha Smith, Kris Chafin, Pam Rudy and Sarah Harvey, in permitting me to holistically work with our students to enable them to achieve their goals in life," said Smith.
Smith joined the faculty in the fall of 2007. He previously taught history at the University of East Anglia in the United Kingdom. His research and teaching focus on imperial and diplomatic history.
Connie Bonner, controller and director of financial services, was named the 2016 Staff Member of the Year.
"Serving in leadership with Connie Bonner is a joy," said Dr. Sherilyn Emberton, university president. "Connie embraces the challenges of the financial paradigm of private, Christian higher education as a calling to model excellence in our pursuit of Christ, scholarship and service."
Bonner returned to the university in 2013 as controller and director of financial services. She previously worked in this position from 1991 through 1998. The Arizona native graduated from the University of Arizona with a degree in accounting and is a Certified Public Accountant.
"I am humbled to be nominated and named Staff Member of the Year," said Bonner. "There are so many who deserve this recognition and I am honored to be the recipient this year. It is not difficult to be a hardworking, dedicated and caring employee when I work with so many incredible people in this Christ-focused organization. It is a true blessing to be part of the Huntington University family. To God be the glory!"
Five retirees also were honored at the event. Retirees include:
Dr. Margaret Winter, director of nursing program & associate professor of nursing, who has served the university for nine years.
Tana Fortney, accounting clerk, who has served the university for 21 years.
Dr. Evelyn Priddy, professor education & professor emerita, who has served the university for 26 years.
Tom King, head men's and women's track & cross country coach, who has served the university for 32 years.
Dr. Cindy Steury, professor education & professor emerita, who has served the university for 33 years.
Collectively, this incredible group of individuals has served the university for 121 years!
Career milestones are as follows:
Reaching their five-year anniversary are Anita Gray, director of library services & assistant professor of library science; Vince Haupert, vice president for advancement; and Danielle Shafer, Hardy Hall resident director.
Reaching her 10-year anniversary is Julie Goetz, director of graduate and professional programs.
Reaching their 15-year anniversary are Dr. George Killian, associate professor music; Kay Schwob, director of the Enterprise Resource Center; and Jan Yost, development operations coordinator.
Reaching their 20-year anniversary are Dr. Del Doughty, associate dean of academic affairs & professor of English; Joanne Green, sports information director; and Pam Rudy, administrative assistant to the vice president for business & finance.
Reaching his 25-year anniversary is Dr. Bruce Evans, professor of biology.
Reaching their 30-year anniversary are Dr. Ron Coffey, vice president for student life; Lori Culler, athletic director & head women's basketball coach; and Dr. Mark Fairchild, professor of Bible and religion.
Reaching their 35-year anniversary are Sarah Harvey, registrar; Dr. Ann McPherren, vice president for strategy & graduate/professional programs & professor of business and economics; and Dr. Mary Ruthi, professor of sociology.