HU hosts four generations of Merillats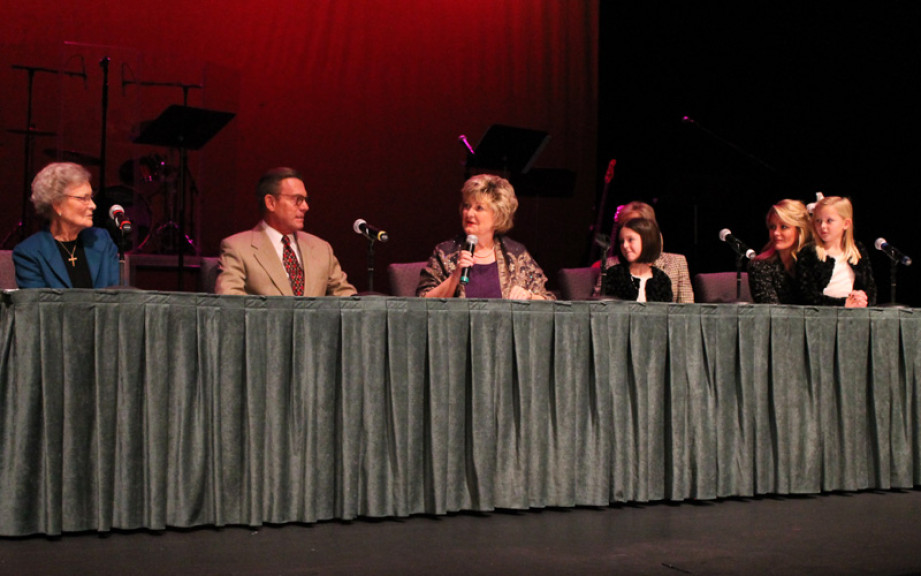 FOR RELEASE: Thursday, November 19, 2015
Huntington University welcomed four generations of the Merillat family to a special generosity-themed chapel service on Nov. 19.
Dr. Sherilyn Emberton, president of Huntington University, facilitated a panel discussion consisting of Ruth Merillat, Richard and Lynette Merillat, and Tricia (Merillat) McGuire. Tricia's two daughters, Stella Rose and Evelyn Violet, also were in attendance.
The Merillat family has had immense influence on Huntington University and its students over the past 50 years. Their generosity has blessed the campus with funding for building projects, as well as student scholarships. Three buildings on campus are named after the Merillat family: The Merillat Complex (also known as the PLEX), the Merillat Centre for the Arts and RichLyn Library (a combination of the names Richard and Lynette).
"God continues to use the Merillat family to build the Kingdom and increase affordability for the highest quality Christian education at Huntington University," said Vince Haupert, vice president for advancement. "We look forward to celebrating the faithful partnership of the Merillat family and Huntington University."
A scholarship fund also was established by the Merillats to provide financial assistance to students who are members of the Church of the United Brethren in Christ, student leaders of Youth for Christ, or children of HU alumni. Following the chapel service was a luncheon with some of the student recipients of the Merillat Scholarship.