HU Teams Up with Sanctus Real to Support Destiny Rescue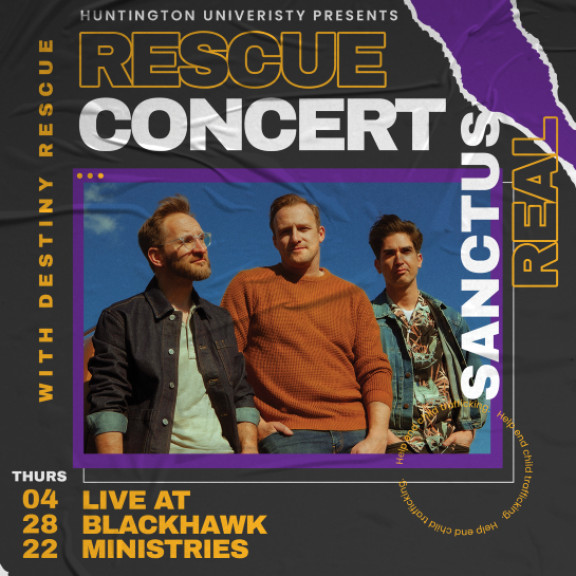 FOR RELEASE: Thursday, April 14, 2022
Huntington University and Sanctus Real are teaming up to fight child trafficking. As part of their "My God is Still The Same" tour, Sanctus Real will perform a concert with Tim Timmons and Stars Go Dim on April 28 at 7:00 p.m. at Blackhawk Ministries (7400 East State Boulevard, Fort Wayne, IN 46815). Doors open at 6:30 p.m. Tickets for the concert range from $15-50, and a portion of the proceeds will go to Destiny Rescue, whose mission is to rescue children from sexual exploitation and human trafficking and help them stay free. Tickets can be purchased at huntington.edu/Rescue.
This concert is the vision of students in Junior Impact Project, a digital media arts course designed to utilize experiential and service learning through a media campaign in which a junior-level student participates in a key role. Over the course of the semester, students pitched, created, and distributed a contest-worthy project engineered for community impact. The project was vetted, critiqued and approved by executive producing faculty.
"The students have gone above and beyond," said Adam Widener, assistant professor of digital media arts and instructor for the Junior Impact Project course. "They took the mandate of the course, which is to 'tangibly love and serve the campus and community through our words and actions,' and created an event that will be memorable and impactful."
Sam Delagrange, student and producer for the Junior Impact Project, pointed out that Sanctus Real and Destiny Rescue were a natural fit for the students' vision for the event
"We wanted an organization that was local to the area (based in Fort Wayne) and reaches beyond just our own backyards," said Delagrange. "Destiny Rescue sends people all over the world to help rescue children, and we want to help support them as well as bring attention to what they do."
Sanctus Real is also a Midwestern group with a widespread impact.
"[Sanctus Real] has partnered with Destiny Rescue in the past to support their mission of rescuing kids from trafficking," said Delagrange. "From the beginning, they have been all-in, helping us plan the charity concert as we learn how to do this for the first time."
Formed in 1996 in a basement in Toledo, Ohio, Sanctus Real is a Christian rock group with 24 radio hits and full album sales exceeding 750,000. The group has received seven GMA Dove Award nominations, with one win for Fight the Tide in 2005 as the Modern Rock Album of the Year, and two Grammy nominations for their 2009 album We Need Each Other and the 2010 album Pieces of a Real Heart.
"With the goal of the class being to use our abilities and talents to impact the community, we hope to take it even further by impacting those who attend through sharing about Destiny Rescue through an enjoyable evening while also impacting Destiny Rescue and their capacity to save children by helping give them more attention in Fort Wayne and raise money to help their efforts around the world," said Delagrange.