HU's Alpha Chi Wins National Award & Scholarships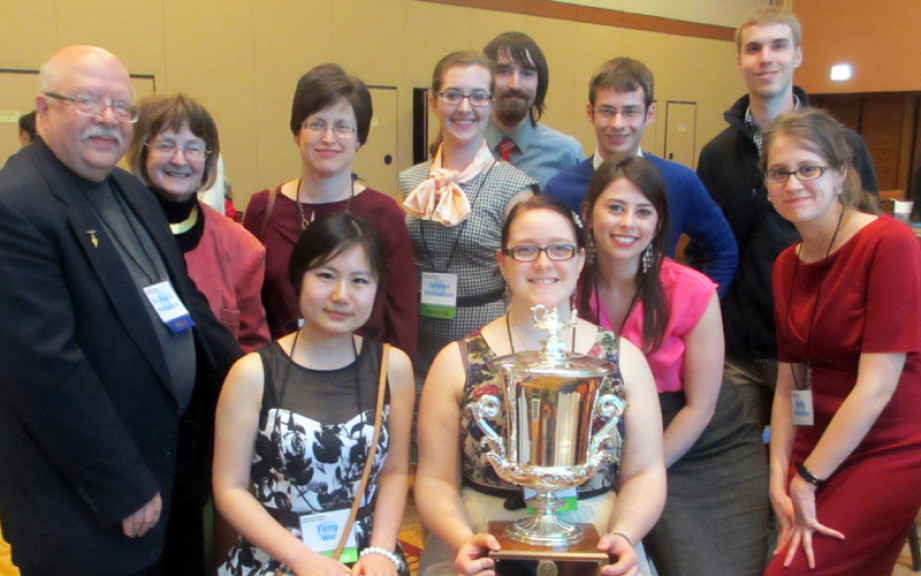 FOR RELEASE: Monday, March 23, 2015
Huntington University's Indiana Beta Chapter of the Alpha Chi National College Honor Society has won the President's Cup for the Outstanding Chapter of the Year.
HU's chapter was honored at the Alpha Chi National Convention in Chicago that ran from March 19-21. Alpha Chi's most prestigious chapter award is the President's Cup, given at every national convention since 1987, to the chapter judged most outstanding. The President's Cup trophy and an honorarium of $200 are presented to the recipient at the annual convention. In addition to HU, only one other college has won the President's Cup twice since the national award was inaugurated.
Selection criteria for the honor includes: academically-oriented community activities, chapter-sponsored campus activities (lectures, tutorials, discussions and competitions), number of student presentations at annual conventions, number of scholarship and fellowship nominees, number of sponsor and student delegates at annual conventions, number of Star Chapter Awards received, number of articles accepted for publication in the Alpha Chi journal, number of faculty nominated for an honorary membership, social media and website projects that promote awareness of Alpha Chi and the number of times the chapter or chapter member has been mentioned in campus print media or online campus publications.
Along with the President's Cup, the Indiana Beta Chapter also received recognition at the convention as a Star Chapter of Alpha Chi for 2013-2014. HU's chapter is one of only four out of the more than 300 Alpha Chi chapters to receive this award every year since the honor was launched in 1996.
Eight members of the HU chapter attended the convention to present papers, help lead workshops and compete for scholarships.
The following HU students presented papers:
Luke Batdorff, a senior mathematics major from Bluffton, Indiana; "Shor's Quantum Computing Algorithm"
Bronwen Fetters, a senior English writing and literature major from Huntington, Indiana; "Pivotal and Puzzling: The Indian Boy in A Midsummer Night's Dream"
Esther Higginbottom, a senior psychology and English writing major from Bluffton, Indiana; "F. Scott Fitzgerald: Deterioration through Stress and Identity Crisis"
Alex Hoffman, a senior computer science, accounting and philosophy major from Huntington, Indiana; "God and Time: A Defense of Timeless Eternality"
Jannea Thomason, a senior English major from Huntington, Indiana; "Heroes, War, and PTSD: The Iliad and The Aeneid"
Andrew Wickersham, a senior history major from Huntington, Indiana; "Containing Strategic Sense: How Ideology and National Image Hindered American Foreign Policy in Southeast Asia (1949-1969)"
Yang Wu, a senior journalism major from Zhangjiakou Hebei, People's Republic of China; "Why is pornography addictive?"
Clarissa Hunter and Alex Hoffman earned Alpha Chi scholarships. Hunter is a senior communication studies major from Fairland, Indiana, and won a $1,500 Nolle Scholarship for her paper on "Relational Dialectics in Roommate Relationships." Hoffman received a Region V Fellowship for his paper on "God and Time."
"I am honored to have received a reward for my academic work," Hunter said. "I submitted my paper on the off chance it might be nominated for a scholarship, but I had no inclination that it would actually win. This just goes to show how God can work in even our small decisions."
Bronwen Fetters, who served as the Region V student representative on the Alpha Chi National Council for 2014-2015, received a presentation award for her paper on Shakespeare's "Midsummer Night's Dream."
"It is an honor to be awarded a presentation prize by Alpha Chi," Fetters said. "After serving on the National Council of Alpha Chi for the 2014-2015 term, I have developed a great deal of respect for this organization that aims to 'makes scholarship effective for good.' It was a great experience and a privilege to present my paper about the Indian Boy in 'A Midsummer Night's Dream' at the conference this year."
The group was accompanied at the convention by sponsors, Dr. Paul E. Michelson, distinguished professor of history; Dr. Ruth Nalliah, professor of chemistry; and Jean Michelson, circulation coordinator for HU's RichLyn Library.
"Though we were pleasantly surprised at winning the national chapter of the year award, I had not been surprised at how consistently competitive HU's students have been in Alpha Chi on the regional and national level," Dr. Paul Michelson said. "Huntington has many students who excel academically and can compete with anybody. In the last decade, we have won seven national scholarships and fellowships and eight regional grants, have had two students publish their works in the national Alpha Chi journal, and regularly have 20 to 25% of our members attending and participating in the national conventions."
Election to Alpha Chi is the highest academic honor at Huntington University.
Learn more about HU's Indiana Beta chapter of Alpha Chi.