Nursing Scholarships Awarded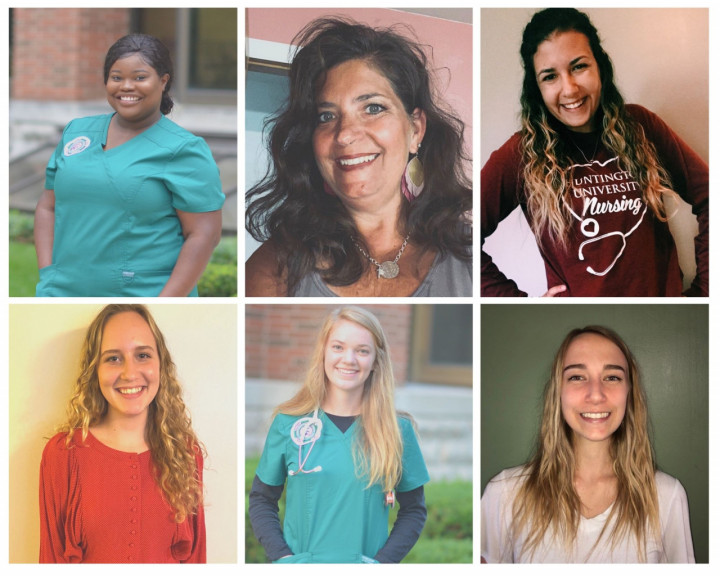 FOR RELEASE: Thursday, September 17, 2020
HUNTINGTON, Ind. — Huntington University's Department of Nursing is pleased to announce the following 2020-2021 scholarship recipients.
Grace Arndt, Trinity Burdick and Molly Burton are recipients of the Indiana Center for Nursing Scholarship
Kyndal Collins is the recipient of the Winter Nursing Scholarship
Christine Harber is the recipient of the Bruce and Linda Myers Nursing Scholarship
Mariah Wells is the recipient of the Nursing Scholarship
The Indiana Center for Nursing Scholarship goes to nursing students at Huntington University who meet requirements including GPA, Indiana residency, and commitment to working as a registered nurse in Indiana. The Department of Nursing announces the number of scholarship awards each year; this year, there are three recipients.
The Winter Nursing Scholarship criteria include being a sophomore enrolled full-time, GPA, and commitment to HU and Department of Nursing standards.
The Department of Nursing awards the Bruce and Linda Myers Nursing Scholarship on behalf of the Myers family. Bruce and Linda Myers are the former owners of Myers Funeral Homes in Huntington and Markle. During their 25 years in business, they developed close ties with the people of Huntington and Wells Counties and with Huntington University, where Bruce served on the Huntington University Foundation Board and the Fine Arts Council. Linda is a retired registered nurse with 30 years of medical-surgical and critical care experience. Their professional and personal lives have always been founded on a deep faith in and love for their Savior, Jesus Christ.
Their desire in giving the scholarship is twofold: to support the mission Huntington University and the Department of Nursing and to aid serious students of the nursing field in achieving their educational goals by providing financial assistance. Criteria to receive this scholarship include being a current junior nursing major or sophomore accepted into the program and GPA as well as an essay and demonstrated financial need.
The Huntington University Nursing Scholarship was established to provide encouragement and financial support to students at Huntington University in the nursing program. Criteria include being a sophomore enrolled full-time and GPA.
Huntington University is a comprehensive Christian college of the liberal arts offering graduate and undergraduate programs in more than 70 academic concentrations. U.S. News & World Report ranks Huntington among the best colleges in the Midwest, and Forbes.com has listed the university as one of America's Best Colleges. Founded in 1897 by the Church of the United Brethren in Christ, Huntington University is located on a contemporary lakeside campus in northeast Indiana. The nonprofit university is a member of the Council for Christian Colleges and Universities (CCCU).