OTA students volunteer at Run for Love event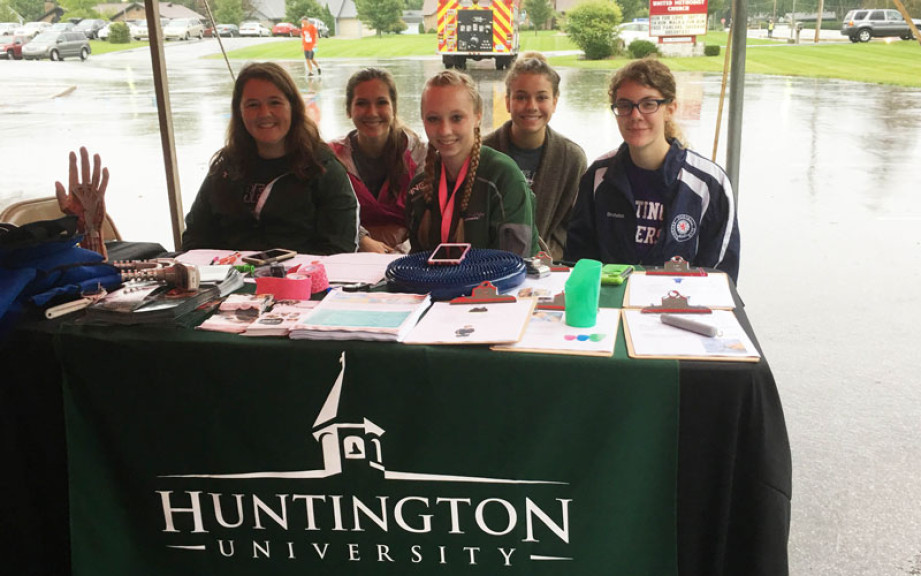 FOR RELEASE: Monday, October 17, 2016
Seventeen Huntington University Occupational Therapy Assistant (OTA) students volunteered to help with this year's Run for Love 5K Run/Walk and Fun Run. The event took place last month at the Evangelical United Methodist Church with 100 percent of the net proceeds going to support the Love In The Name of Christ ministries.
The HU student volunteers ensured runners and walkers were on the right path and kept safe. Other students manned a table with occupational literature as well as adaptive equipment and devices for participants to try. Hope, HU's certified therapy dog, was there as well so students could explain how she participates in therapy that helps lead clients to a full recovery.
"The OTA students at Huntington University continue to excite me with their motivation to help others and serve in our community. We have great students, doing great work," stated Nicole Scheiman, associate professor / director of OTA program. "We look forward to growing this program so that we can help fulfill HU's mission of serving Christ by serving others."
The OTA program at Huntington University was launched in August and has 23 students enrolled in its Introduction to Occupational Therapy class. HU's OTA program is approved by Higher Learning Council to confer the associate of science degree but students are able to earn a bachelor of health science degree at the same time. Graduates from the OTA program will have options to enter the workforce that is expected to grow by more than 40 percent in the next eight years or pursue additional master or doctoral work to become a certified occupational therapy practitioner.