OTD program ranked #1 in the U.S.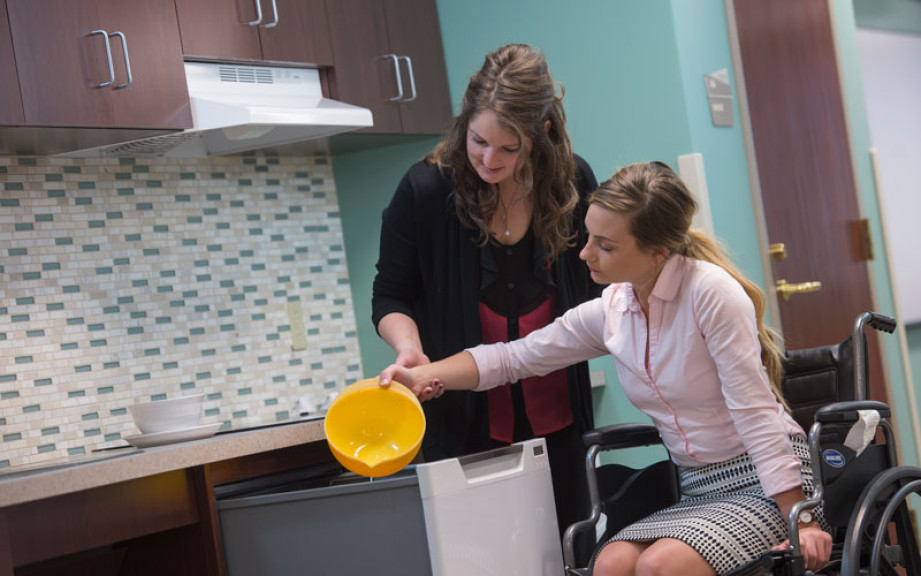 FOR RELEASE: Monday, July 25, 2016
Huntington University's doctoral program in occupational therapy (OTD) has been ranked as the 2016 Top Occupational Therapy School according to GraduatePrograms.com.
"This is the second consecutive year that Huntington University has been recognized as the #1 occupational therapy school in the nation. The faculty and staff are committed to providing a quality education for our doctoral students in occupational therapy," said Dr. Ruth Ford, director of occupational therapy / professor of occupational therapy. "The specialty labs, diverse faculty expertise and the community connections have made our students excel. Service work both regionally and internationally help differentiate our OTD program from others in the country. Serving Christ is an essential core of our curriculum as we prepare therapists to serve the needs of others."
Huntington University garnered a 4.71 out of 5.0 student ranking, which puts it in first place, with Washington University in St. Louis, Missouri, coming in second with 4.50. Rankings encompass reviews posted by more than 5,000 students participating in more than 450 occupational therapy programs nationwide. In addition to rating their respective programs, students often post comments regarding their experiences.
"Huntington's OTD program has impressed me from day one. The overall professionalism, dedication to student success, investment in facilities and resources, faculty passion and experience, and forward-thinking curricula continues to solidify my choice in this program," said one Huntington University OTD student in a survey. "My fellow students are motivated by providing heartfelt service to others with the latest research-driven modalities. Fort Wayne is an inexpensive, easy city to exist within, and the community of our school has provided us with a comfortable social experience. The doctoral program emphasized research and management, as the curricula goes well beyond basic occupational therapy practice."
Huntington University's doctoral program in occupational therapy promotes students' development in faith, health, leadership skills, advanced practice, research and professional service. Students complete clinical experiences in Indiana, across the country and internationally.
Both the OTD and the occupational therapy associate (OTA) programs are approved by Higher Learning Council to confer the designated degrees of doctorate and associate of science. The Accreditation Council for Occupational Therapy Education has most recently granted full accreditation of the doctorate degree for the maximum of seven years. The associate degree which is slated to start this fall now has candidacy status which allows for admissions to begin.
GraduatePrograms.com reaches current and recent graduate students through scholarship entries, as well as social media platforms. GraduatePrograms.com assigns 15 ranking categories to each graduate program at each graduate school. Rankings cover a variety of student topics such as academic competitiveness, career support, financial aid and quality of network. A given graduate program is not ranked until a minimum threshold of graduate student surveys is completed for that graduate program.
To learn more about Huntington University's OTD program, register for an August 3 virtual career expo!