Parkview Huntington Donates $10,000 to HUNCA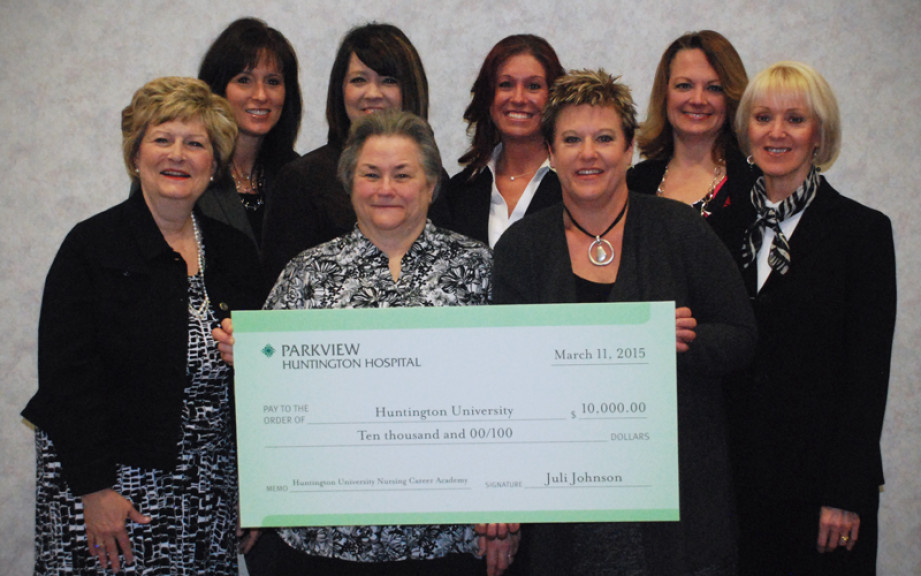 FOR RELEASE: Friday, March 13, 2015
On behalf of Parkview Huntington Hospital, President Juli Johnson, presented a $10,000 donation to Huntington University's Nursing Career Academy during the Huntington University's Foundation breakfast on Wednesday, March 11.
The Nursing Career Academy, launching in the summer of 2015, is an affordable opportunity to engage high school students with the Huntington University nursing program. Funds for the academy will support CPR training, transportation, nursing supplies, lodging, and meals among other areas of need. Students who are in their junior and senior years of high school, as well as incoming college freshmen considering the nursing program at Huntington University, may apply to the program. The five-day academy will allow students the opportunity to receive training in basic nursing procedures, CPR certification, first-aid training, nursing simulation lab experience, as well as participate in instructional sessions with Parkview Huntington Hospital nurses, and provide a tour of the hospital's ER including a demonstration involving Parkview's Samaritan helicopter and team.
"Partnering with Huntington University is a proactive step toward educating the young minds of our healthcare future," said Johnson. "The support of this program is invaluable to further the mission of Parkview Huntington Hospital. We have the opportunity to develop awareness and captivate students toward the nursing profession."
"The faculty and staff involved in the Huntington University Nursing Career Academy are very grateful for the funding and continued support we have received from Parkview Huntington Hospital," said Dr. Diana Shenefield, assistant professor of nursing. "We are blessed to have this ongoing partnership that allows us to teach and employ future nurses for our community."
Huntington University's Nursing Career Academy will run July 13-17 with a registration deadline of June 30. For more information or to register, visit www.huntington.edu/nursing.