Riehle receives American FFA Degree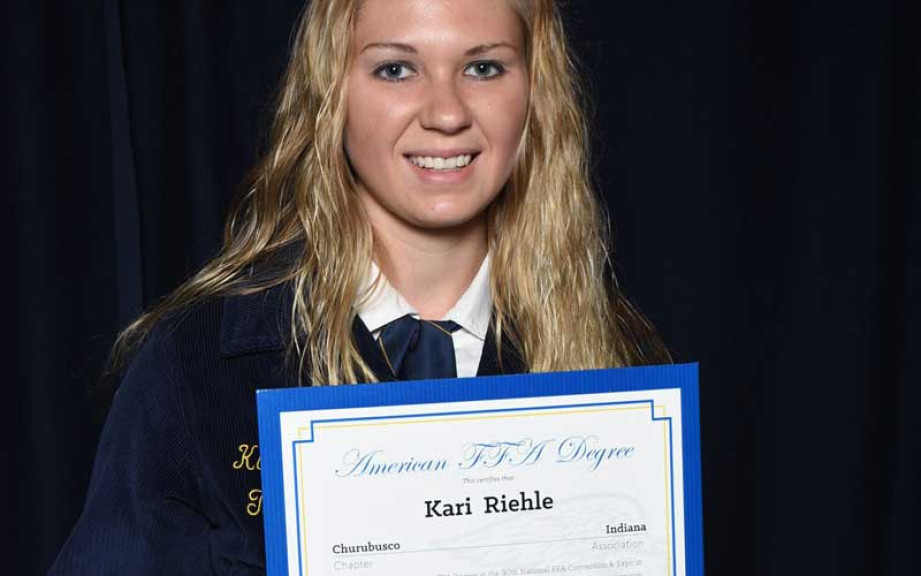 FOR RELEASE: Friday, December 1, 2017
The Haupert Institute for Agricultural Studies has announced junior Karilyn Riehle, an agribusiness marketing major from Churubusco, Indiana, received the American FFA Degree from the National FFA Organization.
"Receiving the American Degree had been a goal of mine since I first became a member. This organization has impacted my life tremendously, and I could not have reached this milestone without the support of those who have invested in me along the way. It is truly an honor," stated Riehle.
The American FFA Degree is awarded to members who have demonstrated the highest level of commitment to FFA and made significant accomplishments in their supervised agricultural experiences. The American FFA Degree is awarded at the National FFA Convention & Expo each year to less than 1 percent of FFA members making it one of the organization's highest honors. In addition to their degree, each recipient receives a gold American FFA Degree key. The top American FFA Degree recipients from each state may also be nominated for an American Star Award.
Some of requirements to earn the American FFA Degree include receiving the State FFA Degree; completing and maintaining records to substantiate an outstanding supervised agricultural experience program through which the member has exhibited comprehensive planning, managerial and financial expertise; possessing a record of outstanding leadership abilities and community involvement; and participating in at least 50 hours of community service from at least three different community service activities.
"We are proud of Kari's accomplishments through FFA and now at Huntington University as an Agribusiness major. This now makes five HU students who have received the American FFA Degree," said Dr. Raymond Porter, Director of the Haupert Institute for Agricultural Studies. "Although we are a newer program, this string speaks of the quality of individuals who have chosen to pursue their college degree with the Haupert Institute for Agricultural Studies. Although Kari doesn't seek the limelight, she is well-deserving of this recognition. I believe she will continue to distinguish herself as a hard-working, persistent, and knowledgeable person. We are blessed to have her here at Huntington."
The Haupert Institute for Agricultural Studies opened in the fall of 2015 and promotes a Christian perspective on agriculture, which recognizes the responsibility to be good stewards of God's creation and to examine questions of sustainability and justice. The institute is intended to help meet the growing need for agriculture professionals and offers eight concentrations in agribusiness as well as an agricultural education degree. For more information on the Haupert Institute, please visit www.huntington.edu/agriculture.