Shaking Up Tradition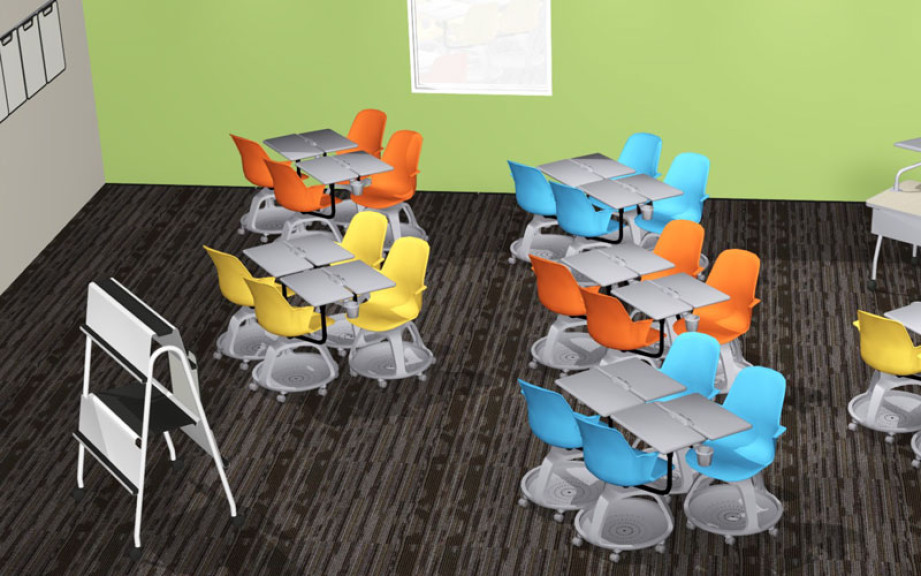 FOR RELEASE: Thursday, June 23, 2016
Walk through Loew-Brenn Hall and you will pass traditional classrooms with seats lined up in rows facing the chalkboard. Huntington University desires to have learning environments that actively engage students in a supportive, technology-rich 21st century environment, and with the help of a Bright Star Idea, the campus is taking steps to make that happen.
As a part of the Faith Forward 2022 strategic plan, the university opened up a contest in 2015 for faculty and staff idea submissions. "Bright Star" ideas are innovative initiatives that draw students, collaborative partners, friends and/or donors to the university and can be implemented with a budget of $1,000 to $25,000. Ideas must possess a shelf life of at least two years. Dr. Cynthia Steury, assistant dean for faculty development, professor of education and professor emerita, had a Bright Star idea to create a 21st century classroom designed to foster collaboration and communication through flexible seating and innovative classroom design.
"Like many ideas, the idea for the 21st century classroom grew out of my own felt need for a teaching environment that supported rather than hindered the work of an instructor," Steury said. "Flexible seating supports a variety of teaching pedagogies and allows the instructor to employ more active and interactive styles of instruction."
The project includes 24 Node chairs, which are flexible desks on wheels, a teaching station and stool, and an ēno smartboard, which combines a traditional whiteboard with the interactivity of a large flat panel display by combining both analog markers and digital multimedia into one surface. The classroom also will contain 24 individual whiteboards and a wall track. In addition, the room will be painted and receive new flooring for cosmetic updates. Professors will easily be able to arrange the classroom into a variety of layouts to benefit improved student engagement.
If the response is positive and funds are available, Steury would like to incorporate at least one 21st century classroom into each academic building. She also thinks it is necessary to update the look of all point-of-entry areas on campus with spaces designed to support conversation and use of technology, such as areas to charge mobile devices. She wants to promote collaboration, innovation and technology on campus by creating a more active and engaging learning experience for students.
"A classroom with furniture designed to be easily configured in multiple ways gives instructors freedom to use the most effective teaching strategy to accomplish particular goals or objectives," Steury said. "Technology must be designed and integrated to support and enhance instruction. The 21st century classroom is designed to foster collaboration and communication through flexible seating, technology and innovative classroom design all to provide a more effective learning environment for students."