Siegel awarded spring 2017 Barlow history prize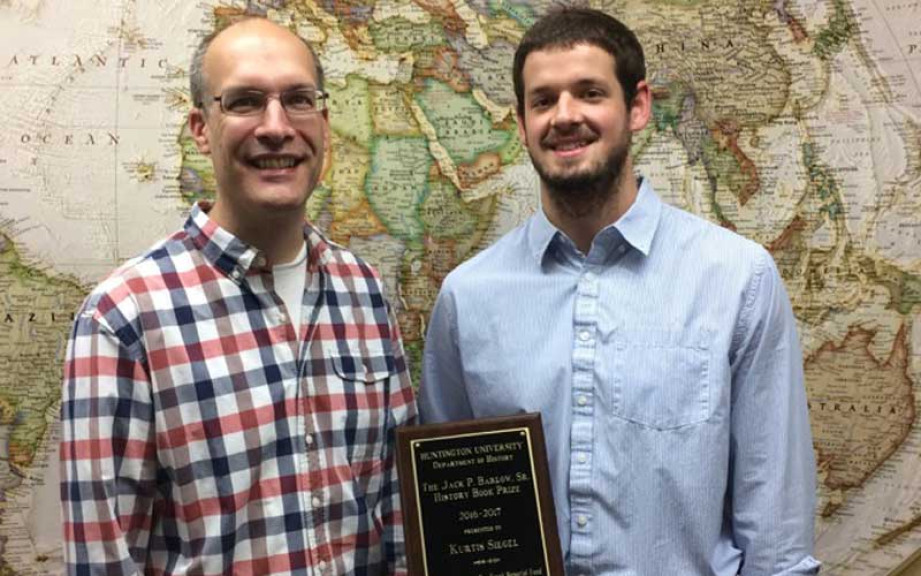 FOR RELEASE: Friday, July 28, 2017
The Huntington University History & Political Science Department has presented the spring 2017 Jack P. Barlow, Sr., History Book Prize to Kurtis Siegel, senior, for academic excellence in the class "Britain and the End of Empire."
The Jack P. Barlow, Sr., History Book Prize provides a cash award for book purchases and plaque to the outstanding student(s) in the department's senior seminar classes.
The Pettisville, Ohio, native is a History-Education major. Siegel's research paper was entitled: "Jinnah and the quest for Pakistan" and assessed if Jinnah's greatest achievement was to convert the Muslim 'problem' in India from an internal, communal one, into an international one.
"Kurt is an exemplary scholar, who has produced a sophisticated analysis of Pakistani nationhood on the eve of British decolonization. Indeed, this was no easy task considering the dearth of information available from Pakistani sources, and it aptly highlights the depth of Kurt's felicitous intellectual curiosity," stated Dr. Tim Smith, Professor of Non-Western History.
Huntington University's history and political science department offers a broad program of study that is research-led and taught by professors who are dedicated to their students. Students develop abilities in literary and oral communication, argument analysis, teamwork, independent research, and presentation skills that equip them for careers in law, political science, not-for-profit sectors, business, media, and government.