Skiles Promoted, Berggren Returns to HU Home Campus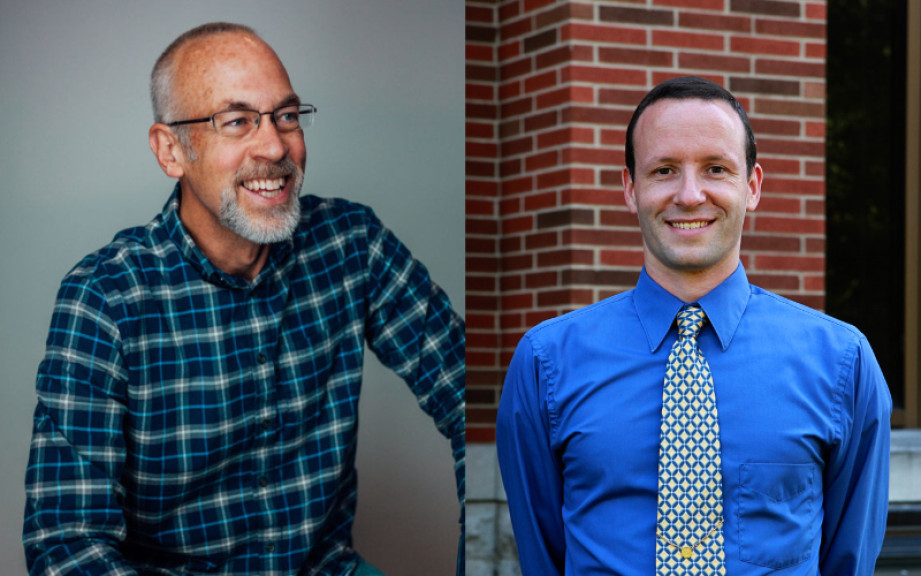 FOR RELEASE: Thursday, June 1, 2023
Huntington University is pleased to announce the promotion of Adam Skiles to the role of assistant vice president for technology services, CIO, and the naming of Jeff Berggren to the role of executive director of graduate and online programs.
As the newly named assistant vice president for technology services, Skiles will assist with the University's Risk Management Committee by overseeing risk-related items under IT Services, supporting emergency response processes, and coordinating with the Chief Operating Officer to develop meeting agendas; oversee the operations and personnel for conferences, retreats and camp activities; and serve as the point person for technology-driven processes related to institutional research. These processes include reporting, data gathering, and supporting research-intensive projects such as accreditation, strategic planning and faculty scholarship. Skiles will also oversee the operation, equipment, budget and personnel of the esports program.
"It is an absolute honor and privilege to serve Huntington University and its constituents," said Skiles. "Among these exciting prospects, I am particularly enthusiastic about assuming a key role in co-leading the Risk Management Committee and overseeing our conference, retreat and camp activities. Additionally, I am eager to provide strong leadership and support in the realm of institutional research. This includes ensuring seamless reporting and meticulous data gathering and facilitating research-intensive processes such as accreditation, strategic planning and faculty scholarship. I am committed to assisting institutional leaders in accomplishing the objectives set forth in Huntington's visionary strategic plan, Forever Foresters. With unwavering faith, I fervently pray that God will continue to utilize my dedicated service to advance His divine mission."
"Adam continues to demonstrate strategic leadership in managing our technical and media resources. This new role will signify the importance of that impact across all HU sites and learning modalities," said Dr. Sherilyn Emberton, president of Huntington University.
Berggren, who currently holds the title of director of Arizona operations at HU's Arizona location, returns to home campus to fill the newly created role of executive director of graduate and online programs. In this position Berggren will work cooperatively with the faculty, directors of graduate programs, graduate and professional program recruiting staff, and the University's academic and marketing structures and oversee the graduate and online programs with specific emphasis on program administration, student support, program effectiveness, program development, and staffing.
"I have been blessed to work for Huntington during the past 30 years in a number of capacities. The new executive director role allows me to leverage many of those prior experiences into an exciting leadership position. I look forward to working together with the graduate and online faculty and staff to take the next steps in furthering the mission of HU to new student populations," said Berggren.
"Jeff brings a wealth of experience to the role of executive director of graduate and online programs," said Dr. Luke Fetters, vice president for academic affairs and dean of faculty. "His proven expertise in admissions management and program oversight position him well to lead this dynamic and growing division of Huntington University."