Students' Names to Appear on Published Work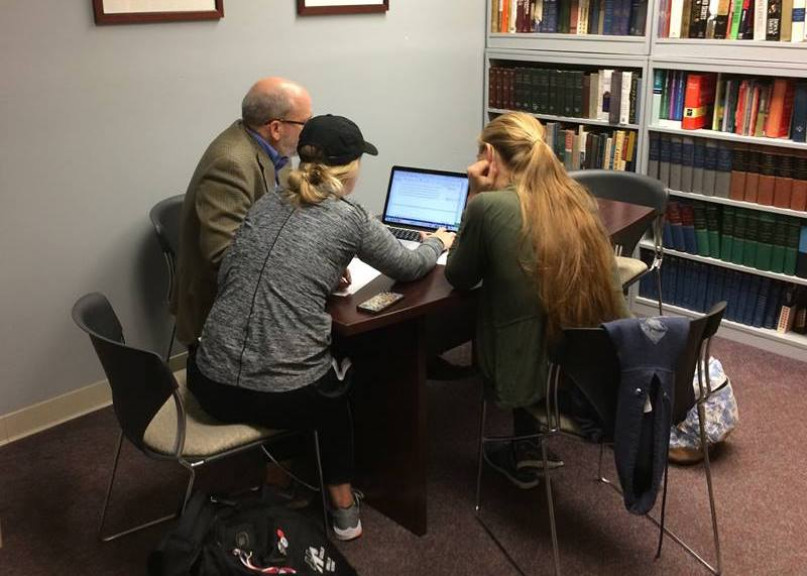 FOR RELEASE: Thursday, January 31, 2019
Three Huntington University students have been credited as assistant editors in a forthcoming book project co-edited by Dr. Jeffrey Webb, professor of American History.
The students, Benjamin Kratz, 2018 graduate, Juliet Wilson, junior, and Reilly Vore, junior, worked closely with Dr. Webb on the book, titled Conspiracies and Conspiracy Theories in American History. With the help of a grant from the Emeriti Fellowship Research & Artistic Creation Fund, Webb was able to continue working on projects aimed a wide readership and the students were able to gain real-world experience in the field of professional editing.
"Working as an assistant editor of Conspiracies and Conspiracy Theories in American History was an enlightening experience," said Wilson. "As an assistant editor, one of my tasks was to read through entries as they came in and make sure that they conformed to the publisher's style guidelines. This task was incredibly interesting. The content of the entries was undoubtedly fascinating, but I was also impressed by the quality of the entries."
This two-volume reference work focuses on key conspiracy theories that have appeared in different eras of American history. It also attempts to explain the appeal of conspiratorial thinking in our current era of political division, economic uncertainty, and cultural tensions.

The book is due out in May. It will be available for purchase on the publisher's website and major venues like Amazon.