Students Wrap Principal Photography on Junior Projects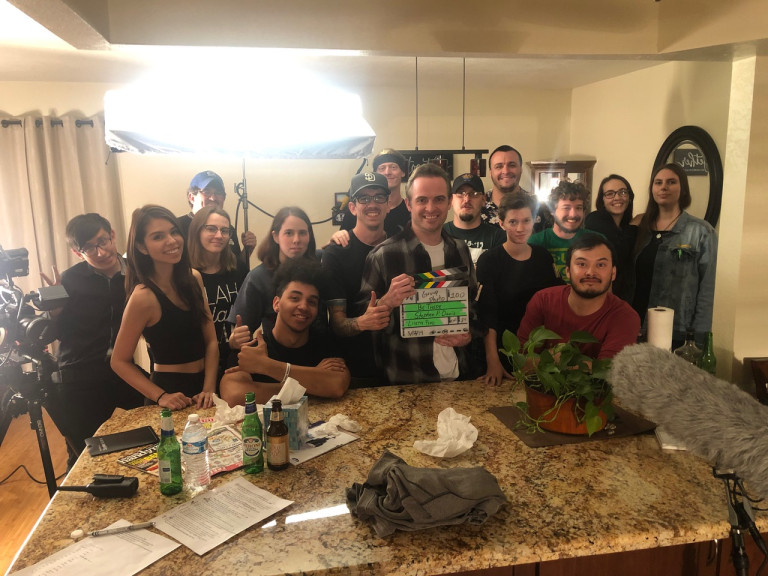 FOR RELEASE: Thursday, April 11, 2019
Spring break may traditionally be a time for relaxation and beach life for many college students, but film majors from Huntington University Arizona used part of their recent spring break to gather footage for a junior film project.
The film shoot was just one of three junior film projects that were in production in March. Two narrative films, "Be There" and "Mended," entered the principal photography phase. A documentary film project on pit bulls and their owners has been conducting interviews and acquiring b-roll footage.
"While many might think of a day on set as 'fun,'" said Phil Wilson, Arizona digital media arts program director, "our student crews put in full 12-14 hour days on these projects – moving heavy equipment like stands, dollies, lights, and even furniture – with these shoots lasting three full days."
Film shoots are truly a collaborative community event, with approximately 10 film production majors involved in the process. Other students help on the crew of each film. In addition to university support, the junior films rely on coordination with the West Valley community for actors, locations and financial support for gear rentals and crew meals. Through this experience, film producers and team leads are learning the value of community engagement.
"Overall standout moments were our crew working tirelessly and our actors nailing their performances and having to get emotional and cry for several scenes," said Stephen Davis, HU Arizona student and director of "Be There." "It was all a truly great experience."
Projects began when students pitched ideas to their classmates and the HU Arizona film faculty. After receiving the green light, the director of each film wrote and revised scripts with the oversight of screenwriting faculty. All three projects had been in pre-production since February.
With principal photography wrapped, the films have entered the post-production phase, which will include meticulous shot-by-shot editing.
For film production students, film shoots are the perfect opportunity to learn how to manage a team, communicate vision and leave room for stellar performances.
"Our Junior Film students are at a high level," said Wilson. "This group in particular is talented, hardworking, and in it for the right reasons."