Symbolic Vessels on Display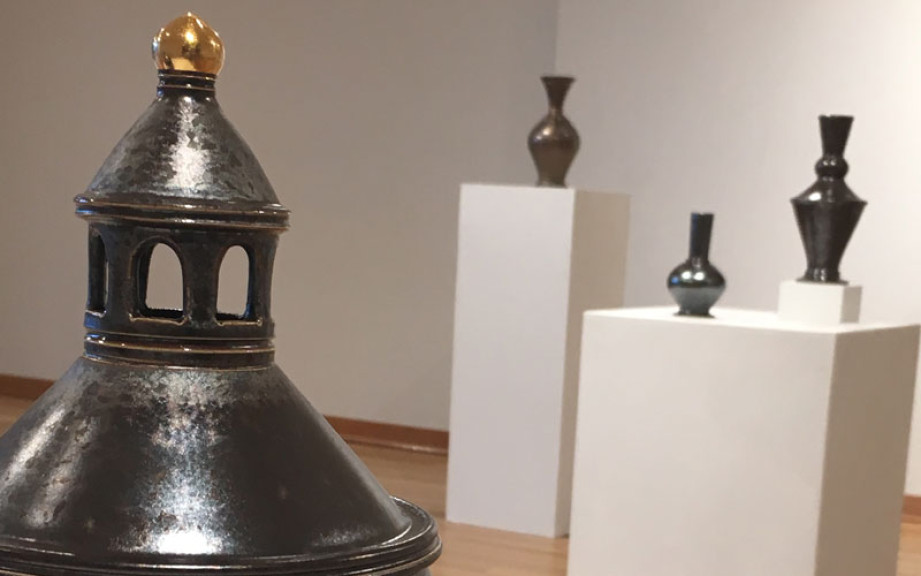 FOR RELEASE: Tuesday, March 6, 2018
Symbolic Vessels, an exhibition created by Seth Green, Assistant Professor of Ceramics at IPFW, is now open in the Robert E. Wilson Gallery at Huntington University. The exhibit will remain open until March 22.
Green is taking his exhibit one step further and hosting a workshop at Huntington University's Art Annex on Friday, March 9, from 9:00 a.m. to 4:00 p.m. His workshop is a free event for HU students, faculty, and staff. It is an opportunity for participants to watch Green throw on the potter's wheel and to see his creative process in action.
"Seth has a distinctive approach to his work that offers the community insight into a vessel aesthetic that goes beyond the ordinary," said Rebecca Coffman, Professor of Art and the Department Chair of Art + Design. "We are very fortunate to have an accomplished artist like Seth to share his work with us."
Green received his MFA in Ceramics from the University of Nebraska-Lincoln and his BA in Art from Southern Utah University. He is active in showing his ceramic vessels to national and international audiences. This exposure has led to numerous awards for his work including the Best Teapot Award in the 2012 Strictly Functional Pottery National Exhibition. He was additionally awarded Best of Show by the Kentucky Arts Council for his work exhibited in the 2015 Kentucky Crafted, and gained further recognition from publications such as Ceramics Monthly Magazine, The Clay Times Magazine, American, and iPottery.
"Seth Green's work is no doubt one-of-a-kind," said Emily Hubby, senior graphic design major and fine arts minor. "Being in ceramics II and learning about different forms and techniques, I can appreciate how Green has perfected the art of originality and craftsmanship. The theme of the dark clay with the gold and silver accents sets his work apart from all others."
Explore Seth Green's work with "spires and finials that pierce the sky and reach heavenward" as you tour Huntington University's Robert E. Wilson Gallery, open weekdays from 9:00 a.m. to 5:00 p.m., and before and after each Merillat Centre performance, including this week's opening of Peter and the Starcatcher.