The 2016-2017 Theatre Season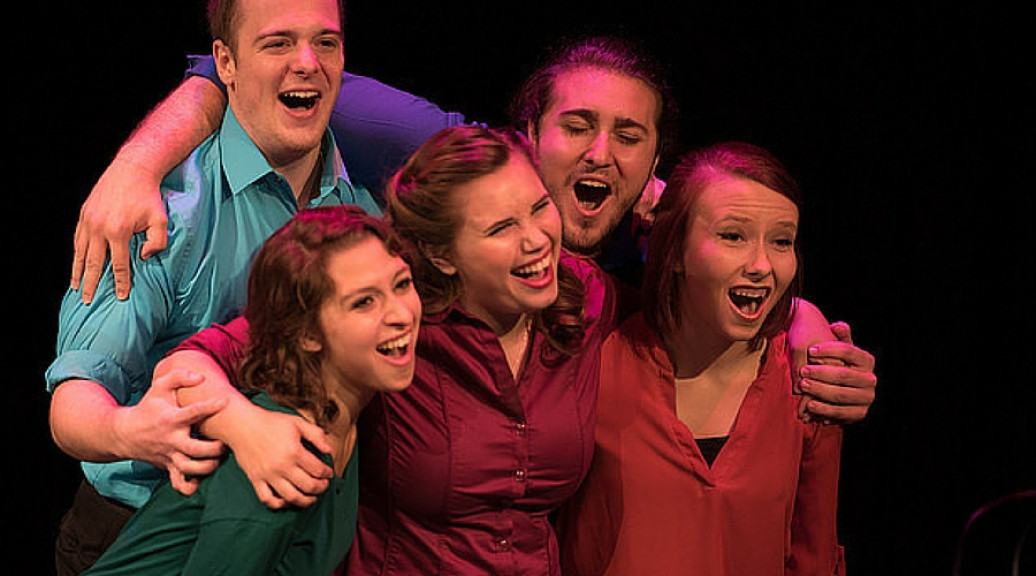 FOR RELEASE: Thursday, August 25, 2016
The 2016-2017 theatre season is going to be incredible! We've got comedy, we've got drama, we've got Shakespeare, and more! And this year, we have something new: Online ticket purchasing options! We hope you will join us this season as our students bring characters — both new and old — to life on HU's stages.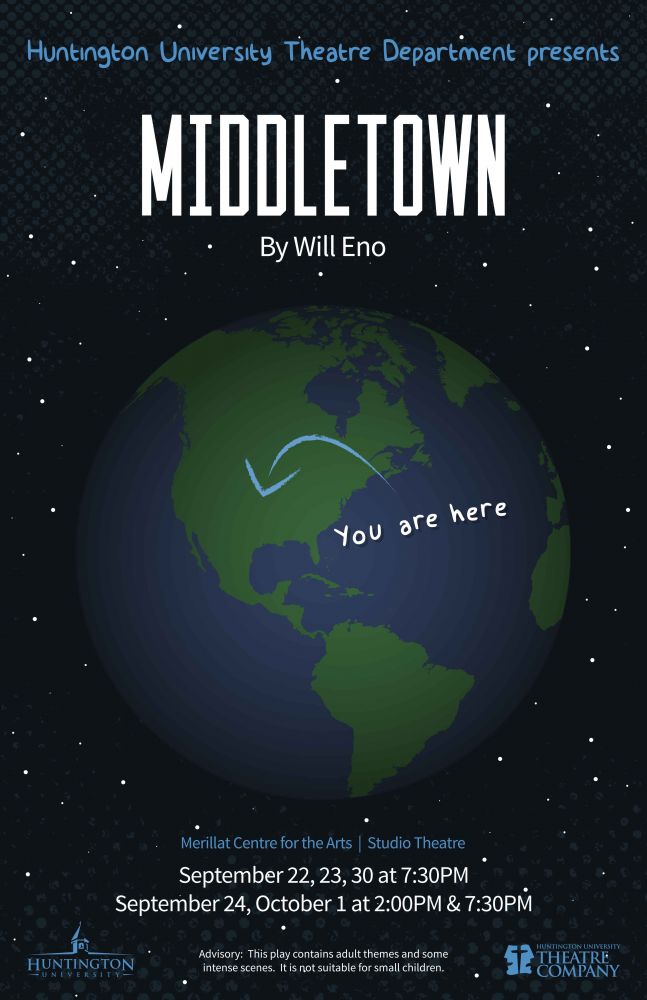 Middletown
By Will Eno
September 22, 23, 30 at 7:30 p.m.
September 24, October 1 at 2:00 p.m. & 7:30 p.m.
Studio Theatre
Tickets: Adults $12, Seniors $10, HU Faculty/Staff $9, HU Students $5
Among the seemingly simplistic events of everyday life, the citizens of Middletown ponder the strange beauty of life as well as the relentless search for meaning with a quick-witted screwball lyricism. Tempering the mundane with the miraculous, the hopeful with the unsettling, and the deeply moving with the absurdly funny, Eno's richly engaging script is sure to satisfy all your theatrical senses. Audience members will particularly appreciate this modern day homage to Thornton Wilder's famous American play, Our Town. Advisory: This play contains adult themes and some intense scenes. It is not suitable for small children.
The TROUPE performs at Homecoming
"And the Winner Is…"
October 8 at Noon, 2:00 p.m. & 4:00 p.m.
Studio Theatre
Free admission
It's homecoming weekend so let us entertain you. Let us make you smile. This year, the talented student ensemble presents selections from all-time favorite Tony-award winning musicals. Due to this shows popularity, 3 performances will be offered again this year. Arrive early to get a seat!
A Christmas Carol
Adapted by James W. Rodgers
November 17, 18 at 7:30 p.m.
November 19 at 2:00 p.m. & 7:30 p.m.
Zurcher Auditorium
Tickets: Adults $12, Seniors $10, HU Faculty/Staff $9, HU Students $5
Start your holiday season by enjoying Charles Dicken's famous tale of redemption. Ebeneezer Scrooge never shows kindness to anyone, not even to his own employees or his only nephew. When three ghosts pay him a visit in the dead of night, Scrooge is confronted by his conscience and ultimately must decide to accept a tragic fate or be transformed by the generosity of the Christmas spirit. This reimagined and visionary adaptation is sure to please all.
Shrek the Musical
Music by Jeanine Tesori
Book and lyrics by David Lindsay-Abaire
March 30, 31, April 6, 7 at 7:30 p.m.
April 1, 8 at 2:00 p.m. and 7:30 p.m.
Zurcher Auditorium
Tickets: Adults $12, Seniors $10, HU Faculty/Staff $9, HU Students $5
HUTC goes green! Ogre green, that is. Join Shrek as he reluctantly sets out with his new found pal, Donkey, to save the fair Princess Fiona from a dragon and return her to her promised husband, Lord Farquaad. Unfortunately, no plans go smoothly in this outrageous adventure, particularly in the realm of love. The whole family will enjoy this rollicking fun musical based on the beloved 2001 animated film.
Senior Showcase
April 28 at 7:30 p.m.
Zurcher Auditorium
Free admission
This highly anticipated annual event is dedicated to showcasing the talents of our graduating seniors. They will present a memorable production of songs and scenes that are the culmination of their years of study in performance and design.
Shakespeare & Songs
April 29 at 7:30 p.m.
Studio Theatre
Free admission
Two theatre classes combine to bring you an evening's entertainment. Elizabethan Acting will share some classic scenes from the Bard and Techniques of Musical Theatre will perform exciting musical numbers from the musical theatre repertoire.
For ticket reservations and information contact the Box Office at (260) 359-4261 or purchase tickets online!