The Sweet Taste of a Job Well Done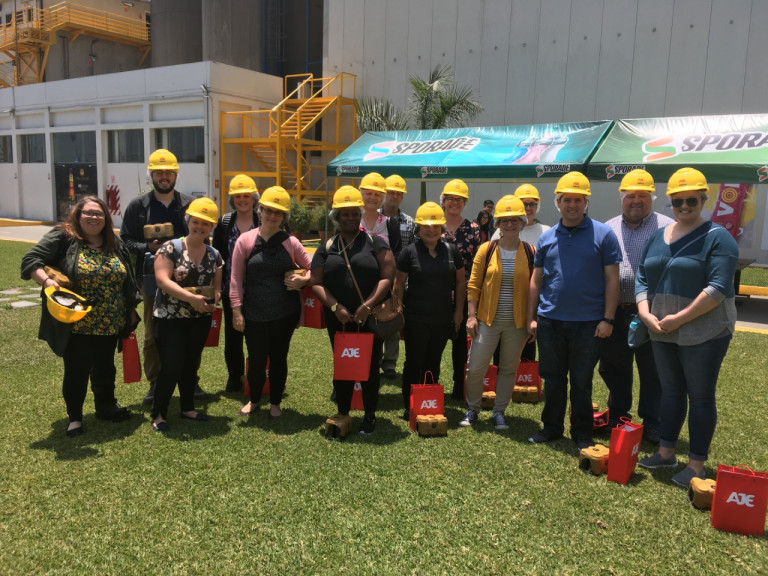 FOR RELEASE: Tuesday, July 18, 2023
What do superfruits from the Amazon Rainforest, a multinational beverage company, and Huntington University have in common?
A business presentation in Peru — that's what.
In October 2019, Huntington University MBA students traveled to Peru as part of their Master's-Level International Learning Experience (MILE), a 10-day trip focused on immersing students in international business settings. On the itinerary for this particular MILE trip were meetings with AJE Group, a large multinational beverage company well-known in Central and South America.
Before the trip, the Director of the MBA Program, Dr. Brock Zehr, had connected with AJE via the tour company to set up projects that MBA students could present when they were in Peru. The tour company asked Zehr what projects the students would be interested in doing.
"We really are interested in exporting and importing and learning that side of the business," Zehr told them, "so if you have any companies that would have projects that they could work on beforehand, then present and work on while we're there, that would be ideal."
"And they came up with AJE."
From there, AJE provided them with the preliminary specifications for three projects focused on marketing, salesforce training, and imports and exports.
Enter the Amazonian superfruits. Three of the 11 students on the trip worked on a feasibility study that considered the possibility of launching AMAYU, a line of natural juices made with fruits from the Amazon, in the United States market.
Four years later, three AMAYU juice flavors are available for sale in the United States. AJE emailed Zehr to let him know that the HU research had been a part of the decision to launch.
When they presented their study to AJE, the MBA team did not have a clear indication of what, if anything, AJE would decide to do with their recommendations.
"We did it and it went fine, and we thought that would be the end of it," said Zehr.
Uncertainty about outcomes is not unusual for presentations of this kind, especially when you take into account that an international pandemic disrupted trade shortly after the MILE trip. The wait, however, has not diminished the HU team's excitement that their project had a part to play in the United States launch.
"What a privilege to see our project come to fruition and have it available in the U.S.," said Gracia Reed, one of the three group members on the AMAYU project. "It was exciting that we got to be a part of it."
As of June 2023, three flavors of AMAYU are available in the United States: buriti, acaí, and camu camu. All three are "packed with vitamins and antioxidants," according to the product website (AMAYU.com), and are "wild harvested by indigenous communities from deep within the Amazon." In addition to promising delicious flavor and vitamin-rich health benefits, AJE has positioned AMAYU as a product that protects biodiversity, empowers indigenous people, prevents deforestation, and promotes sustainability.
In their feasibility study, the HU MBA students recommended leaning into AMAYU's health benefits to differentiate it from the many fruit juices already on the United States market. They also looked at ways to retail the product.
"They really dove into what the product was made of, the benefit that it brought as far as benefits to the consumer, and even the fact that there are properties in these fruits that can really benefit your health," said Zehr. "They did a lot of research into the product itself and trying to package how to market that to the U.S. consumer."
On the day of the presentation, both Zehr and the MBA students saw that AJE was impressed with their research.
"I remember how engaged and excited the leader was during our presentation," said Reed. "When I was moving things along, he asked me to go back to the slide I had presented because he was so intrigued by the information and had a lot of questions. He was especially interested in the research presented on the juice industry."
Collecting good research for the presentation projects had been a team effort, and RichLyn Library, thousands of miles away in Huntington, Indiana, had a part to play. Although the students had started their projects before taking the trip, they made final changes in Peru. They worked remotely with RichLyn Library to get the data they needed.
Their research was both timely and impactful. AJE was so impressed with the data that they wanted to know where it came from and if they could keep a copy of the slide deck.
"The executive team were blown away by the scope of the information that we had," said Zehr. "It was drilled down to the beverage industry but even juices, natural juices, and natural fruits. It wasn't generic. It was really pinpointed for the product. They were impressed by that."
HU's impact is ongoing. Zehr recently received confirmation that a product one of the other groups presented a feasibility study on, an energy drink called Volt, will also be released in the United States.
The true value of the experience for all eleven MBA students was the opportunity to immerse themselves in projects that would cross cultures and apply what they had learned in other classes in a very practical way.
"I learned companies around the world have similar dynamics even in cultural differences," said Reed. "Executives have busy schedules, workers want to look good in front of the executives, people are passionate about their product and company."
This opportunity to learn is the intention behind the MILE trip for any MBA student. The 2019 Peru trip, however, has had a uniquely sweet, delightful ending.