Ware family gifts $250,000 to Huntington University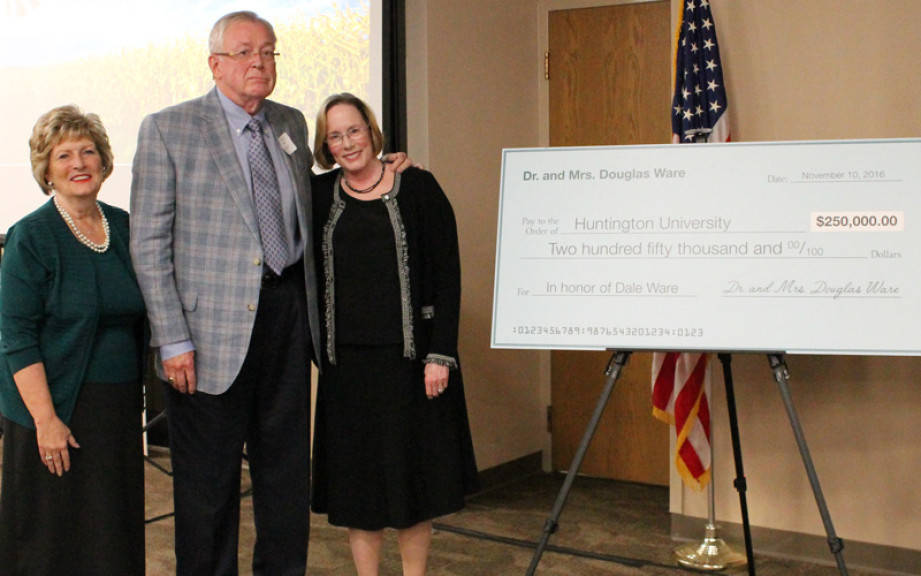 FOR RELEASE: Wednesday, November 16, 2016
Huntington University has received a $250,000 gift from Dr. and Mrs. Douglas Ware of Chapel Hill, North Carolina. The gift was given in honor of their late father, Dale Ware. The announcement came at the First Annual Haupert Institute for Agricultural Studies Harvest Celebration and Auction held on November 10.
"We are so appreciative that Dr. and Mrs. Ware chose to honor one of our alums in this meaningful way. Their gift will create a unique opportunity for students to pursue a study of agriculture with the emphasis on the connection between faith, family and farming," stated Dr. Sherilyn Emberton, HU president.
With Huntington University coming off a seven-year high in total giving of more than $5 million during the last academic year, that momentum continues into the current academic year. Financial support for Huntington's Arizona location, significant estate gifts and on-going support from HU's trustees, alumni and friends continues to be setting new highs. After a recent $500,000 lead gift to build the newly-constructed Welcome Center, the occurrence of six-figure gifts are having a significant impact at Huntington University.
"This is just one way we can honor my father who significantly influenced my life and challenged me to pursue a career in agriculture. We also wanted to recognize his life-long commitment to education. It's been a blessing to see first-hand how he had inspired so many students," said Dr. Douglas Ware. "My father was proud to be an HU alum and we hope this gift will help strengthen the legacy of Huntington University and further solidify the mission of the Haupert Institute. There is a definite need for a Christian agriculture program and we hope others will come forward and support Huntington University."
Dale Ware was a 1936 graduate of Huntington University where he earned a bachelor's degree in education. During his time at Huntington, he was an accomplished scholar, athlete, lead-tenor in the college choir and was an active member of the college community. Dale taught and coached in the Huntington County School Corporation for more than 40 years primarily at Huntington High School[LF2] .
Dr. Douglas Ware, earned his Ph.D. in animal nutrition from Iowa State University in 1977. He was a senior research scientist at the Dow Chemical Company before founding Nutrition Physiology Company (NPC) in 1993. Dr. Ware developed and patented Bovamine, a probiotic feed additive which is now fed to more than six million cattle daily and is widely considered the industry standard. NPC was acquired by CHR Hansen, a European bio science company with 2,600 employees worldwide and annual sales of $1 billion.
The Ware gift will be allocated for future capital projects as well as HU student scholarships.