Center for Spiritual Formation
Location
Lower Level
Livingston Residence Hall
Most students today are searching for something. Each one desires a sense of connection, growth, authenticity, and mission in life. At Huntington University, we believe Jesus Christ brings that to the table. He touches our hearts, opens our minds, and challenges our lives, and our passion is to equip students to share Him and His story with friends, neighbors, and the world. Spiritual formation is about more than a religion; it is a faith journey we travel together.
The Center for Spiritual Formation works at the center of Huntington University's mission to impact the world for Christ through scholarship and service. We work closely with faculty and staff across campus to provide rich opportunities for personal spiritual and intercultural growth, Christian service, and the integration of faith and learning.
Every resource we offer students — from community and residence hall chapels to devotions and small groups, from personal interactions to special on-campus events — we designed to challenge and encourage the members of the entire Huntington community in their faith journey throughout the week.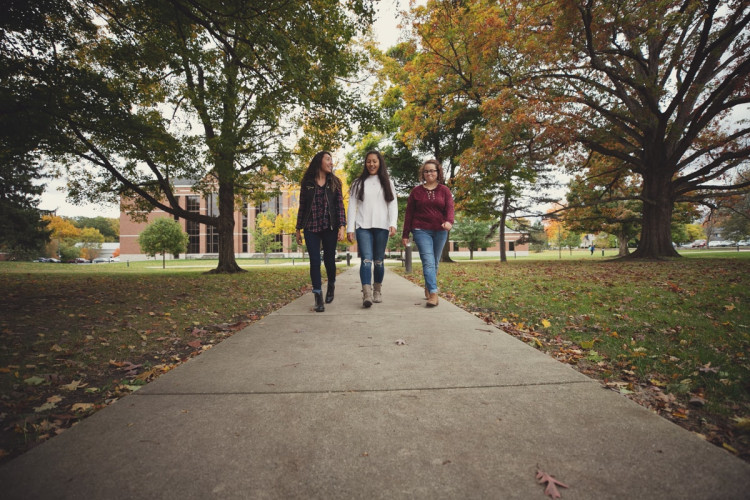 We began with a plan that reflected students' needs and wishes. In Stride: The 2019-2023 Spiritual Formation Plan, the basis for the Center for Spiritual Formation, developed in part from a longitudinal study that examined the spiritual formation of Huntington University students.
While developing the Spiritual Formation Plan, we set goals for spiritual development:
Foster a community that encourages intentional relationships, meets students where they are in their faith development, and guides them to increased maturity in Christ
Enhance a corporate spirituality on campus
Develop a virtual Center for Spiritual Formation for students to dig deeper and take next steps toward regular spiritual disciplines, missions experiences, and cultural engagement
Our first step toward these three goals was bringing together a team of staff and resources that would lead the way. In 2020, that first step — the Center for Spiritual Formation — came to fruition.

Opportunities available during the academic year
Community Chapels:
Tuesdays and Fridays at 11:00 a.m.
In community chapel services, men and women from a multitude of backgrounds and ministries challenge us in our faith journey. Each chapel service is unique. At least once a month, Joyful Noise, our student band, leads us in a time of praise and worship. We also incorporate special week-long themes such as Relationship Emphasis Week, Service Emphasis Week, and GO Week throughout the year.
Small Groups:
Varies by group and semester
Volunteer staff, faculty, and ministers from the Huntington community lead small groups to provide a more intimate place for students to grow spiritually. Students who opt to participate in a small group encounter a safe environment to mature, gain spiritual mentors, and build valuable relationships that will strengthen their walk with Christ.

Sojourners
Sojourners are fellow travelers on the college journey. They are HU students who are committed to abiding where they are right now — in the middle of the messiness of day-to-day life, spiritual development, and personal growth on campus. They are here to listen and to speak into the lives of their peers, working closely with the Center for Spiritual Formation to come alongside others in their Christian walk.
Learn more!