Chynna Presley Named to 40 Under 40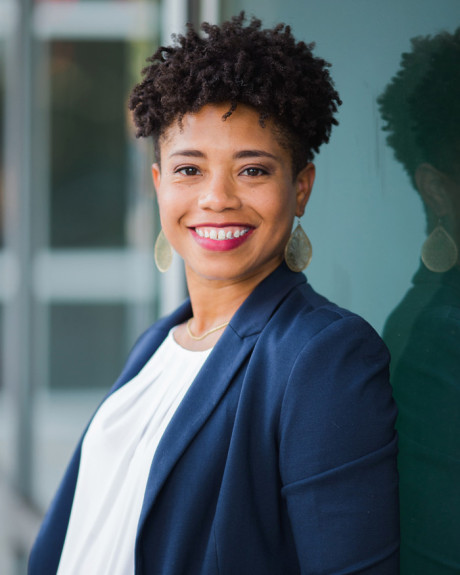 FOR RELEASE: Tuesday, March 9, 2021
HUNTINGTON, Ind. — Huntington University is pleased to offer our congratulations to Chynna Presley on being named to Greater Fort Wayne Business Weekly's 40 Under 40 Class of 2021! Presley is a graduate of Huntington University, earning her Bachelor of Social Work degree in 2007. She earned her Master of Arts degree in organizational leadership in 2018 and returned to her alma mater in 2020 as the director of intercultural enrichment. Prior to returning to Huntington University, Presley used her skills as a family specialist, community education coordinator, director of women's ministries and volunteer services, home-based supervisor, director of programming and client services, and program director.
Nominated by Huntington University and Reverend Arthur Wilson, vice president for spiritual formation, Presley said that she is "humbled to be in the mix with people who are well accomplished and inspired to do great work. Iron sharpens iron, and you can never be too sharp."
"Nominating Chynna for this distinguished award was a no-brainer," said Wilson. "Since the moment that she graduated from HU, Chynna has tirelessly served marginalized populations with compassion, humility and wisdom. Throughout Fort Wayne and surrounding communities, her leadership has been contagious. So many young men and women have developed a thirst for demonstrating effective leadership because of the tremendous example provided to them by Chynna."
In her role as Director of Intercultural Enrichment, Presley runs the Horizon Program and supports and advocates for all minority and international students. She also works with faculty and staff to help create a culturally competent environment that emulates the Kingdom of God. Her work is driven by a passion to see unity in diversity flourish and social barriers crumble.
"What I hope people understand about that work, whether it be internal or systemic, is that the root of change must be love. Why? Because it is the greatest commandment. What is love? It's an action. It's a decision. 1 Corinthians 13:4-7 tells us what it looks like to operate out of love. If our thoughts, actions, policies and practices do not align, then we are not following God's commandment and we will not see the changes we say we want to see," said Presley.
This passion for justice isn't new to Presley. Twyla Lee, associate professor, lead faculty and director of online social work at Indiana Wesleyan University and former professor at Huntington University, said that Presley "was passionate about social justice and living out faith in ways that are very tangible as you involve yourself in people's lives." Lee taught in the budding social work program when Presley was a student at Huntington University and saw firsthand Presley's heart for people and relationship.
"One of the things I saw her grow in so much during those years in the program was being able to get beyond herself and to see the world from other people's perspectives that were different from herself," said Lee. "She also helped people become more open to examining differences and seeing how we see things differently, but then also to find the common ground that we have from which we function as a unit with unity."
In honor of Presley's dedication to her community and the work of reconciliation and social justice, Huntington University is pleased to be the title sponsor for the Greater Fort Wayne Business Weekly 40 Under 40 recognition event on March 18.
Huntington University is a comprehensive Christian college of the liberal arts offering graduate and undergraduate programs in more than 70 academic concentrations. U.S. News & World Report ranks Huntington among the best colleges in the Midwest, and Forbes.com has listed the university as one of America's Best Colleges. Founded in 1897 by the Church of the United Brethren in Christ, Huntington University is located on a contemporary lakeside campus in northeast Indiana. The nonprofit university is a member of the Council for Christian Colleges and Universities (CCCU).