HU Business Students Presented with Unique Opportunity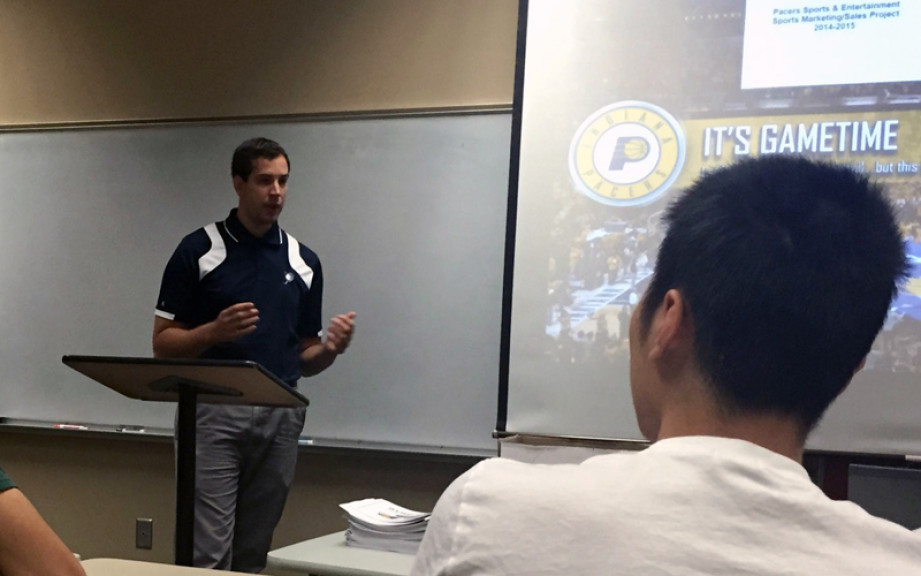 FOR RELEASE: Wednesday, September 23, 2015
On Sept. 18, the Huntington University Business Department hosted guest speaker Bryan Stine, ticket sales coordinator for the Indiana Pacers.
Stine spoke in Brock Zehr's Salesmanship and Principles of Marketing courses, explaining how he acquired a position with the Pacers. He also presented HU students with an opportunity to follow in his footsteps.
Stine graduated from Indiana Wesleyan in 2012 and received a job in the Pacers' consumer sales department as a result of the same internship prospect offered to HU students on Friday.
"I'm giving you an opportunity that might be your 'in' with a professional sports team," Stine said.
Students in both classes were given information and training to prepare them for selling Pacers tickets throughout the school year. At the conclusion of the project, the individual that produces the most revenue through ticket sales lands a guaranteed interview with Pacers Sports and Entertainment.
"Bryan presented a valuable opportunity for our marketing, sales, and sports management students," Zehr said. "He exemplified how someone graduating from a Christian liberal arts college can succeed with a national organization by working diligently and capitalizing on opportunities.
When Stine won the project contest, he sold 133 tickets, garnering over $2,000 in revenue. His interview led to a job in consumer sales. He has since worked his way up the sales ladder, assuming the role of coordinator in November 2014.
The students will be selling tickets for 15 different home Pacers games, including a contest against defending champion Golden State. Stine said the process, regardless of who wins, benefits all who contribute through the sales experience acquired.
"I look forward to watching our students rise to the challenge," Zehr said. "I have a gut feeling that someone from HU will lead the pack. Perhaps this type of partnership will become a catalyst for generating even more opportunities for our business and sports management students."