HU inducts 14 students into Alpha Chi Honor Society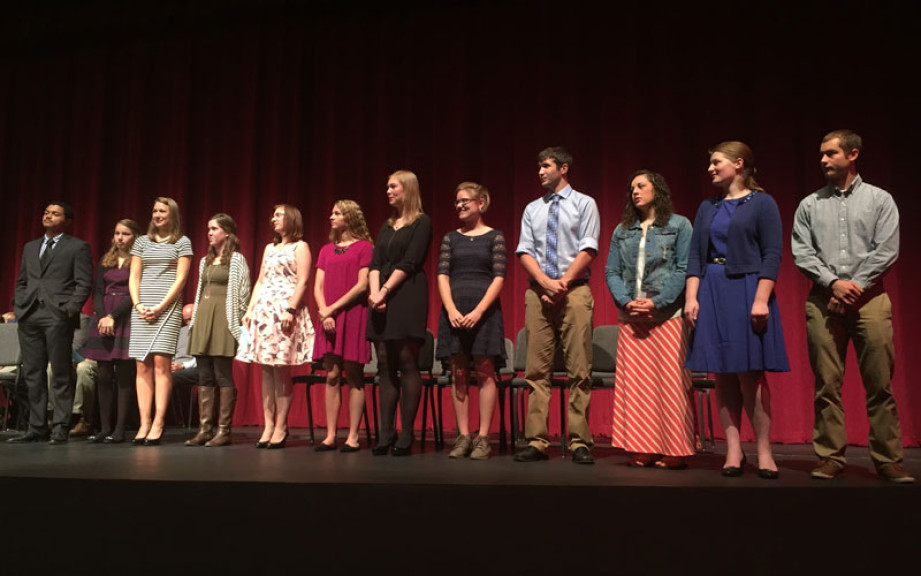 FOR RELEASE: Wednesday, October 12, 2016
Huntington University inducted 14 new members into the Indiana Beta Chapter of Alpha Chi during a convocation held September 30 at the university.
"Membership in Alpha Chi is the highest academic honor at Huntington University and represents both a recognition of scholastic achievement and a commitment to promoting academic excellence and integrity on and off campus as well as service," said Dr. Ruth Nalliah, faculty sponsor of Alpha Chi and professor of chemistry.
The Indiana Beta Chapter of Alpha Chi National College Honor Scholarship Society was established in 1967 and is one of more than 300 chapters in Alpha Chi. It is active in the regional and national activities of Alpha Chi and was named the National Chapter of the Year in 2001 and 2015.
This year, for the 20th consecutive year, the Indiana Beta Chapter also was selected as a Star Chapter of Alpha Chi. It is one of four chapters to have received this award every year since its inception in 1996. Its members present papers at the national conventions of Alpha Chi and frequently win regional and national scholarships.

The following students were inducted into the Alpha Chi chapter for 2016:
Caitlyn Chase, a junior digital media animation major from Granger, Ind.
Lindsey Czernicki, a junior social work major from Racine, Wi.
Quinn Groff, a junior economics and finance major from Ligonier, Ind.
Rachel Hart, a junior film production major from Adrian, Mi.
Darius Hillman, a junior history-political science major from Ashley, Ind.
Hailey Krewald, a junior accounting major from West Bend, Wi.
Jaron Lewton, a junior agribusiness major from Lagrange, Ind.
Abby Poole, a junior nursing major from New Palestine, Ind.
Jeniece Regan, a junior biology pre-med major from New Haven, Ind.
Amanda Seaman, a junior elementary and special education major from Russiaville, Ind.
Brandi Spear, a junior nursing major from Lake Odessa, Mi.
Kristin Sutter, a junior social work major from Columbus, Oh.
Stormie Thorn, a junior educational ministries major from Wayne, Oh.
Bradey Wright, a senior history major from Fort Wayne, Ind.