Huntington University to Host Six Summer Academies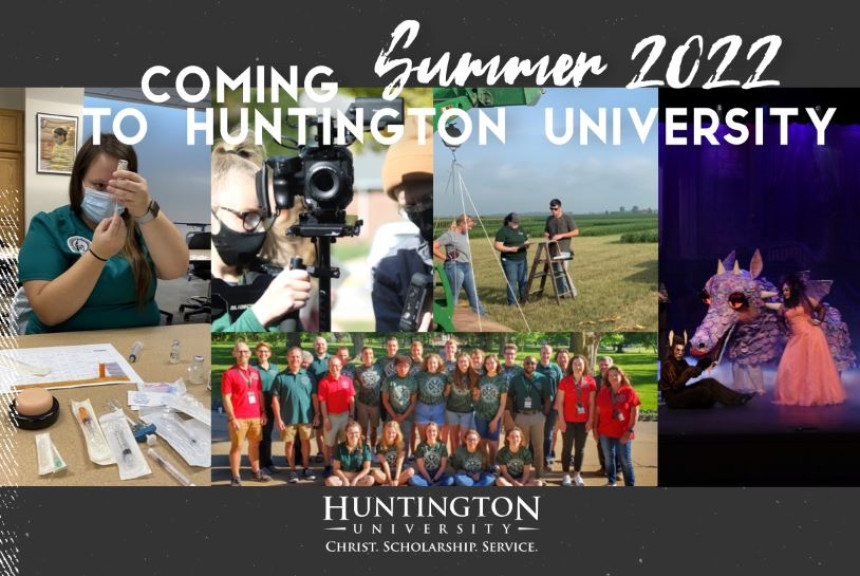 FOR RELEASE: Tuesday, April 26, 2022
During the summer of 2022, Huntington University will host six academies geared toward high school students. Interested students are invited to attend these week-long experiences designed to help them see a glimpse of what life would be like working in a particular field of study. Attendees will participate in hands-on projects and activities while learning about a topic or idea that interests them. Each day, attendees will learn alongside their peers and Huntington University faculty. Special guests who are experts in their respective fields will also lead workshops and sessions throughout the week.
The six academies offered include:
Veritas Theology Institute | June 11-18
Huntington University's Veritas Theology Institute is a week-long academy for high school students who are interested in deeper theological study or who may be interested in pursuing a career in ministry. Students spend each morning studying and reflecting on the writings of distinguished theologians in both classroom and small group settings. They spend their afternoons in experiential learning at a variety of ministry sites. These experiences, plus developing close relationships with other like-minded students, help build a strong theological foundation that will be invaluable as these students pursue their calling.
Film & TV Production | June 19-14
Film and TV Production Academy attendees will script, film, and edit a short narrative film, attend workshops on a Netflix-approved RED camera system and Panasonic EVA-1, participate in digital lighting workshops, edit using the Adobe Creative Suite in a 5K resolution Mac lab, produce a non-fiction news/documentary piece, and compile their work into a final show in HU's live television studio.
Animation | June 19-24
Animation Academy attendees will dive deep into concept art illustration using Photoshop, 3D computer graphics with Maya, Motion graphics animation using After Effects, 2D animation with Toon Boom Harmony, and 3D digital sculpting with ZBrush.
Performance | June 19-24
Performance Academy attendees will focus on all things voice-over and radio by exploring voice acting skills and techniques, creating their own voice-over demos, performing live on-air for WQHU 105.5FM, HU's FM radio station, and learning about the business of voice-over performance and potential career paths in the field.
Nursing | June 20-24
Aspiring nurses won't want to miss HU's Nursing Academy. This five-day up-close look at nursing will give students experience with the equipment, techniques and heart of the nursing profession. They will learn from and work closely with Huntington University Department of Nursing faculty and immediately apply what they have learned in the lab and in the field. Also, students can earn college credit! Credit is not transferrable to other institutions but will provide a head start on a Huntington University education.
Agbioscience | June 20-24
Agbioscience Academy is focused on all the elements of agriculture, including agronomy, precision agriculture, animal science, plant biology, technology and agricultural business. In addition to the classroom experience, students will participate in hands-on projects involving Huntington University's learning labs that house livestock and crops. Each day, students will learn alongside their peers and Huntington University faculty and students. Special guests who are experts in their respective fields will lead workshops and sessions throughout the week. There are off-campus excursions as well to area ag-related industries and even a morning session at a local ropes challenge course.
For more information about each academy and to register, visit huntington.edu/Summer2022.