HU's DMA Programs Ranked Nationally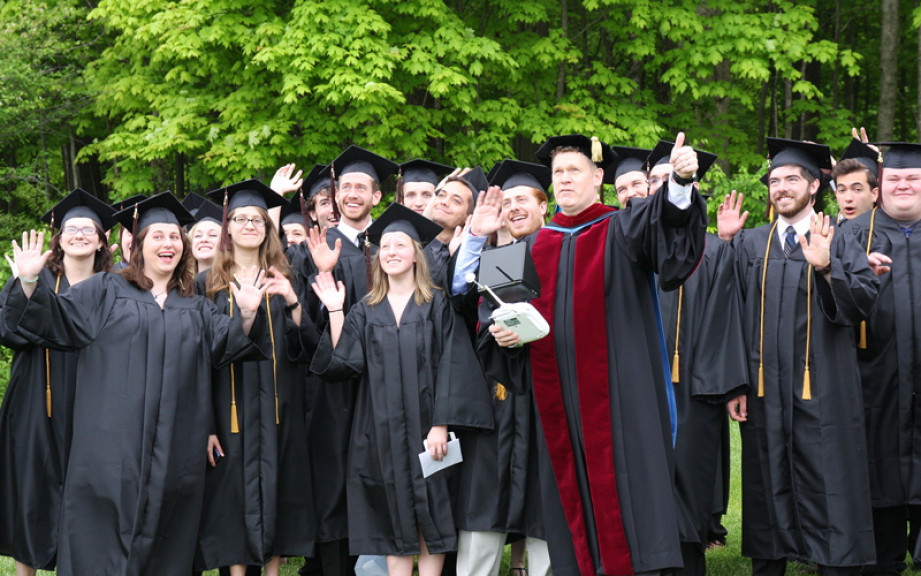 FOR RELEASE: Tuesday, May 19, 2015
Huntington University was named the No. 9 "Hidden Gem" college in the U.S. for employers seeking graduates with skills in animation, interactive technology, video graphics and special effects. There were 11 winners of College Recruiter's 2015 Hidden Gem Index.
"This national ranking of HU's Digital Media Arts Department affirms the strength of our graduates in the marketplace," said Dr. Lance Clark, department chair. "High-caliber companies like Paramount and DreamWorks are employing Huntington University graduates, and this year alone, our students have won more than 30 regional and national awards. I believe the demand for our high-quality graduates in animation, broadcast-fusion media and film will only continue to grow."
Established in 2005, HU's digital media arts programs include majors in animation, broadcast-fusion media, film production and film studies. The department was launched by HU faculty members Steve Leeper and Bryan Ballinger, both of whom worked on the popular "VeggieTales" series. The Digital Media Arts Department has the largest number of majors at HU with 130 in the 2013-2014 academic year, representing 13 percent of the undergraduate population.
College Recruiter used its custom research product to generate the rankings. College Recruiter's database includes 185 majors at virtually every one of the 4,000 one- and two-year colleges and 3,000 four-year colleges and universities in the U.S. A custom labor market or salary research report can tell an employer, for example, what the going rate is for a recent graduate with a certain major at a specific school. Other common queries include data related to SAT scores, gender, ethnicity, as well as tenure and turnover of employees.
"There are a lot of awards out there for best colleges, but they almost all focus on starting salary, percentage of graduates employed upon graduation, or percentage of graduates employed within their chosen career path upon graduation," said Steven Rothberg, president and founder of College Recruiter. "There's nothing wrong with those rankings but they fail to tell the entire picture. They miss schools which are hidden gems because they do an incredibly great job of taking students who may not have been able to get into the most expensive or most prestigious schools but who are hired into the same types of jobs with the same types of companies paying the same types of starting salaries."
The modeling for this hidden gem school project was to identify the schools which featured high SAT/ACT scores for entering students, high average starting salaries for the regions in which the schools were located, a high percentage of graduates working in their chosen field of study, and a majority of the graduating class available for recruitment by employers. The availability factor distinguishes many of the excellent from the hidden gem schools. An excellent school may have a high percentage of its graduating class already committed to work for other employers or going to graduate school but that is not a school at which most employers will find success in their effort to hire graduates. A hidden gem school, on the other hand, is one at which employers are likely to find high quality candidates who are ready, willing, and able to say yes to an offer of employment.
The top 11 hidden gem schools for U.S. for employers seeking graduates with skills in animation, interactive technology, video graphics and special effects are:
Brigham Young University-Provo

Loyola Marymount University
Bradley University
George Mason University
Rochester Institute of Technology
DePaul University
New Jersey Institute of Technology
Minneapolis College of Art and Design
Huntington University
University of Hawaii at Manoa
Savannah College of Art and Design
College Recruiter helps recent grads and students find great careers. College Recruiter is the leading niche job board for college and university grads searching for entry-level jobs and students searching for internships. The site features hundreds of thousands of entry-level and internship job posting ads as well as tens of thousands of pages of employment-related articles, Ask the Experts questions and answers, blogs, videos and more. The clients are mostly federal government and Fortune 1,000 corporations who advertise their job openings using job postings, targeted email campaigns, targeted mobile banner ads, targeted display ads and virtual career fairs.