"The Gift of Hope" wins 3 Rivers Film Festival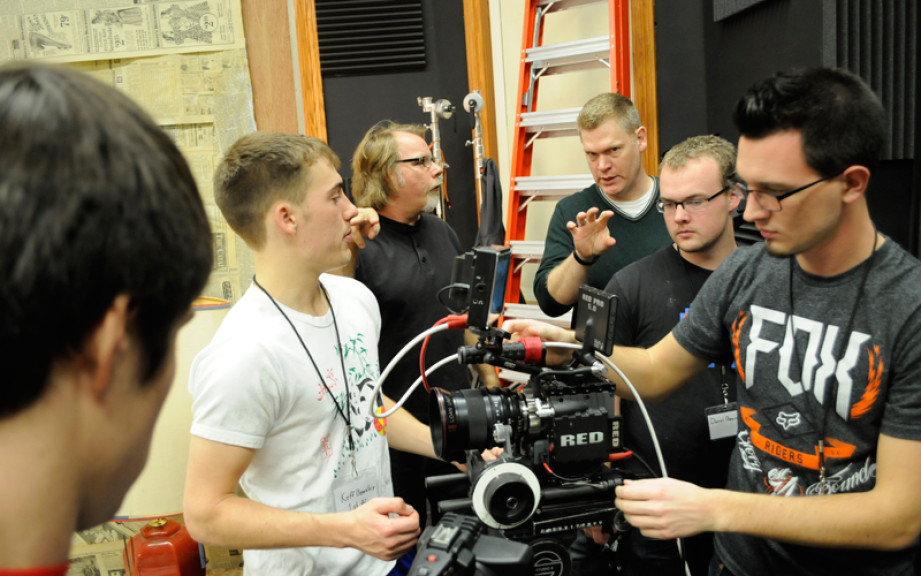 FOR RELEASE: Monday, July 20, 2015
"The Gift of Hope," a film collaboration by Huntington University professors and students, was the overall winner in the 3 Rivers Film Festival on July 15.
The film was entered in the drama category by Dr. Lance Clark, professor of digital media arts film & communications. It was one of 15 films selected to be shown in a free public viewing at the Cinema Center in Fort Wayne.
"We had a terrific time celebrating the creative filmmakers' work in the northeast Indiana area at the 3 Rivers Film Festival," Clark said. "Seeing our department film, 'The Gift of Hope,' in front of a local audience that knew nothing about the film and having them enjoy it was very rewarding. This film has a big heart, and it was an honor seeing others in the audience be touched by it."
During the two public viewings, one at 8:00 p.m. and again at 10:00 p.m., the audience submitted votes for its favorite film, with the majority of the votes going to "The Gift of Hope." The film received the first place prize of $150.
"Receiving the first place audience award is so rewarding to me personally because it's a win for our entire digital media arts program since both live action and animation students and faculty were on the crew," Clark said. "We are just so humbled at the response this film received and are so excited about the future festivals we are entering in."
"The Gift of Hope" was filmed in Huntington from November 17 to 22, 2013. The film is a joint partnership between the digital media arts department and Youth For Christ. The main purpose of the film, which is based on a true story, was to bring awareness to the need for positive mentoring. It shows the importance of helping young people make positive choices in their faith journey.
The film was directed by Clark and produced by Dawn Ford, associate professor of professor of digital media arts. It was written by Jonathan Scales, a 2015 graduate of the Huntington University digital media arts department. Over 40 Huntington University students worked on the film in various roles.
The 3 Rivers Film Festival, which was an official part of Fort Wayne's Three Rivers Festival, was a combined effort between Cinema Center and PBS39 to highlight and celebrate the visual arts, specifically local amateur talent working with film and video.
All of the film entries will be broadcast on PBS39 channel 39.1 Sunday, July 19, at 11:00 p.m.