Wilson Art Gallery Hosts 29th Annual Juried Student Art Exhibit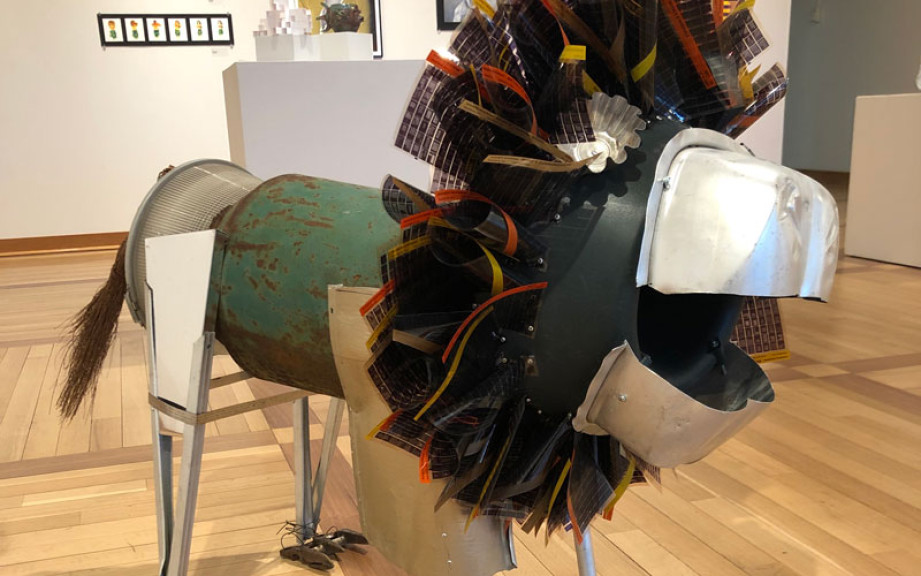 FOR RELEASE: Tuesday, March 26, 2019
Huntington University's Robert E. Wilson Art Gallery is currently hosting the 29th Annual Juried Student Art Exhibit. The exhibit opened on March 7 and will be available through April 10. On March 9, the Department of Art + Design held an awards reception to announce the winners of this year's competition.
"I am pleased with the quality of work that the students submitted to the 29th Annual Juried Student Art exhibit," said Rebecca Coffman, professor of art at Huntington University. "It is a great sampling of the range of media and styles and concepts that the students have been engaged with this year in their creative production in the department of Art + Design curriculum. There are a number of works that stand out in this exhibit, reflecting the strong work that is being produced throughout the program, from freshmen to senior work."
Emily Hubby claimed Best of Show for "Stages of Anxiety," a digital photography piece. Hubby also received first place overall for "Smoke More Live Less." Megan Duckworth took home the second place overall award for "Whimsical Fins," and Kayla zurBurg received the third place overall award for "Little Brother."
The department also gave awards for outstanding work in each category. Brook Elston's "King of the Junkyard" received the award for the sculpture category, Jesse Grimm's "Skull" garnered the award for the drawing category and Sarah Lehman's "Mysterious" and Sam Hammel's "Looking Deeper" won in the digital photography category.
This year's juror was Brian Shaw, professor of art at Spring Arbor University.
"It was my pleasure to be asked to judge this year's exhibition," said Shaw to the competitors. "You should be very pleased with your accomplishments, and special congratulations to this year's award winners."
In addition to the juried competition, the Art + Design faculty selected one exhibit for the Robert E. Wilson Purchase Award. The RichLyn Library staff selected one exhibit for the RichLyn Library Purchase Award. Megan Duckworth received both awards; her "Copper Penny Bowl" was the faculty choice, and her "Twisted Flower" was the library staff choice.
The following Huntington University Art + Design students were selected to display their work in the 29th Annual Juried Student Art Exhibit:
Tanner Branscomb
Daniel Carpenter
Megan Duckworth
Brooke Elston
Jesse Grimm
Ashley Hall
Sam Hammel
Isaac Hatch
Emily Hubby
Sarah Lehman
Kara Mounsey
Saige Norris
Ashley Preston
Kari Riehle
Kara Schrock
Sara Scott
Josiah Souine
Katie Springer
Kara Strabbing
Kayla zurBurg