HU Foundation honors board member Rocky Stricker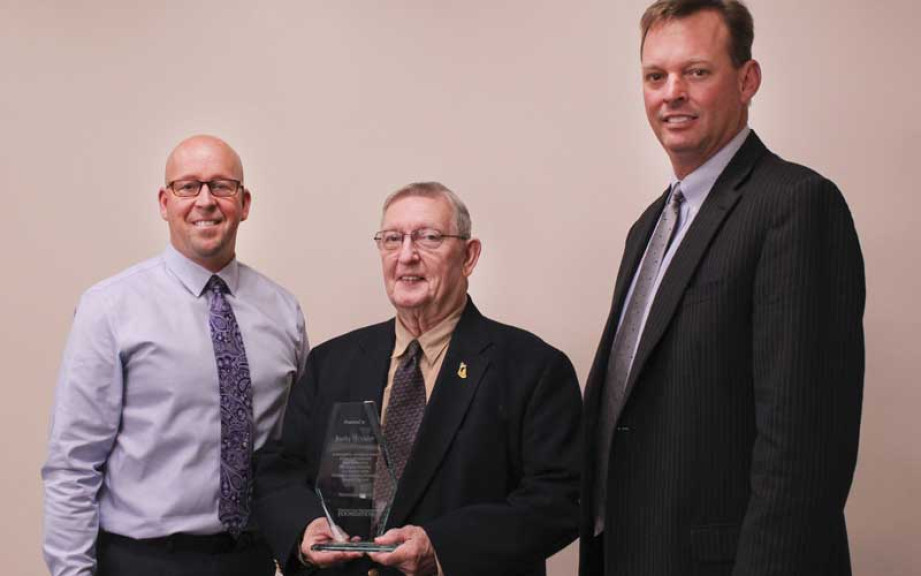 FOR RELEASE: Monday, December 11, 2017
The Huntington University Foundation honored long-standing board member Rocky Strickler for his 40 years of service. Strickler, who is a life-time resident of Huntington, was honored for his service at a November HU Foundation Luncheon.
"Rocky served the foundation well over the years," stated Kay Schwob, Senior Director of Advancement Operations. "Rocky was ahead of his time in that he supported women's athletics back in the late 1970s. He established and funded three perpetual enthusiasm awards as well as the Rocky and Carol Strickler Endowment that supports the arts, specifically for Digital Media Arts here at Huntington University."
During his tenure, Strickler founded multiple scholarships including the Rocky Strickler/Hank Aaron Baseball Scholarship. He also initiated the Rocky and Carol Strickler Endowment for the Fine Arts "Christian Artist Series" and the Rocky and Carol Strickler Endowment for Digital Media Arts. Strickler also chartered the President Huntington College Dugout Club. Strickler and his wife were strong supporters of women's athletics and funded three perpetual enthusiasm awards: the Freeman Award (Women's basketball); the Swan Award (Women's volleyball); and the King Award (Women's track and field).
While Strickler was on the investment task force, he wrote new investment guidelines that were adapted by the Huntington College Foundation and Huntington College. He co-authored operating guidelines with the Treasurer/ Business Manager, Paul Keller. These guidelines established accountability, authority and instructed how to invest in funds and different responsibilities.
"Our goal in supporting Huntington University was to plant seeds so others would see the benefit of having a Christian College in town," stated Strickler. "If you see something you like, get involved and give back. The Huntington community has been very supportive of me and my family over the years, and it's good to support our community."
Strickler also stated that he felt honored to have served four different university presidents starting with Dr. E. DeWitt Baker and ending with Dr. Sherilyn Emberton.