HU hosts 3rd Annual Forester Film Festival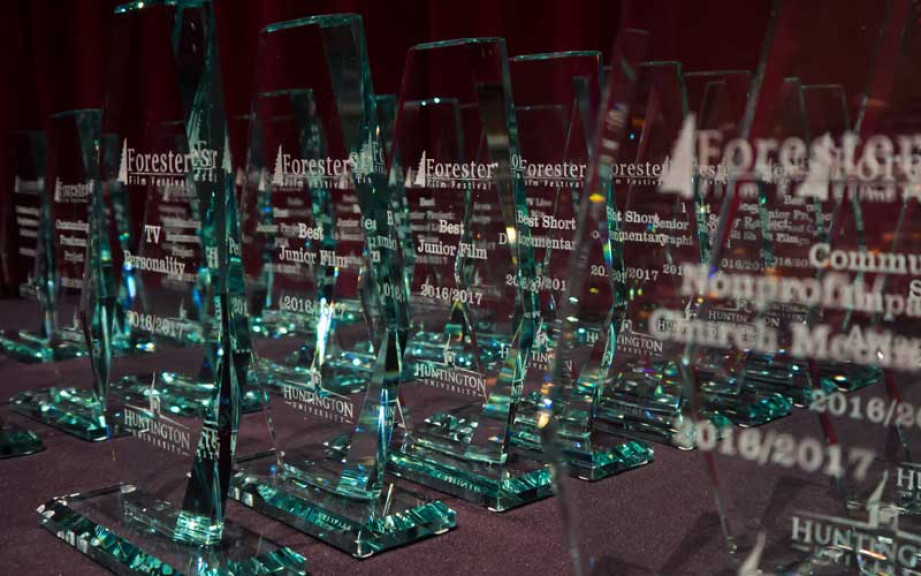 FOR RELEASE: Wednesday, May 31, 2017
Huntington University's Digital Media Arts Department presented 37 awards at the 3rd Annual Forester Film Festival on May 5.
The best-of-the-best in student-produced film, animation and broadcast media projects were premiered in the Merillat Center for the Arts' Zurcher Auditorium. More than 500 people attended the black-tie and red carpet event with special awards presented following the screening of the top student films for the year. Judges consisted of HU alumni, independent filmmakers and seasoned professionals from around the country.
Best in Show Awards:
Animation: Do You Hear the Frog – Karli Melder (Marietta, Georgia)
Broadcasting: Forester Radio Sweeper – Sam Jones (Camden, Michigan)
Film: Redshift – Ben Crane (Richmond, Indiana) and Zach McIntyre (Fort Wayne, Indiana)
"Every year it seems that our students in animation, film and broadcasting raise the production bar. It was so rewarding seeing our students celebrate each other's successes during the film festival and to then take in the larger body of work in each area during the showcase that followed," stated Dr. Lance Clark, professor in Digital Media Arts & Broadcast Media.
Each year the film festival is made possible by financial support from Rocky and Carol Strickler of Huntington, Indiana.