HU hosts annual high school mathematics competition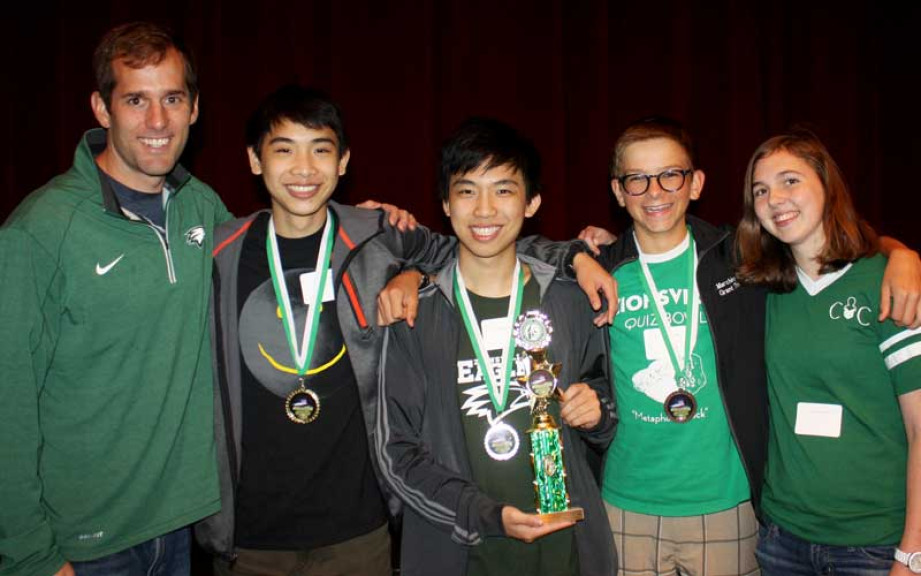 FOR RELEASE: Monday, November 6, 2017
Zionsville High School from Zionsville, Indiana, took home first place in the 18th Annual Huntington University High School Mathematics Competition on October 25. HU also sponsors a middle school math competition held each spring.
Eight area high schools competed for individual and team awards while demonstrating their mathematical abilities. The goal of the competition is to support and encourage the efforts of students seeking to achieve in mathematics. For the team competition, Zionsville High School captured first place, St. Joseph High School from South Bend, Indiana, took second place and Marion High School from Marion, Indiana, earned third place.
For the individual competition, Charlie Chiang, a junior from Zionsville High School captured first place. Jeremy Chiang, a senior from Zionsville High School, earned second place. Grant Thompson, a junior from Zionsville High School was awarded third place.
The mathematics competition is made up of three rounds. The first round is a 20-question written exam comprised of questions from algebra, geometry and general mathematics. Students can earn a total of 100 points for the exam. The individual round of the competition is made up of 10 questions. Students are given a minute and a half to complete each question. Each question answered correctly earns a student 10 points. The final round, the team round, provides additional points for the team score. Students are provided with several problems that are more challenging and best solved through the cooperative efforts of the team. A total of 50 points is possible for the final round.
Schools competing in this year's competition were Ayersville High School (Ohio), Howe Military Academy, Huntington North High School, Marion High School, Saint Joseph High School, Warsaw Community High School, West Noble High School, and Zionsville High School.
Aspen Dirr, an junior mathematics mducation major from Angola, Indiana, served as the student coordinator with help from students majoring in mathematics and computer science. The competition was overseen by Dr. Brian Rice, Dr. Andrew Hoffman and Dr. Jeff Lehman from the mathematics and computer science department at Huntington University.