HU Hosts Middle School Mathematics Competition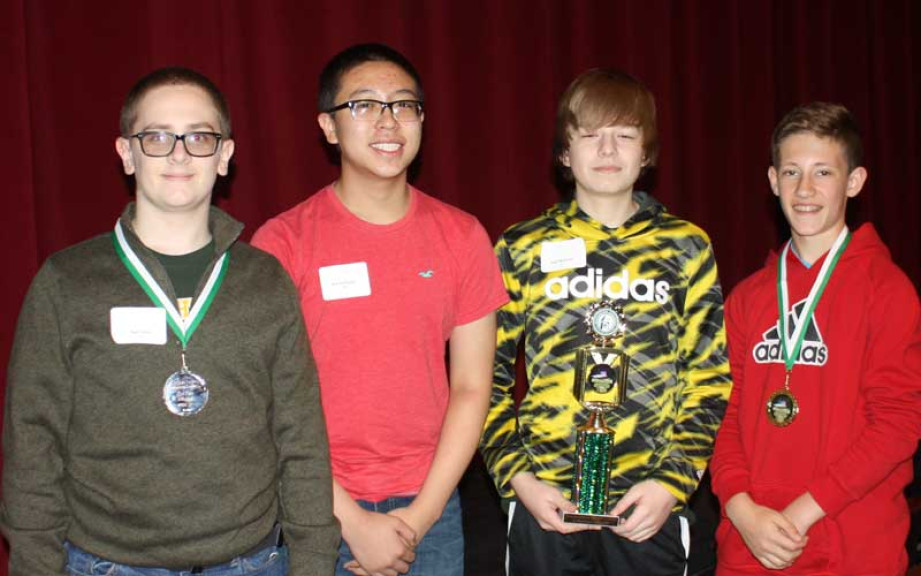 FOR RELEASE: Wednesday, April 19, 2017
Northridge Middle School of Middlebury, Indiana, took home first place in the annual Huntington University Middle School Mathematics Competition on April 12.
Nineteen area middle schools and one home school student competed for individual and team awards while demonstrating their mathematical abilities. The goal of the competition is to support and encourage the efforts of students seeking to achieve in mathematics. For the team competition, Northridge Middle School captured first place, Discovery Middle School from Granger, Indiana, took second place and St. Joseph Grade School from South Bend, Indiana, took third place.
"The HU mathematics competition is an excellent way for area students to stretch themselves and engage with interesting mathematics. We are proud of all who participated and hope they will continue to pursue new mathematical challenges," stated Dr. Brian Rice, assistant professor of mathematics and coordinator of the competition.
For the individual competition, Drew Stahly, a 7th grade student from Northridge Middle School captured first place. Ben Seiltz, an 8th grade student from Northridge Middle School, earned second place. Drake Du, a 7th grade home school student from Copley, Ohio, edged out Grace Waddell from Discovery Middle School and Kevin Wang from Northridge Middle School to win third place.
The mathematics competition is made up of three rounds. The first round is a 20-question written exam comprised of questions from algebra, geometry and general mathematics. Students can earn a total of 100 points for the exam. The individual or "lightning" round of the competition is made up of 10 questions. Students are given two minutes to complete each question. Each question answered correctly earns a student 10 points. The final round, the team round, provides additional points for the team score. Students are provided with several problems that are more challenging and best solved through the cooperative efforts of the team. A total of 50 points is possible for the final round.
Schools competing were: Bremen Middle School, Concord Junior High, Concordia Lutheran Elementary, Crestview Middle School, Crestview Middle School (Ohio), Discovery Middle School, Emmaus Lutheran School, Holy Cross (Anderson), Holy Cross (South Bend), Holy Cross Lutheran School, Lakeland Middle School, Miami Middle School, Northridge Middle School, Pope John Paul II Middle School, Saint Paul Catholic School, Saints Joan of Arc and Patrick School, St. Joseph Grade School, Woodside Middle School, and Zion Lutheran School.
Aspen Dirr, a Huntington University sophomore mathematics education major from Angola, Indiana, served as the student coordinator with help from students majoring in mathematics and computer science. The competition was overseen by Dr. Rice and Dr. Jeff Lehman from the mathematics and computer science department at HU.