HU inducts 16 students into Alpha Chi Honor Society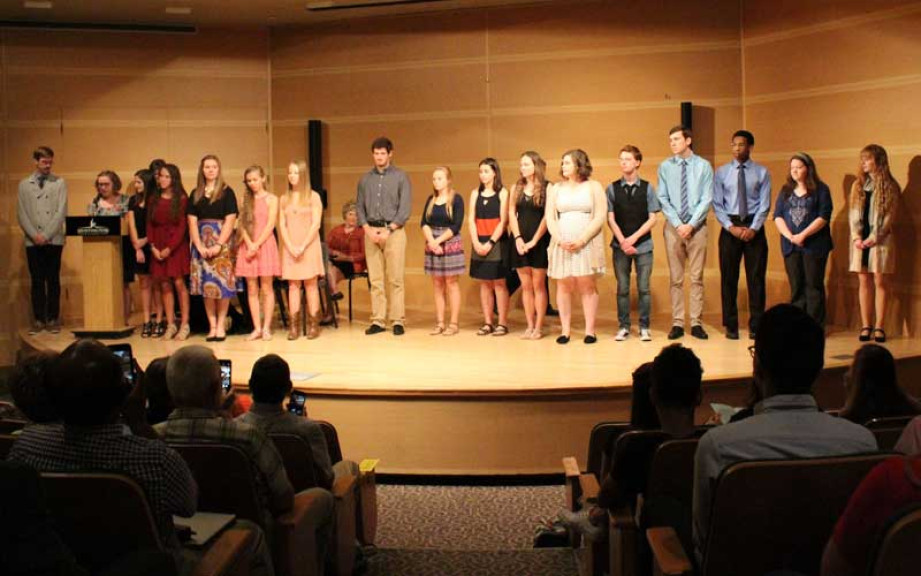 FOR RELEASE: Thursday, October 19, 2017
Huntington University inducted 16 members into the Indiana Beta Chapter of Alpha Chi during a convocation held Friday, September 22.
"Membership in Alpha Chi is the highest academic honor at Huntington University. It represents both a recognition of scholastic achievement and a commitment to promoting academic excellence and service on and off campus," said Dr. Ruth Nalliah, faculty sponsor of Alpha Chi and Professor of Chemistry.
The Indiana Beta Chapter of Alpha Chi National College Honor Scholarship Society was established in 1967 and is one of more than 300 chapters in Alpha Chi. It is active in the regional and national activities of Alpha Chi and was named the National Chapter of the Year in 2001 and 2015. This past year, for the 21st consecutive year, the Indiana Beta Chapter also was selected as a Star Chapter of Alpha Chi. It is one of four chapters to have received this award every year since its inception in 1996. Huntington University Alpha Chi members present papers at Alpha Chi's national conventions and frequently win regional and national scholarships.
The following students were inducted into the Alpha Chi chapter for 2017:
Shelby Deak, a junior digital media animation major from Batesville, Indiana
Jonathan Dunston, a senior digital media animation major from West Lafayette, Indiana
Claire Harvey, a junior customized academic program major from Huntington, Indiana
Isaac Hatch, a junior digital media animation major from Madison, Wisconsin
Jonathan Mayer, a senior film production major from Elkhart, Indiana
Katlyn Miller, a junior missions major from Nappanee, Indiana
Sarah Miller, a senior elementary and special education major from Bluffton, Indian
Kaitlyn Oswalt, a junior nursing major from Huntington, Indiana
Jennifer Pearcy, a junior psychology major from Westfield, Indiana
Madeline Richer, a junior elementary and middle school education major from Wauseon, Ohio
Rebekah Rose, a senior social work major from Franklin, Indiana
Kurtis Siegel, a senior history education major from Sylvania, Ohio.
Heidi Tucker, a junior health science major from Chesterton, Indiana
Emily VanderBent, a junior history major from Crete, Illinois
Alex Voeller, a senior theatre performance major from Oak Creek, Wisconsin
Juliet Wilson, a junior history-political science major from Goshen, Indiana
Huntington University's chapter of Alpha Chi celebrated its 50th Anniversary with a member reunion and luncheon held on October 7 during Forester Homecoming 2017.