HU Receives Grant from Huntington County Community Foundation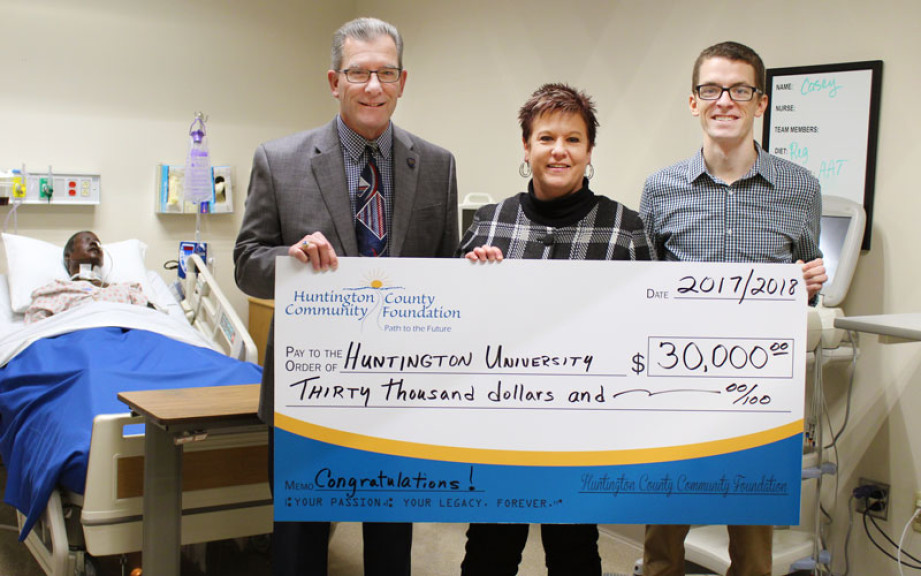 FOR RELEASE: Friday, February 2, 2018
Huntington University announced that is has received a $30,000 grant from the Huntington County Community Foundation (HCCF). The grant will go toward the purchase of simulation-assisted technology and training materials needed for instruction and development of nursing and occupational therapy students. Local and state first-aid responders will also be trained using the new technology.
"The Huntington University Nursing Department faculty and staff greatly appreciate the donation from the Huntington County Community Foundation," stated Dr. Diana Shenefield, Director of Nursing / Associate Professor of Nursing. "These monies will aid in the purchase of new, high-fidelity patient simulators for use in the HU nursing simulation classroom. The new simulators offer realistic patient care that is essential in the education of nursing students as well as training for our area first responders."
Partial funding of the grant came from the Herb & Corinne Scheiber and Harold & Pauline Bailey Memorial Unrestricted Community Funds.
"The HCCF Board of Directors is pleased to provide financial support for this technology project," said Michael Howell, executive director of the Huntington County Community Foundation. "Not only will these patient simulators enhance the HU nursing and occupational therapy program, but also benefit Huntington County residents through the training of local and state first responders."
Launched in the fall of 2007, HU's nursing program currently has 79 students and boasts an 8:1 faculty-to-student clinical setting ratio. Huntington's nursing graduates average a 92 percent pass rate on the National Council Licensure Examination and 100 percent of those passing have a job in the health care industry within six months.