Huntington University's Alpha Chi Chapter Garners Academic Awards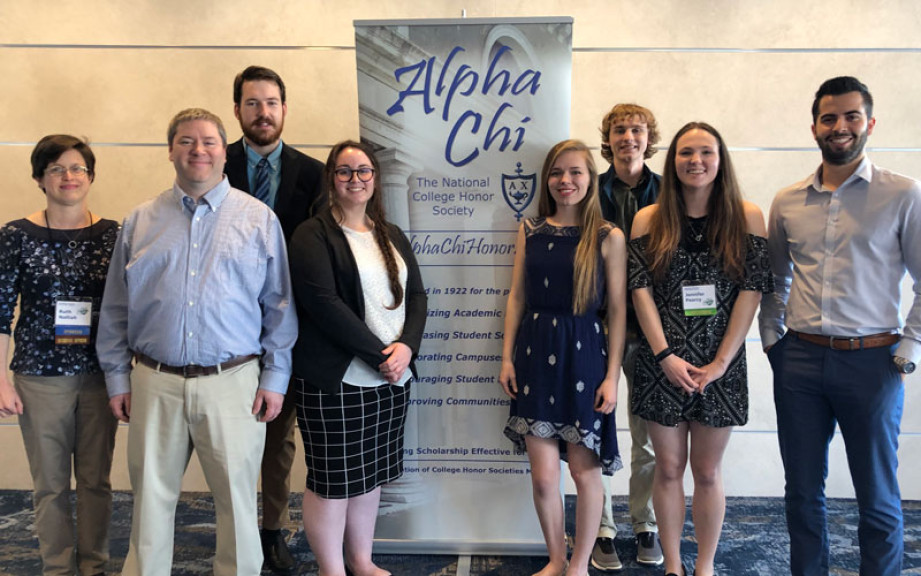 FOR RELEASE: Wednesday, May 1, 2019
Huntington University's Indiana Beta Chapter of the Alpha Chi National College Honor Society garnered awards for student scholarship at the National Convention held in Cleveland on April 4-6. The chapter received recognition at the convention as a Star Chapter of Alpha Chi for 2017-2018, making Indiana Beta one of only four out of more than 300 chapters to have received this award every year since the honor's launch in 1996.
"Our students find it rewarding to attend a convention and present their work in a major city along with the top ten percent of students from around the nation," said Dr. Ruth Nalliah, faculty sponsor. "Huntington University students do very well in garnering both regional and national awards for their academic work."
Six student members of the Huntington University chapter attended the convention, and five students presented their work:
Alana Bates, an animation, international and development studies and history major: "Treating with Foreign Princes: A Study of Space within Democratic Practice"
Isaac Hatch, an animation major: "Linguistic Challenges Faced by Arabic-Speaking English Language Learners"
Jennifer Pearcy, a psychology major: "Stability over Distance: Factors That Influence Relational Stability within Active Duty Military Couples during Instances of Prolonged Separation"
Juliet Wilson, a history/political science, international and development studies and philosophy major: "People v. Turner: Sexual Misconduct on College Campuses"
Trent Yentes, a history education major: "George Washington on The Founding of The United States"
Juliet Wilson won an Alpha Chi national scholarship as well as a regional scholarship for her paper "People v. Turner: Sexual Misconduct on College Campuses." Trent Yentes won a presentation prize for his paper "George Washington on The Founding of The United States" and was named as an alternate for a national scholarship.
Accompanying the presenters were chapter president Giovanni Martinez Martini, an economics/finance and accounting major, and faculty sponsors Dr. Tanner Babb, associate professor of psychology and associate academic dean, and Dr. Ruth Nalliah, professor of chemistry.Babb serves as an editor of the society's scholarly journal, Aletheia, and Nalliah continues a term as president of Region V.
"It is a privilege to have the opportunity to attend the National Convention," said Martinez Martini. "It filled me with pride to see how well represented Huntington University was. The members of our chapter gave outstanding presentations and were highly recognized."
Election to Alpha Chi is the highest academic honor at Huntington University.