HU's Robert E. Wilson Gallery Sees Largest High School Exhibit Yet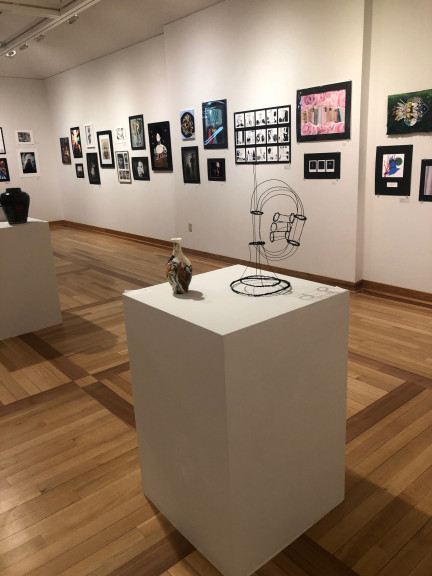 FOR RELEASE: Friday, February 14, 2020
HUNTINGTON, Ind. — The Huntington University Art + Design department is currently hosting its largest gallery show of the year in the Robert E. Wilson Gallery. The 15th Annual High School Art Exhibit features 125 works by area 9-12 grade students from 12 different high schools, as well as home school students.
Ashley Hall, a junior Art Education major, is this year's High School Exhibit Show Coordinator. She was elected into this position last year and is also the Vice President of HU's Art Ed Association.
"While working on this exhibit I really learned just how much work goes into organizing dates, contacting schools, and coordinating with everyone else working to put this show together," Hall said, "It has been a fun experience, and the evidence of our hard work is in the gallery."
"Under Ashley's leadership, this year's is the largest HU High School Art Exhibit we've had since it started 15 years ago," said Department Chair and Associate Professor of Art, Barb Michael, "She has been a superstar."
But Ashley didn't put the show together alone. Megan Duckworth, also a Junior Art Education major, is the Student Assistant Gallery Director for the Department of Art + Design and helped put together this gallery.
"I have loved seeing all the artistic talent that is in the surrounding high schools. I would say this year's show is by far the most outstanding high school show I have seen since being here at HU," she said. "There is such a wide range of style and media within the exhibit, and I know there will be multiple pieces that will catch people's eyes. It is so exciting to see all the artistic talent and creativity in this generation of artists."
Art Education majors plan this show from beginning to end. It helps students to learn things like, setting or revising exhibit criteria, contacting area art teachers to invite them to submit student work, overseeing the marketing of the show, accepting the artwork from art teachers, installing the work in the gallery, announcing and handing out awards at the reception, and so much more. They've been planning this show since last August.
"The experience gives them a good idea of all the work that goes into a large exhibit from the planning side of things," Michel said.
Along with helping students learn how to put on a gallery, Professor Michael believes that showcasing art is an important reason to put on this gallery. "As future art teachers, it is a great way for them to experience an exhibit from the planning side," she said.
"We enjoy the opportunity to showcase talented high school art in a professional setting. This work deserves to be in the public eye," She said. She also expressed how much hard work the High School teachers put in to make this happen too, "We appreciate the art teachers who use their own gas money and time outside of school, to participate in the show. They are vital to the success of the exhibit. These are dedicated educators, and people we want our own future art teachers to get to know."
Not only to the high school teachers spend time and money on this gallery, but they also have the daunting task of choosing which art makes it into the show. Each school can enter ten pieces of art into the gallery. This can prove difficult when coming from a larger school, maybe with multiple art teachers.
The show runs through February 21, and there is an awards reception Saturday, February 15, from 6-7:30.
Huntington University is a comprehensive Christian college of the liberal arts offering graduate and undergraduate programs in more than 70 academic concentrations. U.S. News & World Report ranks Huntington among the best colleges in the Midwest, and Forbes.com has listed the university as one of America's Best Colleges. Additionally, Princeton Review has named the institution a "Best Midwestern College." Founded in 1897 by the Church of the United Brethren in Christ, Huntington University is located on a contemporary, lakeside campus in northeast Indiana. The non-profit university is a member of the Council for Christian Colleges and Universities (CCCU).