Victorian London Comes to Huntington University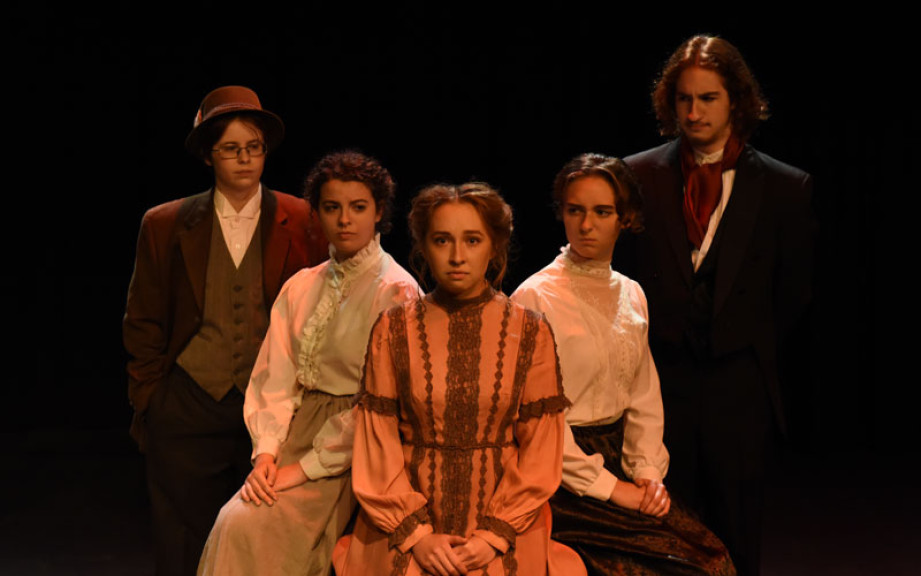 FOR RELEASE: Thursday, November 7, 2019
The Huntington University Theatre Company is proud to present its performance of Angel Street (Gaslight) November 14-16. Angel Street (Gaslight) is a mystery set in 19th century Victorian London; despite its initial appearance of tranquility, the story unfolds to reveal that things are not always what they seem.
Huntington University's performances will star Nicholas Robinson as Mr. Manningham, Justine Hensley as Mrs. Manningham, Alex Koontz as Detective Rough, Amanda Fielding as Nancy, Eleni Hanson as Elizabeth and Carson Cunningham and Daniel Isaacs as police officers.
"Gaslighting is a term that has been in the common consciousness lately as our discussions about abusive situations have become more open," said Ryan Long, assistant professor of theatre and the play's director. "Because this show is where it originated, I thought it was very timely and relevant. I hope the audience enjoys the thrilling ride this show takes them on as they try to figure out what the truth is; I also hope they realize how subtle certain types of abuse can be and how many abuse victims cannot see what is happening to them. But, ultimately, I want them to experience hope as they witness Mrs. Manningham's journey through the course of this play."
Long also sees the value of Angel Street (Gaslight) as a tool for training her students in their craft.
"Written in the 1930s and set in the late 1800s, there is a distinctive acting style to this play," said Long. "Learning to act in this more melodramatic style adds to our students' repertoire and gives them more versatility as a performer. We are also utilizing various British accents in this performance, so students are getting the opportunity to learn that skill as well."
Angel Street (Gaslight) will have four performances: November 14 and 15 at 7:30 p.m. and November 16 at 2:00 and 7:30 p.m. All performances will be held at the Merillat Centre for the Arts in Zurcher Auditorium. Tickets are $13 for adults, $11 for seniors, $6 for children, $10 for HU faculty/staff and $5 for HU students. They can be purchased in person at the Huntington University Box Office, by phone at (260) 359-4261, or by going to huntington.edu/AngelStreet.
Parental discretion is advised for young viewers, as some scenes may be intimidating for children.
For more information about Huntington University's performances of Angel Street (Gaslight), visit huntington.edu/Theatre. Angel Street (Gaslight) is presented by special arrangement with Samuel French, Inc., a Concord Theatricals Company.