The Social Work program (BSW) of Huntington University focuses on the foundational values of the social work profession which are service, justice, integrity, dignity and worth of the person, importance of human relationships, and competence. Our nationally accredited social work program addresses the current needs of individuals, families, groups, and communities, allowing students to be globally aware and locally active.
Become licensed in any U.S. State
Our professional degree program will provide entry into the social work field and the capacity to become licensed in any U.S. state. Your degree will also be recognized worldwide. Through classroom instruction, community service, global connections, and over 600 hours of field experience you will be prepared for entry-level generalist social work practice or for the pursuit of a master's degree in social work.
Graduates of Huntington University's Social Work program experience great success as they pursue careers or graduate school. Discover more about our outcomes!
100% of our graduates who have applied to Graduate School have been accepted and received advanced standing status
100% of our graduates who pursue employment have found employment in social work fields of practice
Assessment for Student Learning Outcomes
The program seeks to measure the effectiveness of the education for students through administration of the ten (10) core competencies as prescribed by the Council on Social Work Education (CSWE) in accordance with the 2008 Educational Performance and Assessment Standards (EPAS). For information about our outcomes, please see the Social Work Program's Assessment of Student Learning Outcomes.
Student Opportunities and Organizations
Phi Alpha recognizes the top 15 percent of social work majors. It aims to increase opportunities for students through awards and grants, publications, and sponsored research conferences.
Social Work Student Council
The student council exists to provide leadership opportunities and camaraderie among students. It's to build a sense of community and identity by encouraging members and faculty to share ideas and experiences and offering support to one another in pursuit of present and future educational goals.
See photos and learn more about the department on Facebook!
Visit the Social Work Club's page to learn more about our community of current students and faculty.
Visit the Social Work Alum page to see how our graduates stay connected.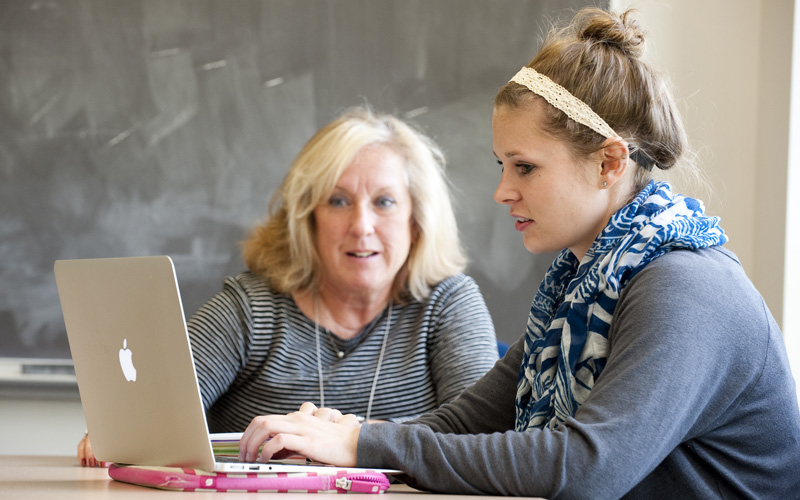 Huntington University was ranked #3 in the United States by CollegeChoice.net as one of the Best Online Bachelor's degrees in Social Work.
"This is obviously an honor! While our online bachelors in social work (BSW) program is still in its beginning stages, I am privileged to work with our adult education department who, like me, saw the need for students to have an online option. We mutually developed a program that has provided a viable option for the professional BSW degree, which…
Featured Alum
Jenny Simpson
Jenny Simpson sensed a call to social work. "I feel like God has put a desire in my heart to help people," she said. Jenny graduated in 2008 with a bachelor's degree in social work and a minor in psychology. As a student, she worked at a nursing home, mentored those in the community and gained practicum experience as a social worker at the Bluffton Regional Medical Center, House of Hope…
Featured Faculty
Mary Ruthi
She received her B.A in sociology and history from Sterling College in Sterling, Kansas, and her M.A and Ph.D. in sociology from the University of Nebraska-Lincoln.