2019
The grand total for Day of Giving 2019 is: $101,527.97!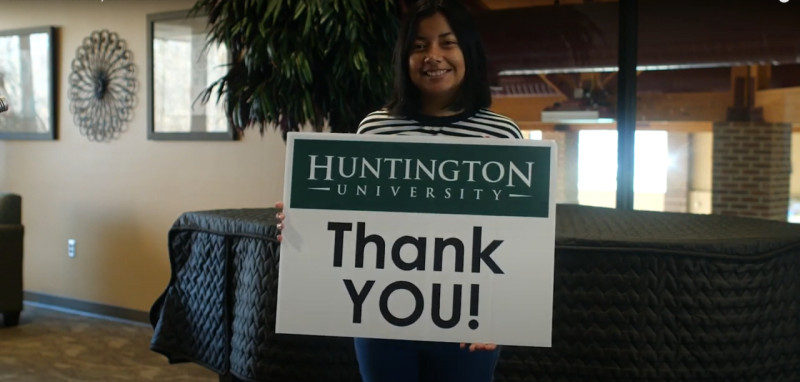 And gifts and pledges are still coming in for the Forester Fund!
Thank you, Forester Nation, for partnering with us!
Thank you for donating to the mission of Huntington University!
Thank you for making it possible for the next generation of Foresters to attend Huntington University!
Thank you for your generosity!
We praise God for His faithfulness and we look forward to what He has in store for Huntington University and the Forester Nation!
Forester Green from Coast to Coast
We are the FORESTER NATION!
We've got Foresters from coast to coast and we thank all of you for turning the nation FORESTER GREEN!
28 states have turned green! That's over half the country!

Every time five states turned green, we unlocked $1,500 in matching gifts.
Keep these matching gift challenges in mind when you make your gift to Huntington University.
ACHIEVED! Dollar for Dollar: The first $5,000 in total gifts will unlock a matching gift of equal amount. Double your gift by giving early in the day!
ACHIEVED! First 50: Start the day off right by being one of the first 50 gift-givers. The 50th gift of the day will unlock a $15,000 matching gift!
Foresters Across the Country: Turn your part of the United States green by being the first from your state to make a gift. Every time five states turn green, we'll unlock $1,500 in matching gifts.
ACHIEVED Brand New: New to the Forester Fund? This is the challenge for you! The first 20 first-time gifts on Day of Giving will unlock a $5,000 matching gift.
ACHIEVED Set the Pace: Lead the way by making a gift of $1,000 or more. Your gift will set the pace for Day of Giving and grant you membership to the Pacesetter Society, complete with special perks throughout the year. Even better, the first 10 Pacesetter-level gifts will unlock a $10,000 matching gift.
Why Forester Fund Matters!
Did you know that over 90% of Huntington University's undergraduate student population receives scholarship dollars directly from Forester Fund? Odds are that if you ever attended Huntington University (or Huntington College or Central College), you probably received institutional aid from the general scholarship fund, renamed "Forester Fund" in 2012.
"It's not always easy to talk about giving," said Marcy Hawkins, Director of the Forester Fund. "It can make people uncomfortable or nervous, sometimes people feel like they don't have the funds to give back, even though they want to. But we don't want to shy away from a topic that's this important just because it's challenging. This isn't about raising money for a building or property — though those things are necessary! — this is about making it possible for students to receive an education at Huntington University."