2002-2003 Indiana Beta Chapter of Alpha Chi
2002-2003 Indiana Beta Chapter Officers

President
Ms. Erinn Caley
Vice-President
Mr. Josh Garvey
Secretary
Ms. Beth Shindle
Treasurer
Mr. Matt Purdy

Sponsors
Dr. Paul E. Michelson, Department of History
Dr. Ann McPherren, Department of Business and Economics
Mrs. Jean T. Michelson, RichLyn Library
2002-2003 Active Members
Erin Abbey
Lily Anderson
Matt Bruce
Chris Buehrer
Erinn Caley
Melissa Cole
Ben Crill
Stephanie Dickerson
Andrea Dunbar
Ben Eggleston
Jeff Fought
Josh Garvey
Victoria Hall
Andrea Heffelfinger
Erika Helm
Jen Herring
Lauren Hines
Amber Hirschy
Anne Jacquay
Kara Kauffman
Sarah Kennedy
Katie Lloyd
Scott Maddock
Joni Michaud
Claire Pontius
Matt Purdy
Libby Rayle
Nathan E. Reusser
Jonathan Ringger
Rachel Rohrs
Rebecca Schmit
Beth Shindle
Kyle Shoemaker
Katie Smith
Amanda Wier
April Wyne
Gretta Yoder
2002-2003 Indiana Beta Chapter Activities

2002 AX Induction Convocation, 11:00 am, September 12, 2002
The induction of 19 new members into Alpha Chi was held on September 12, 2002. The induction Convocation was followed by a luncheon for AX members and parents of the the new inductees hosted by the Alumni Office.
Alpha Chi and The Huntingtonian
Alpha Chi members again agreed to contribute a regular column to the Huntingtonian. Under the leadership of Rachel Rohrs and Beth Shindle, chapter members contributed a column to every issue of the Huntingtonian this year. Good work!
Alpha Chi Graduate School Forum, November 6, 2002
The fall Alpha Chi Graduate School Forum was held on November 6. The focus of the Forum was to talk about applying for graduate school, especially for those planning on attending in the fall of 2003. Martha Smith was our visiting expert and talked about application details, the GRE, fellowship possibilities, and other goodies.
2003 Scholarship Competitions
Ben Eggleston competed this year for the Region V scholarship at the Washington DC convention. He gave an excellent presentation. Chapter members Matt Bruce and Ben Eggleston were nominated for the national Alpha Chi scholarships. We also have a scholarship and off campus study information page, which includes information on these and other opportunities.
Lord of the Rings Alpha Chi Forum, February 27, 2003
Dr. Michelson gave a lecture dealing with the second Lord of the Rings movie and J. R. R. Tolkien's concept of "Asterisk Reality" on February 27 to an audience of more than fifty.
2003 Alpha Chi National Convention, March 13-15, 2003
The 2003 National Convention of Alpha Chi was held March 13-15 at the Grand Hyatt in Washington DC. Scott Maddock, Andrea Dunbar, and Ben Eggleston, accompanied by Dr. Michelson, attended. A fine time was had by all, especially Andrea, who won a $50 savings bond at a convention drawing. Andrea and Dr. M served as scholarship judges for Region V and Ben was our official voting delegate. Our chapter also presented two workshop sessions at the National Convention entitled "Visibility on Campus through Chapter Traditions." We discussed how creating traditions for local chapter can help establish Alpha Chi's image on campus, ensure campus expectations, and build an audience for activities outside the chapter membership. Dr. M also presided over a session of papers at the convention. The 2004 Regional convention will be at Grace College and 2005's National will be in St. Louis.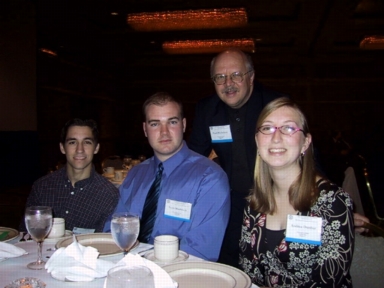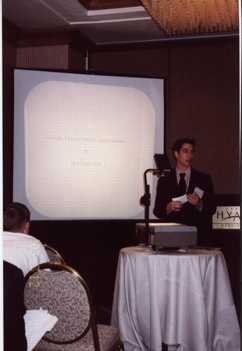 Alpha Chi Movie Forum, March 27, 2003
An Alpha Chi MovieForum was held on March 27 utilizing the film "Roger and Me." A panel of professors and students responded as a panel to the movie to get things going.
Alpha Chi Graduate School Forum, April 3, 2003
The Spring Alpha Chi Graduate School Forum was held on April 3. The focus of the Forum was on what one ought to do to get the graduate school application process going. Martha Smith again was our visiting expert and talked about application details, Internet resources, and how to plan out the application process.

President's Spring Alpha Chi Reception, Sunday, April 27, 2003
The local chapter was hosted at a reception by the President of Huntington College, G. Blair Dowden and Mrs. Dowden, on April 27. Seniors who were present were recognized and the Sophomore Honor Awards were presented.
Sophomore Honor Award 2003
The Sophomore Honor Awards for 2003 were presented at the President's Reception to Jill A. Clements, Brandon G. Curtis, Ryan Darr, Keith N. Elliott, Rebecca K. Laumbattus, Jodie Maller, Sarah Rowe, and Rachel Tinon. Congratulations!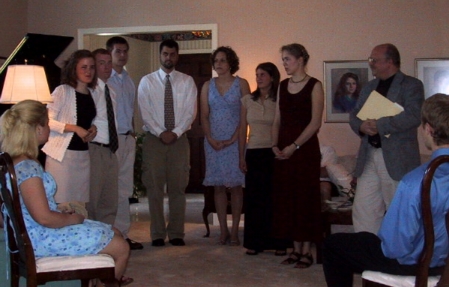 Forester Night, Tuesday, May 7, 2003
The Outstanding Scholar Award for 2003 was presented to Ms. Katie Smith at Forester Night. Graduating seniors received their medallions and certificates. A number of AX members cleaned up in the awards department, as usual.