2004-2005 Indiana Beta Chapter of Alpha Chi
2004-2005 Indiana Beta Chapter Officers

President
Ms. Joni Michaud
Vice-President
Mr. Dwight Simon
Secretary
Ms. Beka Nimtz
Treasurer
Ms. Rebecca Laumbattus

Sponsors
Dr. Paul E. Michelson, Department of History
Dr. Ann McPherren, Department of Business and Economics
Mrs. Jean T. Michelson, RichLyn Library
2004-2005 Active Members
Jennifer Amstutz
Holly Banyash
Stephen Boston
Matt Bruce
Emily Burkholder
Amy Cherry
Jill Clements
Brandon Curtis
Josh Dawes
Ryan Darr
Keith Elliott
Renae Flora
Jami Fusselman
Kyleigh Gast
Ashley Gonterman
Victoria Hall
Amber Hirschy
Andrew Jackenheimer
Kevin Krauskopf
Anna Nicole Lee
Stacey Maifeld
Jodie Maller
Lori Merkle
Rebecca Laumbattus
Joni Michaud
Beka Nimtz
Emily Padilla
Chad Pryor
Jenna Rodgers
Christi Shook
Dwight Simon
Kristi Thompson
Rachel Tinon
Christina Watson

The Indiana Beta Chapter of Alpha Chi was founded in 1967. It has been one of the most active chapters in the Mid-West Region V of Alpha Chi and in the national organization.

Among the activities, contributions, and accomplishments of the Indiana Beta Chapter are the following:

In 1996, 1997, 1998, 1999, 2000, 2001, 2002, 2003, 2004, and 2005 our chapter was recognized as a "Star Chapter" of Alpha Chi. Our chapter is one of only six chapters to receive the award all ten years since it began.

At the 2001 Alpha Chi National Convention in Savannah, the Indiana Beta Chapter was named the winner of the 2001 Alpha Chi President's Cup as the Outstanding Chapter nationally of Alpha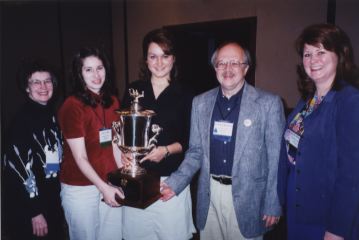 Chi's some 300+ chapters. Though we had to turn over The Travelling version of President's Cup to the 2003 winner, John Brown University, the permanent cup is on display at the RichLyn Library.
Huntington College has been the host chapter for Alpha Chi Region V Conventions in 1978, 1980, 1988 and 2000.

Seven of our students have won National Alpha Chi Scholarship awards: Mr. Jeff Wood (Benedict Graduate Fellowship, 1987), Ms. Christina K. Smith (Benedict Graduate Fellowship, 1989), Mr. Nate Bordeaux (Nolle Scholarship, 1997), Ms. Maria Kurtz (Benedict Graduate Fellowship, 1999), Ms. Kriss Hultman (Nolle Scholarship, 1999), Ms. Rachel Tinon (Nolle Scholarship, 2004), and Ms. Beka Nimtz (Nolle Scholarship, 2005).

Numerous members of the Indiana Beta chapter have won Region V scholarships. The most recent were Ms. Jen Herring in 2002 and Ms Rachel Tinon in 2004.

Mr. Phil Burkett (1978-1980) was the first student elected by Region V to represent it on the National Council of Alpha Chi, and Dr. Paul E. Michelson (1986-1998) served on the National Council as Secretary-Treasurer of Region V for three terms. In 2001, Dr. Michelson, along with 17 other Alpha Chi sponsors, was awarded the first national Alpha Chi Distinguished Service Award. Recently, Ms Lori Merkle was elected student representative to National Council by Region V for 2004-2006.

2004-2005 Indiana Beta Chapter Activities
Last Update=6 vi 2005

2004 AX Induction Convocation, 11:00 am, October 1, 2004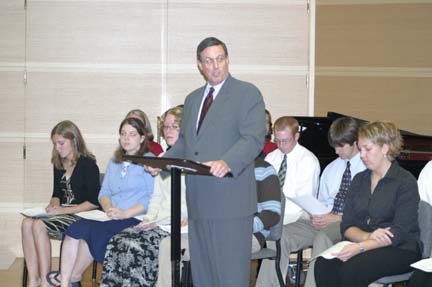 The induction of 18 new members into Alpha Chi was held on October 1, 2004 The induction Convocation was followed by a luncheon for AX members and parents of the the new inductees hosted by the Alumni Office. Check out the HC News release here . For more pictures, look here . (Thanks to the HC Public Relations office for the great coverage.)
Alpha Chi and The Huntingtonian
Alpha Chi members again agreed to contribute a regular column to the Huntingtonian. Under the leadership of Renae Flora and Stacey Maifeld, chapter members will contribute a column to every issue of the Huntingtonian this year. Check it out at the Huntingtonian site here.
Alpha Chi Forum on Academic Freedom, November 9, 2004
The first Alpha Chi Forum of the fall was held on November 9, 7:00 pm, in Hiner Hall on the subject of Academic Freedom. Faculty panelists Dr. Ann McPherren, Dr. Jerry Smith, Dr. Wayne Priest, and AX Vice-President Dwight Simon led an animated but very thoughtful discussion with about 75 students, faculty, and trustees present. For a summary of the questions and points raised and made, you can download a PDF file here.
Alpha Chi Graduate School Forum, November 16, 2004
The fall Alpha Chi Graduate School Forum was held on Tuesday, November 16, at 5:30 in the HDC Banquet Room. The focus of the Forum was to talk about applying for graduate school, especially for those planning on attending in the fall of 2005. Martha Smith was our visiting expert and talked about application details, the GRE, fellowship possibilities, and other goodies; Jen Herring, an AX alum now working for the HC Graduate School of Christian Ministries, presented the GSCM program and give some tips; Professor Beth Felker-Jones responded to questions about her recent experiences in graduate school.
Alpha Chi Forum on Academic Freedom Revisited, December 9, 2004
The second Alpha Chi Forum on Academic Freedom was held on December 9, 2004, 7:00 pm, in Hiner Hall, with a panel of Huntington College Board of Trustees, Mr. Ed Souers (BOT Chair), Rev. Gary Dilley, Rev. Pat Jones, and Mr. Larry Lance. Dr. Michelson moderated a lenghty and interesting dialogue between students and the BOT members present (including several BOT members in the audience).
2005 Scholarship Competitions
Our Chapter submitted the names and papers of Ms. Joni Michaud and Ms. Beka Nimtz for the National Alpha Chi Scholarships in February 2005. Ms. Nimtz was named a national Nolle winner at the St. Louis convention in April 2005.
Alpha Chi Change War
We organized a "Change War" competition in the residence halls to raise money for a Haitian orphanage. The project, led by Ms. Christi Shook, raised $600 during the month of February 2005. Wright 2nd raised the most money.
2005 Alpha Chi National Convention, ST. Louis, MO, April 7-9, 2005
The AX National Convention was held in St. Louis, April 7-9. Ms Joni Michaud (voting delegate), Ms Victoria Hall, Ms Lori Merkle, Mr Dwight Simon, Mr Chad Pryor, and Mr Stephen Boston attended, accompanied by sponsors, Dr and Mrs Michelson. The chapter (Ms Michaud, Ms Hall, and Mr Simon) presented a very successful workshop dealing with the chapter's activities in connection with Page Six as part of the National AX theme "With Honor and Integrity." The chapter picked up its tenth straight Star Chapter award and HC's sponsors were recognized with service pins for 30 years (Dr Michelson), 20 years (Dr McPherren), and 10 years (Mrs Michelson) of service. Ms Hall served on the Region V Graduate Fellowship selection committee; Dr Michelson chaired both the Region V Undergraduate Scholarship selection committee and the National History prize competition.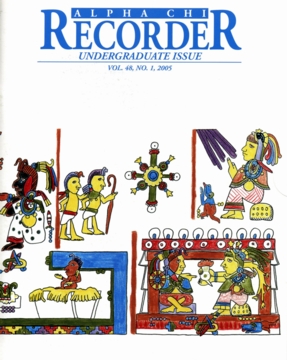 Tinon Published in AX Recorder
Ms Rachel Tinon's 2004 Nolle paper, "Bruised Reed, Smoking Flax: Shakespeare's Portrayal of Puritanism in Twelfth Night and Measure for Measure," was published in the national Alpha Chi journal, The Recorder, Vol. 48 (2005), Nr. 1, pp. 15-22.
Alpha Chi Spring Graduate School Forum, April 20, 2005
The Spring Graduate School Forum was held on Wednesday, April 20, 5:30-6:45 pm in the Forester Room of the DC, starring Martha Smith and a panel of experts (i.e. current AX students who will be going to graduate school this fall.) An enlightening time was had by all.

Alpha Chi Forum on The Idea of a Christian College, April 22, 2005
On Friday, April 22, 2005, in the Recital Hall of the MCA, Alpha Chi sponsored the final convocation of the spring semester. Dr. David Woodruff of the Department of Philosophy made a presentation on Arthur Holmes's book, The Idea of a Christian College, and then led a discussion on pertinent points relating to liberal arts and Huntington College. A lot of excellent ideas were presented and raised, by Dr. Woodruff and by students present for a standing room only audience.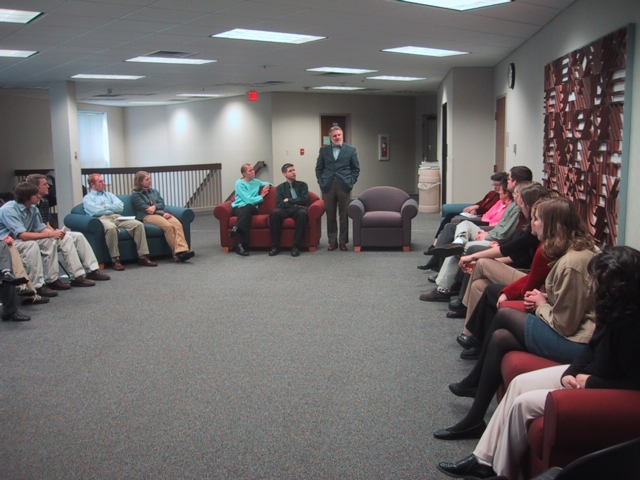 President's Spring Alpha Chi Reception, April 24, 2005, 3:00 pm
The local chapter was hosted on Sunday, April 24, 2005, 3:00 pm, Loew-Brenn Upstairs Lounge by the Interim President of HC, Dr. Norrie Friesen. Seniors will be recognized and refreshments were gobbled.
Forester Night, May 3, 2005
Numerous Alpha Chi members were recognized by their departments for academic achievement on Forester Night, May 3, 2005. The list included: Joni Michaud (History), Amber Hirschy (Business and Economics); Rebecca Laumbattus (Sociology), Victoria Hall (Chemistry), Christina Watson (Music), Jennifer Amstutz (Elementary Education) and Keith Elliot (Bible and Religion). The Outstanding Scholar Award for 2005 was presented to Dwight Simon, who also was chosen as Forester of the Year. Graduating seniors received their medallions and certificates.

"Hey, nice shoes, Mr. Simon."