2005-2006 Indiana Beta Chapter of Alpha Chi
2005-2006 Indiana Beta Chapter Officers

President
Mr. Josh Dawes
Vice-President
Mr. Chad Pryor
Secretary
Ms. Tracy Schwerin
Treasurer
Ms. Christi Shook

Sponsors
Dr. Paul E. Michelson, Department of History
Dr. Ann McPherren, Department of Business and Economics
Dr. Jeff Lehman, Department of Computer Science
Mrs. Jean T. Michelson, RichLyn Library
2005-2006 Active Members
Ms. Robyn Althoff
Ms. Bekah Bachman
Mr. Stephen Boston
Ms. Katie Brautigam
Ms. Amy Cherry
Mr. Andrew Clay
Ms. Jill Clements
Mr. Brandon Curtis
Ms. Kelly Daniels
Mr. Ryan Darr
Mr. Josh Dawes
Ms. Katie Dinkens
Mr. Aaron Eberly
Ms. Ashley Gonterman
Mr. Andrew Jackenheimer
Mr. Kevin Krauskopf
Ms. Anna Lee
Ms. Ashleigh Lewis
Ms. Stacey Maifeld
Ms. Beka Nimtz
Ms. Emily Padilla
Mr. Chad Pryor
Ms. Jenna Rodgers
Mr. Chris Schubert
Ms. Tracy Schwerin
Ms. Christi Shook
Mr. Jon Stotts
Ms. Toni Thomas
Ms. Kristi D. Thompson
Ms. Kristi L. Thompson
Mr. Nate Wood
Ms. Laura Wright
2005-2006 Indiana Beta Chapter Activities

2005 AX Induction Convocation, 11:00 am, September 30, 2005
The induction of 15 new members into Alpha Chi was held on September 30, 2005. The induction Convocation was followed by a luncheon for AX members and parents of the the new inductees hosted by the Alumni Office. Check out the HU News release here.
Alpha Chi and The Huntingtonian
Alpha Chi members again agreed to contribute a regular column to the Huntingtonian. Under the leadership of Nate Wood, chapter members will contribute a column to every issue of the Huntingtonian this year. Check it out at the Huntingtonian site here.
Alpha Chi Graduate School Forum, October 27, 2005
The fall Alpha Chi Graduate School Forum was held on Thursday, October 27, at 5:30 in the HDC Banquet Room. The focus of the Forum was to talk about applying for graduate school, especially for those planning on attending in the fall of 2006. Martha Smith was our visiting expert and talked about application details, the GRE, fellowship possibilities, and other goodies; Dr Jeff Webb talked about law school and the LSAT, and others contributed timely advice on the process.
Alpha Chi Forum on Academic Integrity: "Cheating: Where do you Draw the Line?"
Friday, December 9, 2005 Alpha Chi Forum on the Alpha Chi theme of Academic Integrity was held on December 9, 2005, during the 11 am Convocation hour, with a panel led by Mr. Chad Pryor (who led off with a presentation of some Alpha Chi prepared survey material on academic integrity issues. This was followed by a panel discussion featuring the Dean of the University, Dr. Norrie Friesen, and Profs Ruth Nalliah (Chemistry), and Jack Heller (English).
2006 Scholarship Competitions
Our Chapter submitted the names and papers of Mr. Stephen Boston and Mr. Nate Wood for the National Alpha Chi Scholarships in February 2006. Mr Wood and Mr Chad Pryor will compete for Region V scholarships at the Region V Meeting in Michigan. Our congratulations to Mr Wood, a senior Bible and Religion major, for being named a Benedict Fellow by the Alpha Chi National Honor Society. He has been awarded a $2,500 fellowship for use in his first year of graduate study. The title of his winning paper was "'But I Say Unto You.' The Sermon on the Mount and the Problem of Cyclical Violence." Mr Wood was one of nine recipients nationwide of this prestigious award.
2006 Alpha Chi Region V Convention, Saginaw Valley State University in Michigan, March 3-4, 2006
A delegation of three people from our chapter attended the Region V convention: Mr Chad Pryor, Mr Nate Wood, and Sponsor, Dr. Ann McPherren. Mr Pryor and Mr Wood made presentations. Our chapter was recognized (again) as a Star Chapter of Alpha Chi. That makes 11 for 11 such recognitions. Good work!
The 2006 President's Reception, Sunday, April 23, 2006
President and Mrs. G. Blair Dowden hosted the Indiana Beta Chapter at the annual President's Reception for Alpha Chi at the President's house. The graduating seniors were recognized and the 2006 Sophomore Honor Awards were presented to Katrina Bonahoom, Annie Feldpausch, Christianne Gates, Emily Horne, Anna Grace Jeter, and Travis Schamber. The HU News release can be perused here.
Forester Night 2006, May 2, 2006
The 2006 Outstanding Scholar Award was presented to Chad Pryor at the Forester Night ceremonies on May 2. Alpha Chi members, as usual, picked up a boatload of departmental awards, and Jenna Rodgers was selected as the Female Forester of the Year. For more details, see the HU News release here.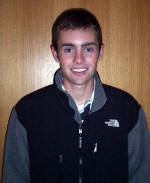 Congratulations, Chad.
Alpha Chi Forum: RIP (Research in Progress), May 3, 2006
Alpha Chi's final activity for the 2005-2006 academic year was a dinner forum at which several faculty members (Jack Heller, English; Jim O'Donnell, Business and Economics; Paul Worfel, Education; Bob Myers, Worship and Music; and Ruth Nalliah, Chemistry) discussed their current research interests and plans. Informative and interesting.