2006-2007 Indiana Beta Chapter of Alpha Chi
2006-2007 Indiana Beta Chapter Officers

President (Fall Semester)
Ms. Christianne Gates
President (Spring Semester)
Ms. Naomi Woods
Vice-President
Mr. Joel Wentz
Secretary
Ms. Emily Horne
Treasurer
Mr. Drew Clay

Sponsors
Dr. Paul E. Michelson, Department of History
Dr. Ann McPherren, Department of Business and Economics
Dr. Jeff Lehman, Department of Computer Science
Mrs. Jean T. Michelson, RichLyn Library
2006-2007 Active Members
Ms. Robyn Althoff
Ms. Nicole Janel Blue
Ms. Katrina D. Bonahoom
Ms. Katie Brautigam
Mr. Drew Clay
Ms. Kelly Daniels
Ms. Katie Dinkens
Mr. Aaron Eberly
Ms. Antoinette M. Feldpausch
Ms. Christianne Deborah Gates
Ms. Ashley Gonterman
Mr. Andrew Hetrick
Mr. Chris Hoffman
Ms. Emily Horne
Ms. Anna Grace Jeter
Ms. Hannah Kaufman
Mr. Kevin Keller
Ms. Sarah Keyse
Ms. Sarah Lang
Ms. Bekah Bachman Liston
Ms. Rebekah Posegate
Mr. Travis Schamber
Ms. Tracy Schwerin
Ms. Stephanie Stearns
Ms. Toni Thomas
Ms. Kristi D. Thompson
Ms. Trista Watson
Mr. Joel Wentz
Ms. Abbey Whiteman
Ms. Naomi Woods
Ms. Laura Wright
Ms. Erin Yost
2006-2007 Indiana Beta Chapter Activities
Final Update=30 v 2007

2006 AX Induction Convocation, 11:00 am, October 6, 2006
The induction of 20 new members into Alpha Chi was held on October 6, 2006. The induction Convocation was followed by a luncheon for AX members and parents of the the new inductees hosted by the Alumni Office. Check out the HU News release here.
Alpha Chi and The Huntingtonian
Alpha Chi members again agreed to contribute a regular column to the Huntingtonian. Under the leadership of Sarah Lang, chapter members will contribute a column to every issue of the Huntingtonian this year. Check it out at the Huntingtonian site here.
HU Makes Front Cover of AX Recorder
The front cover of the Alumni Issue (Vol. 49, Nr. 3, 2006) of the Alpha Chi Recorder was graced by a picture of HU's Becker Hall Tower.
Fall Work Day, October 21, 2006
Members of Alpha Chi participated in the Joe Mertz Center Fall Work Day. Some of the ways in which students volunteered in the community included mulching a day-care center playground, picking up trash, working at the YMCA, and helping at the Boys and Girls Club.
Fall Graduate School Forum, November 8, 2006
Martha Smith and Ron Coffey did presentations on applying for graduate school and on some of the ins and outs of graduate study in our traditional fall graduate school forum.

Forester Lecture Luncheon, December 4, 2006
Our chapter had lunch with the Forester Lecturer, Dr. Thomas de Zengotita, and discussed with him issues raised by his book Mediated: How the Media Shapes Your World and the Way You Live In It.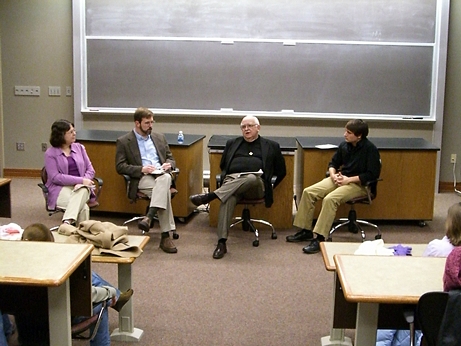 Actual Picture Appearing in the Spring 2007 AX Newsletter!
Integrity Convocation, December 7, 2006
An all-university convocation was sponsored by Alpha Chi in December with a panel discussion on issues related to academic and personal integrity. The panel featured Dr. Mary Ruthi (Sociology), Dr. Paul Fetters (Bible and Religion), and Dr. Jeff Lehman (Computer Sciences). This AX Forum was part of a national Alpha Chi emphasis.
2007 Scholarship Competitions
The Indiana Beta Chapter nominated Ms. Christianne Gates and Ms. Kristi Thompson for the national AX scholarships.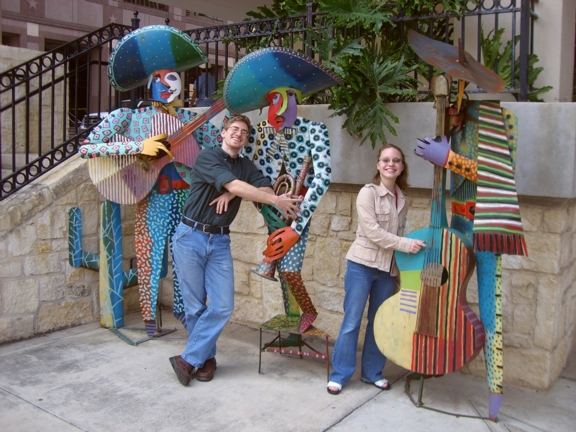 2007 Alpha Chi National Convention, San Antonio TX, March 15-17, 2007
We sent a delegation to San Antonio, composed of Christianne Gates, Aaron Eberly, and Dr. Paul Michelson, sponsor. The official convention website is located here. Ms. Gates gave her scholarship paper on the Armenian Genocide, which was runnerup in the Region V scholarship competition. The chapter also presented at the AX Mercado on Academic Integrity Programming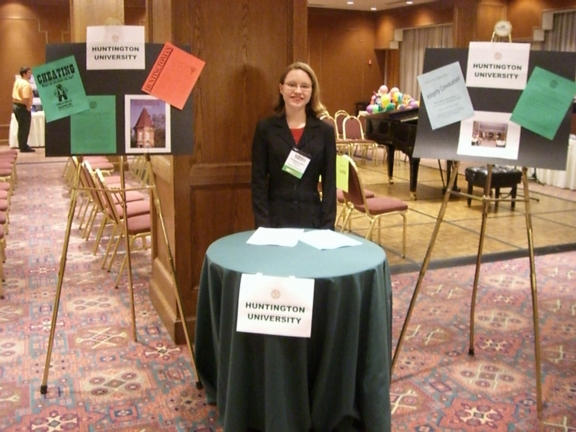 Nate Wood Appears in Recorder
Last year's national AX Benedict Fellowship winner Nate Wood had his paper, "'But I Say Unto You': The Sermon on the Mount and the Problem of Cyclical Violence," published in the AX Recorder, Vol. 50, Nr. 1, Spring 2007. He also appeared in the Fall 2006 AX Newsletter's presentation of 2006 Fellowship winners. Nate is now a graduate student at Emory University.
Alpha Chi Film Forum, March 29, 2007
The 2007 AX Film Forum featured "The Big Kahuna", followed by a discussion of ethics, business, and "selling." Professors Jim O'Donnell, Paul Worfel, and Paul Michelson led the discussion.
President's Reception, April 29, 2007
The Indiana Beta Chapter was again hosted by President and Mrs. Dowden of Huntington University for the Annual President's Reception at which graduating seniors were recognized (so that's who that is!) as well as presenting the Sophomore Honor Awards to five second year students: Leah Cressman, Lauren Davenport, Elizabeth Holtrop, Katie Hursey, and Cassie Rudy. A jolly time was had by all.
Forester Night, May 8, 2007
Many, many AX members were recognized by their departments for departmental honor awards at Forester Night 2007. What did we expect? Mr. Drew Clay was selected by the members of AX for the Outstanding Scholar of the Year Award. (Nice hat, too.) Congratulations!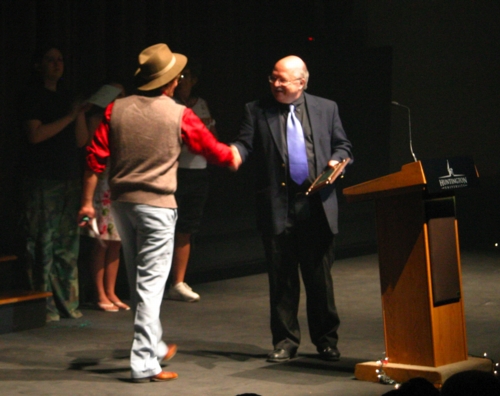 ©2007 by The Indiana Beta Chapter of Alpha Ch