2007-2008 Indiana Beta Chapter of Alpha Chi
2007-2008 Indiana Beta Chapter Officers

President
Ms. Naomi Woods
Vice-President (Fall)
Mr. Joel Wentz
Vice-President (Spring)
Ms. Christianne Gates
Secretary
Ms. Anna Grace Jeter
Treasurer
Mr. Aaron Eberly

Sponsors
Dr. Paul E. Michelson, Department of History
Dr. Ann McPherren, Department of Business and Economics
Dr. Jeff Lehman, Department of Computer Science
Mrs. Jean T. Michelson, RichLyn Library
2007-2008 Active Members
Ms. Whitney Abbott
Ms. Claire Bates
Ms. Katrina D. Bonahoom
Mr. Will Braun
Ms. Leah Cressman
Ms. Lauren Davenport
Mr. Aaron Eberly
Mrs. Sarah Fairchild
Ms. Antoinette Feldpausch
Ms. Christianne Gates
Ms. Kim Hart
Mr. Andrew Hetrick
Mr. Chris Hoffman
Ms. Emily Horne
Ms. Anna Grace Jeter
Ms. Hannah Kaufman
Mr. Kevin Keller
Ms. Sarah Keyse
Ms. Sarah Lang
Mr. Trent Lloyd
Ms. Rebekah Posegate
Ms. Cassie Rudy
Mr. Travis Schamber
Ms. Stephanie Stearns
Ms. Toni Thomas
Ms. Kristi D. Thompson
Mrs. Katie Wagner
Ms. Trista Watson
Mr. Joel Wentz
Ms. Abbey Whiteman
Ms. Naomi Woods
Ms. Erin Yost

The Indiana Beta Chapter of Alpha Chi was founded in 1967. It has been one of the most active chapters in the Mid-West Region V of Alpha Chi and in the national organization.

Among the activities, contributions, and accomplishments of the Indiana Beta Chapter are the following:

In 1996, 1997, 1998, 1999, 2000, 2001, 2002, 2003, 2004, 2005, 2006, and 2007 our chapter was recognized as a "Star Chapter" of Alpha Chi. Our chapter is one of only five chapters to receive the award all twelve years since it began.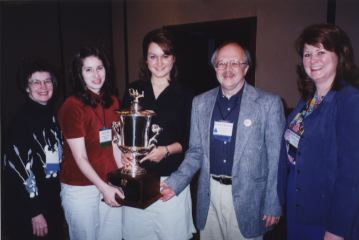 At the 2001 Alpha Chi National Convention in Savannah, the Indiana Beta Chapter was named the winner of the 2001 Alpha Chi President's Cup as the Outstanding Chapter nationally of Alpha Chi's some 300+ chapters. Though we had to turn over the travelling version of President's Cup to the 2003 winner, John Brown University, the permanent cup is on display at the RichLyn Library.

Huntington University has been the host chapter for Alpha Chi Region V Conventions in 1978, 1980, 1988 and 2000.

Eight of our students have won National Alpha Chi Scholarship awards: Mr. Jeff Wood (Benedict Graduate Fellowship, 1987), Ms. Christina K. Smith (Benedict Graduate Fellowship, 1989), Mr. Nate Bordeaux (Nolle Scholarship, 1997), Ms. Maria Kurtz (Benedict Graduate Fellowship, 1999), Ms. Kriss Hultman (Nolle Scholarship, 1999), Ms. Rachel Tinon (Nolle Scholarship, 2004), Ms. Beka Nimtz (Nolle Scholarship, 2005), and Mr. Nate Wood (Benedict Scholarship 2006).

Numerous members of the Indiana Beta chapter have won Region V scholarships. The most recent were Ms. Jen Herring in 2002 and Ms Rachel Tinon in 2004.

Mr. Phil Burkett (1978-1980) was the first student elected by Region V to represent it on the National Council of Alpha Chi, and Dr. Paul E. Michelson (1986-1998) served on the National Council as Secretary-Treasurer of Region V for three terms. In 2001, Dr. Michelson, along with 17 other Alpha Chi sponsors, was awarded the first national Alpha Chi Distinguished Service Award. Recently, Ms Lori Merkle served as an elected student representative to National Council by Region V for 2004-2006.

2007-2008 Indiana Beta Chapter Activities
Final Update=7 v 2008

2007 AX Induction Convocation, 11:00 am, October 5, 2007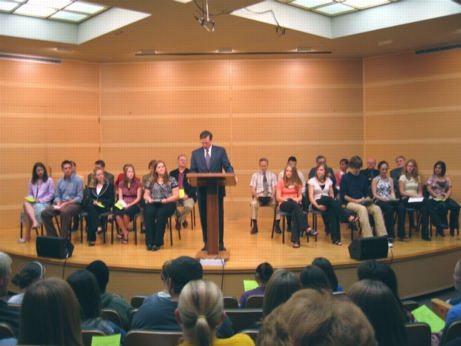 The induction of 10 new members into Alpha Chi was held on October 5, 2007. The induction Convocation was followed by a luncheon for AX members and parents of the the new inductees hosted by the Alumni Office. Check out the HU News release here.
Alpha Chi and the Huntingtonian
Alpha Chi members again agreed to contribute a regular column to the Huntingtonian. Under the leadership of Sarah Lang, chapter members will contribute a column to every issue of the Huntingtonian this year. Check it out at the Huntingtonian site here.
Christ@Center Events
Alpha Chi participated in the University's Christ@Center program this year by leading discussions each week following the Friday Convocations and a February AX Forum with faculty on how this relates to politics.
2008 Scholarship Competitions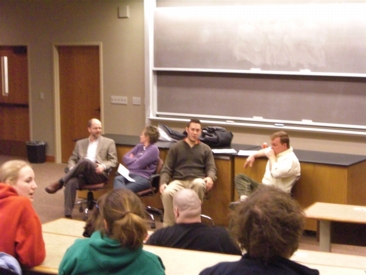 The Indiana Beta Chapter members competed the 2008 Regional and National scholarship competitions. For the National scholarships, Ms. Gates and Ms. Rudy were our nominees. At the Regional competitions, we were represented by Mr. Braun and Ms. Gates. Ms. Gates was runner for the Region V graduate fellowship.
Alpha Chi Forum on "Faith and Politics"
An Alpha Chi Forum was held on February 19 dealing with the topic "Faith and Politics." It featured a panel discussion led by HU faculty members, Dr. Ann McPherren, Dr. Mike Rowley, Dr. Mathew Ruiz, and Dr. Jeff Webb. No fireworks, but a stimulating discussion!
2008 Alpha Chi Regional Convention
Anderson University, Anderson IN, March 28-29, 2008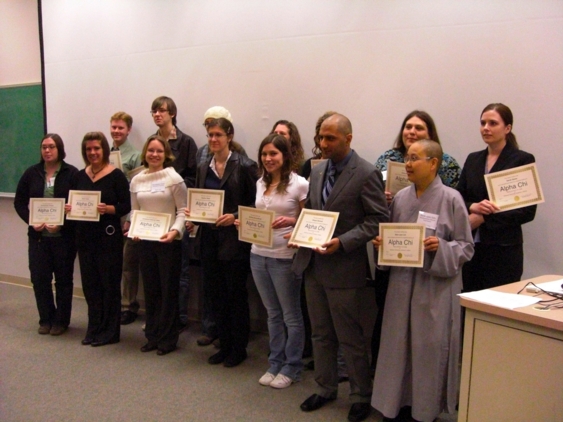 The Indiana Beta Chapter participated in the Region V Convention at Anderson University, with Mr. Will Braun and Ms. Christianne Gates as student delegates and Dr. and Mrs. Michelson as sponsors. Mr. Braun presented a paper on George Eliot's Middlemarch entitled "Wash Your Mouth Out: 'Unhistoric' Immorality," and Ms. Gates gave a paper on "Jews under Christian and Muslem rulers in the Iberian peninsula during the Middle Ages." Ms. Gates was runnerup in the Region V Graduate Fellowship competition. Dr. Michelson was elected Vice-President of Region V for 2008-2010. (Pictured above: student presenters at the Regional Convention. Pictured below: Ms. Gates and Mr. Braun make new friends at the Armored Vehicle Museum in Anderson.)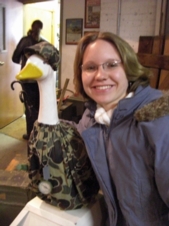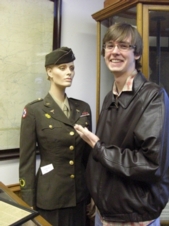 President's Reception, May 4, 2008
President and Mrs. Dowden hosted a reception for Alpha Chi on Sunday, May 4, 3:00 pm. The feature of the event was recognition of graduating seniors and presentation of the Sophomore Honor Awards. For the HU press release on the Sophomore Honor Awards, check here.
HU Forester Night, May 6, 2008
Graduating senior members of Alpha Chi were recognized and presented their certificates and medallions. The Outstanding Scholar Award was presented to Christianne Gates. AX members won a boatload of other awards, including numerous Who's Who nods , departmental awards, etc., etc., etc. Congratulations to all.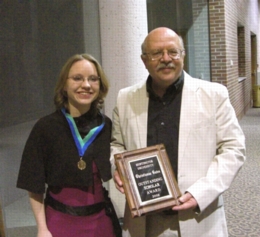 ©2007-2008 by The Indiana Beta Chapter of Alpha Chi