2008-2009 Indiana Beta Chapter of Alpha Chi
2008-2009 Indiana Beta Chapter Officers

President (first semester)
Ms. Claire Bates
President (second semester)
Ms. Whitney Abbott
Vice-President
Mrs. Stephanie Hollister
Secretary
Mrs. Cassie Miller
Treasurer
Ms. Hannah Morris

Sponsors
Dr. Paul E. Michelson, Department of History
Dr. Ann McPherren, Department of Business and Economics
Dr. Ruth Nalliah, Department of Chemistry
Mrs. Jean T. Michelson, RichLyn Library
2008-2009 Active Members
Ms. Whitney Abbott
Ms. Claire Bates
Ms. Alicia Bonham
Mr. Ryan Bonner
Mr. Will Braun
Ms. Kiersie Burkhart
Ms. Brittany Christian
Ms. Jennifer Coplen
Ms. Leah Cressman
Mr. Scott Cressman
Ms. Lauren Davenport
Ms. Karisa Donaldson
Mr. Jason Eberly
Ms. Valorie Freeland
Ms. Megan Fulton
Mr. Kim Geiger
Ms. Laura Groth
Mr. Jarod Hammel
Ms. Kim Hart
Ms. Stephanie Hollister
Ms. Elizabeth Holtrop
Mr. David Lash
Mr. Trent Lloyd
Ms. Caitlynn Lowe
Mr. Jordan McClain
Mr. Brett McQueen
Mrs. Cassie Miller
Ms. Hannah Morris
Mr. Jesse Nelson
Mr. Cole Phillips
Ms. Rebekah Posegate
Ms. Deanna Repic
Mr. Samuel Schoutko
Ms. Susanne Shepherdson
Mr. Brendan Shick
Mr. Christopher Sutton
Ms. Krista Warner
Ms. Leah Winger
Ms. Naomi Woods

The Indiana Beta Chapter of Alpha Chi was founded in 1967. It has been one of the most active chapters in the Mid-West Region V of Alpha Chi and in the national organization.

Among the activities, contributions, and accomplishments of the Indiana Beta Chapter are the following: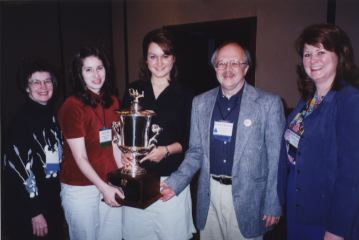 Our chapter has been recognized as a "Star Chapter" of Alpha Chi every year since 1996, when the award was initiated. This makes us one of only four chapters to do so.

At the 2001 Alpha Chi National Convention in Savannah, the Indiana Beta Chapter was named the winner of the 2001 Alpha Chi President's Cup as the Outstanding Chapter nationally of Alpha Chi's some 300+ chapters.

Huntington University has been the host chapter for Alpha Chi Region V Conventions in 1978, 1980, 1988 and 2000.

Nine of our students have won National Alpha Chi Scholarship awards: Mr. Jeff Wood (Benedict Graduate Fellowship, 1987), Ms. Christina K. Smith (Benedict Graduate Fellowship, 1989), Mr. Nate Bordeaux (Nolle Scholarship, 1997), Ms. Maria Kurtz (Benedict Graduate Fellowship, 1999), Ms. Kriss Hultman (Nolle Scholarship, 1999), Ms. Rachel Tinon (Nolle Scholarship, 2004), Ms. Beka Nimtz (Nolle Scholarship, 2005), Mr. Nate Wood (Benedict Graduate Fellowship, 2006), and Mr. Will Braun (Benedict Graduate Fellowship, 2009).

Numerous members of the Indiana Beta chapter have won Region V scholarships. The most recent were Ms. Christianne Gates (2008), Ms. Caitlynn Lowe (2009), and Mr. Chris Sutton (2009).

Mr. Phil Burkett (1978-1980) was the first student elected by Region V to represent it on the National Council of Alpha Chi, and Dr. Paul E. Michelson (1986-1998) served on the National Council as Secretary-Treasurer of Region V for three terms. In 2001, Dr. Michelson, along with 17 other Alpha Chi sponsors, was awarded the first national Alpha Chi Distinguished Service Award. Recently, Ms Lori Merkle served as an elected student representative to National Council by Region V for 2004-2006. For 2008-2010, Dr. Michelson was elected Vice-President of Region V.
2008-2009 Indiana Beta Chapter Activities
Final Update=2 vi 2009
2008 AX Induction Convocation, 11:00 am, October 3, 2008
The induction of 29 new members into Alpha Chi was held on October 3, 2008. The induction Convocation was followed by a luncheon for AX members and parents of the the new inductees hosted by the Alumni Office.
Alpha Chi and The Huntingtonian
Alpha Chi members again agreed to contribute a regular column to the Huntingtonian. The focus this year was the Alpha Chi national emphasis on literacy.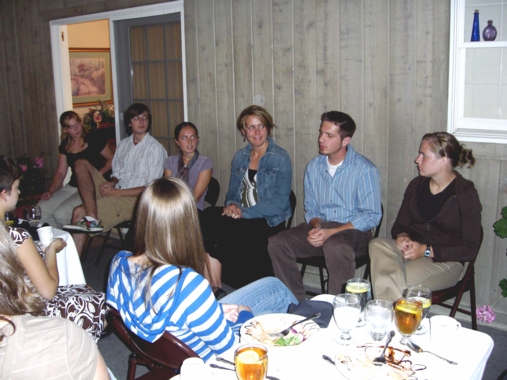 Alpha Chi/President's Colloquium, September 24, 2008
Several returning Alpha Chi members met for dinner and a panel discussion at President and Mrs. Dowden's home with members of the President's Colloquium. The panel discussed academics, Alpha Chi, and contributing to the intellectual climate of the institution. The panel was composed of Ms. Whitney Abbott, Mr. Will Braun, Ms. Clair Bates (chair), Ms. Beka Posegate, Mr. Trent Lloyd, and Ms. Leah Cressman. A jolly time was had by all.
2009 Scholarship Competitions
The Indiana Beta Chapter members were nominated for both National and Regional scholarships. We nominated Mr. Will Braun and Mr. Chris Sutton for the Benedict and Ms. Caitlynn Lowe and Mr. Sutton for the Regional awards. Mr. Braun was awarded the Benedict Graduate Fellowship for 2009; Ms. Lowe and Mr. Sutton won the Region V Undergraduate and Graduate awards. Congratulations!
Alpha Chi Forum: "Freedom Writers"
On October 29, 2008, we presented an Alpha Chi Forum on the film "Freedom Writers," which was followed by a group discussion. There was a great turnout.
Alpha Chi Forum: "Akeelah and the Bee"
On March 24, 2009, Alpha Chi hosted another literacy awareness Forum, showing the movie "Akeelah and the Bee," followed by a discussion.
2009 Riley Book Drive
The Indiana Beta Chapter participated in the national Alpha Chi book drive for Riley Children's Hospital in Indianapolis by placing donation boxes around campus. We collected over 200 books for the project, led by Ms. Brittany Christian.



2009 Alpha Chi National Convention
April 2-4, 2009, Indianapolis IN
The Alpha Chi National Convention was at the Hyatt Regency. The theme of the convention is "Literacy 500," which connected us to our host city's famous annual auto race and to the national theme for 2008-2009: the promotion of literacy. The Indiana Beta chapter was asked to help with convention registration, the featured author book table, and AV setup. Attending the convention were Ms. Whitney Abbott, Mr. Will Braun, Ms. Caitlynn Lowe, Mr. Chris Sutton, along with chapter sponsors, Dr. and Mrs. Michelson.
Ms. Lowe and Mr. Sutton presented papers on "Love is Hell: The Legen of Dido," and "'Rather Thin': The Complicated and Telling Decolonization of Cyprus, 1929-1960," respectively. They both won Region V scholarships for their work. Mr. Braun was announced as a winner of a National Benedict Fellowship. Not bad. Mrs. Michelson chaired a panel as did Dr. Michelson, who also served on the national presentation award committee.
The Indiana Beta Chapter also presented at the chapter workshop poster session on Saturday, with information about local programming. At the Region V business meeting, the chapter was presented its 14th consecutive Star Chapter Award, one of four in the nation to accomplish this.

Human Scrabble, April 17, 2009
Alpha Chi partnered with SAB to present Human Scrabble during Sibs Weekend: talk about promoting literacy! Oh yeah!
President's Reception, April 26, 2009
Interim President (and Chapter Associate Sponsor!), Dr. Ann McPherren hosted a reception for Alpha Chi on April 26, 2009, at the DC, featuring recognition of graduating seniors and the presentation of the Alpha Chi Honor Awards. The Awards recognize the academic achievement of students who began their studies at HU in the fall of 2007 and are now in their second year at the institution. Winners were Mr. Andrew Martin, Mr. Pete Molinero, Mr. Jared Grandlienard, Mr. Phil Black, Mr. Ross Kilgore (back row), Ms. Amanda Kent and Ms. Cassie Screeton (front row with Dr. M).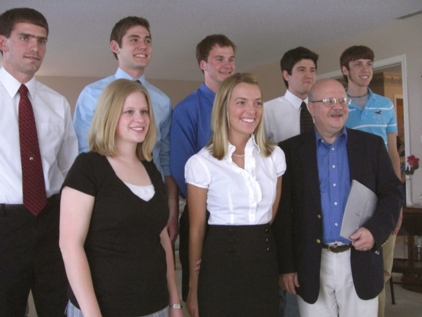 Forester Night, May 5, 2009
On 2009 Forester Night, the Outstanding Scholar Award was presented to Ms. Naomi Woods and graduating AX seniors received their graduation medallions and certificates. As usual, AX members went away with a boat load of departmental and other awards. Well done!


©2008-2009 by The Indiana Beta Chapter of Alpha Chi