2009-2010 Indiana Beta Chapter of Alpha Chi
2009-2010 Indiana Beta Chapter Officers

President
Mr. Jared Grandlienard
Vice-President
Ms. Cassie Screeton
Secretary
Ms. Julie McCoy
Treasurer
Mr. Rob Hahn

Sponsors
Dr. Paul E. Michelson, Department of History
Dr. Ann McPherren, Department of Business and Economics
Dr. Ruth Nalliah, Department of Chemistry
Mrs. Jean T. Michelson, RichLyn Library
2009-2010 Active Members
Ms. Claire Bates
Mr. Jordan Binkerd
Mr. Phil Black
Ms. Alicia Bonham
Ms. Jimi Bonogofsky
Ms. Kiersie Burkhart
Ms. Jennifer Coplen
Mr. Scott Cressman
Mr. Jason Eberly
Mr. Travis Frantz
Ms. Valorie Freeland
Mrs. Megan Tan
Mr. Jared Grandlienard
Ms. Laura Groth
Mr. Rob Hahn
Mr. Jarod Hammel
Ms. Katrina Helmer
Ms. Melissa Hicks
Ms. Elizabeth Holtrop
Ms. Amanda Kent
Mr. Ross Kilgore
Ms. Emily Knapp
Ms. Caitlynn Lowe
Mr. Andrew Martin
Ms. Julie McCoy
Mr. Brett McQueen
Mr. Peter Molinero
Mr. Vince Moore
Mr. Jesse Nelson
Mr. Heath Pearson
Mr. Cole Phillips
Mrs. Nicolle Reid
Mr. Samuel Schoutko
Ms. Cassie Screeton
Ms. Susanne Shepherdson
Mr. Brendan Shick
Ms. Ashley Upchurch
Ms. Kelci VanDam
Dr. G. Blair Dowden

2009-2010 Indiana Beta Chapter Activities
Updated=31 v 2010

2009 AX Induction Convocation, 11:00 am, October 2, 2009
The induction of 20 new members into Alpha Chi was held on October 2, 2009. The induction Convocation was followed by a luncheon for AX members and parents of the the new inductees hosted by the Alumni Office.



A special feature of the induction was the naming of President G. Blair Dowden as an honorary member of Alpha Chi in recognition of his contributions to and support for the Indiana Beta Chapter (upon recommendation of the local chapter and approval by the National Council of Alpha Chi).
Alpha Chi and The Huntingtonian
Alpha Chi members again agreed to contribute regularly to the Huntingtonian. The focus this year was the Alpha Chi national emphases on literacy and on poverty and hunger. Ms. Lowe coordinated and contributed the majority of pieces.
Alpha Chi Service Projects
The national AX service project focussed on was "Literacy: Reading is Fundamental." We raised funds through collecting used books and selling them. This allowed us to donate 101 books to the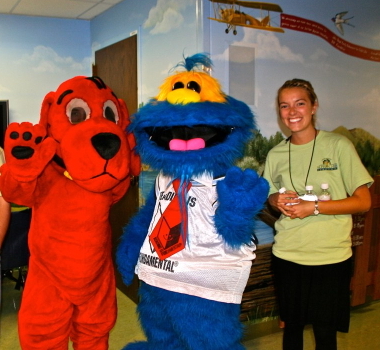 project at the Little Rock Super-Regional Convention. Ms. Bonham and Ms. Bates chaired the Service Project committee, assisted by Mr. Martin, Mr. Black, and Ms. Helmer. Ms. Screeton was part of a group that helped distribute these books at the Arkansas Children's Hospital. We were also recognized for being one of the top ten contributors to this project.
Alpha Chi/President's Colloquium, September 23, 2009
Several returning Alpha Chi members met for dinner and a panel discussion at President and Mrs. Dowden's home with members of the President's Colloquium. The panel discussed academics, Alpha Chi, and contributing to the intellectual climate of Huntington University. The panel was composed of Ms. Claire Bates, Mr. Scott Cressman, Ms. Caitlynn Lowe, and Mr. Sam Schoutko. Dr. Michelson chaired the panel and grilled them mercilessly.
2010 Scholarship Competitions
The Indiana Beta Chapter nominated Mr. Cressman and Mr. Pearson for the two national awards and Ms. Christianne Gates, a 2008 graduate, for the Pryor Doctoral Fellowship. It was announced at the Little Rock Convention that Ms. Gates had been selected for Alpha Chi's largest award. Mr. Pearson and Ms. Bates made presentations at the national meeting and were our nominees for Region V scholarships.
Alpha Chi Graduate Forum: So you Want to go to Graduate School
On October 27, 2009, we will present an Alpha Chi Forum dealing with the do's and don'ts of getting into graduate school. Ms. Martha Smith will talk about the GRE, timetables, and other goodies. There will also be a panel discussion with recent survivors of graduate school: Dr. David Alexander (Philosophy), Dr. Jonathan Bratt (Physics), and Dr. Yu Yan (Mathematics). This was the first of a number of activities organized by the Program Committee, headed by Ms. Screeton, assisted by Ms. Bates, Ms. Kent, Ms. McCoy, and Ms. Upchurch.
Alpha Chi Graduate Forum: Dead Poets Society
On March 2, 2010, we showed the movie "The Dead Poets Society" followed by a panel discussion led by Dr. David Alexander (Philosophy) and Dr. Michelson (History). Lotsa laughs had by all.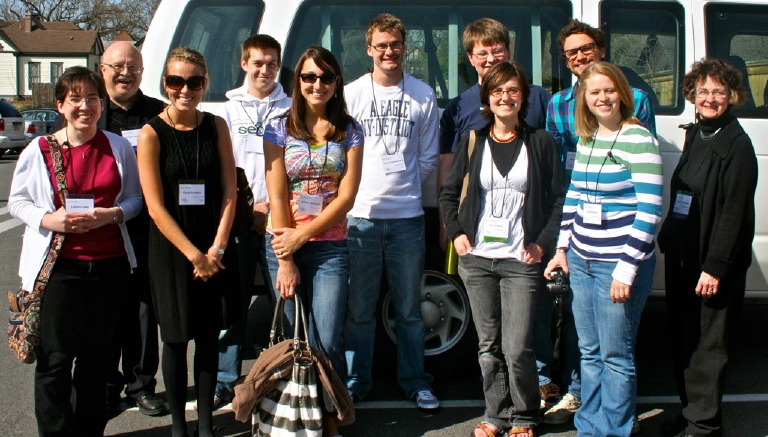 2010 Alpha Chi Super-Regional Convention
March 25-27, 2010, Little Rock AR
The first ever Alpha Chi Super-Regional Convention was held at the Peabody Hotel in Little Rock AR. The theme of the convention was "Multiple Talents, Multiple Opportunities," and included visits to Little Rock Central High School and historical site and the Clinton Presidential Museum. Nine students attended the convention, accompanied by Dr and Mrs M: Ms. Bates, Mr. Binkerd, Mr. Grandlienard, Mr. Hahn, Ms. Kent, Ms. Lowe, Mr. Pearson, Ms. Screeton, and Ms. Upchurch. Our chapter had the third largest delegation at the convention. Ms. Bates presented a paper on "Many Religions, One Ultimate Real? Evaluating Hicks Explanation of Religious Similarities and Differences," Mr. Binkerd spoke on "Justice Taney and the Fate of the Nation: The Supreme Court and the Civil War," Ms. Lowe read an original work, "Blind Man's Eye," and Mr. Pearson gave a paper on "White Privilege: A History of Whiteness and the Current Black Experience in a Post-Jim Crow America." Ms. Bates was named the winner of a presentation prize for the quality of her presentation. Dr and Mrs. Michelson served as panel judges for disciplinary awards at the convention.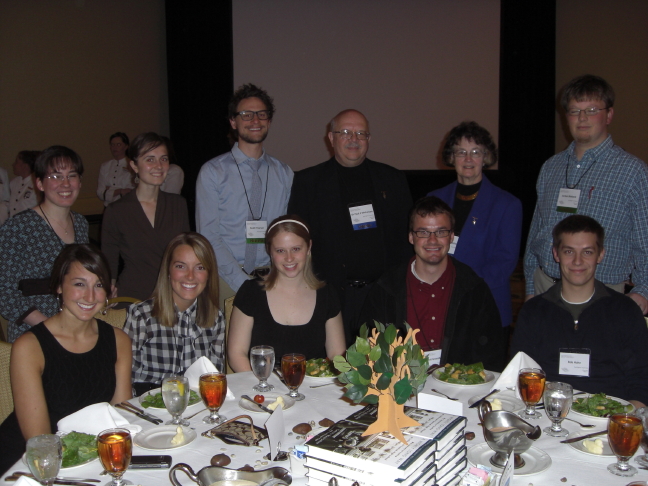 Dr. Michelson was elected Secretary-Treasurer of Region V for 2010-2014 and a member of the National Council of Alpha Chi. It was announced that our chapter had been named a Star Chapter for the 15th consecutive year, a feat matched by only three other chapters. A picture of our delegation at Little Rock Central High School was later published on the front page of the Summer 2010 Alpha Chi Newsletter, a newsletter that mentioned our chapter elsewhere five times. (For a copy of this newsletter, click here.)
First Student Research Forum, April 28, 2010
On April, 2010, the First HU Student Research Forum was held. Among the presenters: Ms. Lowe, Ms. Bonham, Mr. Cressman. Good work, as usual.
President's Reception, Sunday, May 2, 2010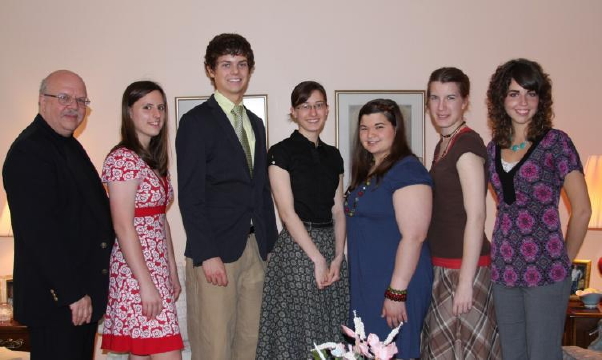 Our annual shindig at the President's house, hosted by President and Mrs. Dowden, was enjoyed by all. We recognized graduating seniors and also presented the Alpha Chi Honor Awards to: Shelly Bradbury, Luke Brenneman, Katie Eder, Brittany Sommers, Megan Verhasselt, and Ellen Wolf. The awards recognize the academic achievement of students who began their studies at HU in the fall of 2008 and are now in their second year at the institution.
Forester Night, May 4, 2010
At the 2010 Forester Night, the Outstanding Scholar Award was presented to Ms. Bates, and graduating AX seniors received their graduation medallions and certificates. Naturally, AX members mostly swept departmental honors awards, etc. etc. etc. Congratulations.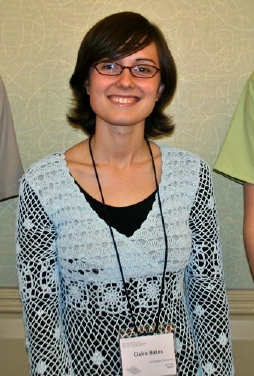 Claire Bates: Outstanding Scholar 2010: Kudos!