HU Alpha Chi Brings Home Award Winners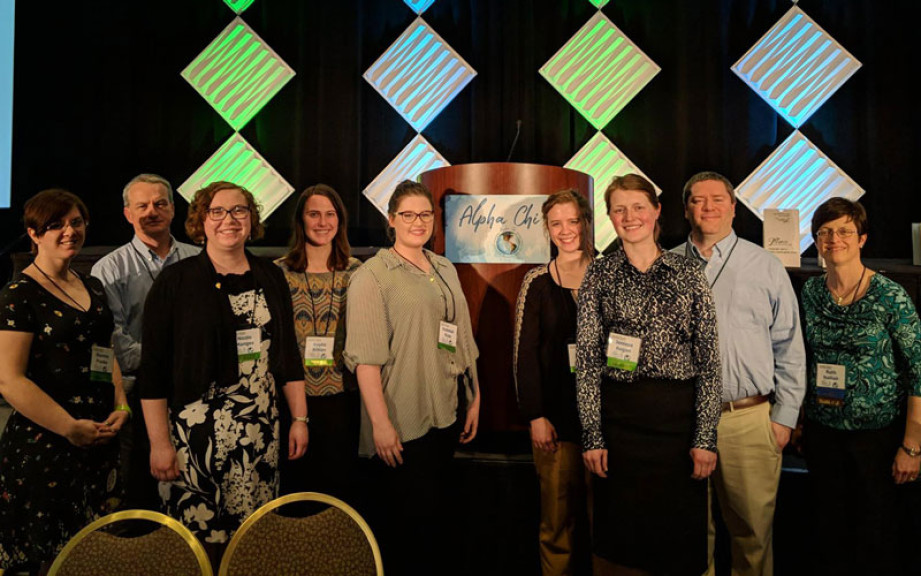 FOR RELEASE: Monday, June 11, 2018
Huntington University's Indiana Beta Chapter of the Alpha Chi National College Honor Society garnered awards for student scholarship at the Alpha Chi National Convention held in Portland, Oregon, in April. The chapter received recognition at the convention as a Star Chapter of Alpha Chi for 2016-2017, being one of only four out of the more than 300 Alpha Chi chapters to have received this award every year since the honor was launched in 1996.
Six student members of the Huntington University chapter attended the convention, and each presented their work:
Stormie Thorn Franks, a bible/religion and biblical studies major: "Johnson's Island: Northern War Aims and Southern Ideology in Prison"
Kaylie Killian, a biology pre-med major: "CRISPR Cas9: Tailoring Your Genes"
Nicole Manges, an English literature and writing major: "Beauty is in the Word Choice of the Writer: Latent Objective Aesthetics in Prose Fiction"
Jeniece Regan, a biology pre-med major: "Science and Miracles: The Wedding at Cana"
Rebekah Rose, a social work major and Kristin Sutter, a social work major: "Preparation Time and Communication Apprehension"
In addition, Emily VanderBent, a history major, won an Alpha Chi national scholarship for her paper "The Evolving Role of Women in Espionage During the Civil War." Stormie Thorn Franks won an Alpha Chi regional fellowship for her paper "Decolonization, Informal Empire, and the Central African Federation."
"The Alpha Chi National Convention in Portland was a wonderful mix of academic and cultural adventure," said Manges. "Alpha Chi has given me the opportunity to travel to parts of the country I have never seen before and participate in an academic environment beyond Huntington University, and I greatly appreciate the meaningful experiences this honor society continues to provide for its members."
The group was accompanied at the convention by faculty sponsors Dr. Tanner Babb, associate professor of psychology and associate academic dean; Dr. Todd Martin, professor of English; and Dr. Ruth Nalliah, professor of chemistry. Dr. Ruth Nalliah was elected President of Region V.
"Our students find it rewarding to attend a convention and present their work in a major city along with the top ten percent of students from around the nation," said Dr. Ruth Nalliah, faculty sponsor. "Huntington University students do very well in garnering both regional and national awards for their academic work."
Election to Alpha Chi is the highest academic honor at Huntington University. The Huntington University Alpha Chi chapter was founded in 1967. Students who are members of Alpha Chi are encouraged to be leaders within their field of study. This organization pushes students to excel.