Pursuing Business Excellence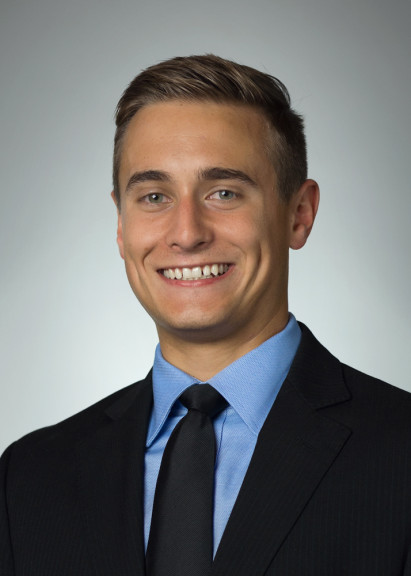 FOR RELEASE: Friday, July 20, 2018
With a triple major in accounting, business management, and economics and finance, international student Tyson Kalischuk (2016) knew he had his work cut out for him when he decided to attend Huntington University. Yet during his years at HU, he also found time to launch a student-led business venture—Clear Insights—play varsity soccer, and meet his future wife, Ciara (Smith) Kalischuk (2014)!
"Huntington is a wonderful place to be," says Canadian-born Tyson. "It's a God-centered place that is truly very professional in academics. They have high standards, but the students and faculty are very accepting. In a heartbeat, I would make the same decision."
A Clear Business Path
During Tyson's junior year, he and some fellow students started a business called Clear Insights.
"We marketed our skills to area businesses," he says, "offering everything from website development and social media marketing to accounting services. It's still running now," says Tyson. "Clear Insights is a great way to make professional services available to clients while giving students real-life experience in the business world. Plus, the students get paid."
Through his relationships with Huntington University faculty, Tyson gained the skills and confidence he needed to launch such a venture. "All my professors were amazing," he says. "They were very personable and gave us a lot of hands-on experience. Many of them were mentors to me and acted like my own personal coaches."
Those experiences prepared him well for his three internships—one that led to his current position as an audit associate at BKD, one of the largest public accounting and advisory firms in the United States. In addition, his coursework prepared him for the CPA exam, which he recently passed. "Across the nation," says Tyson, "the passing rate for the CPA exam is about 45 percent. Of the people in my class who have taken the exam to date, Huntington has a passing rate of 100 percent."
Perhaps the biggest change Tyson experienced at Huntington University was in his spiritual life.
"I didn't grow up in a faith-based family," he says. "I was always focused on soccer and athletics. I didn't attend church or know much about God." He admits that going to Huntington was definitely a struggle his freshman year, but a year and a half later, he committed his life to Christ. "None of this would have been possible without Huntington University."