English
Versatility.
A Bachelor of Arts degree in English is an excellent foundational degree. Our majors go on to do pretty much anything you can imagine in a wide variety of industries, serving as vice presidents at banks, lawyers, social workers, and more. They also become published authors, write and edit in the business world, and teach students from Fort Wayne to China. English majors have the communication and critical thinking skills necessary to be influential no matter where they work.
Compassion.
English majors graduate with more than just a knowledge of great works of literature or how to craft a finely-tuned sentence. They have also developed critical thinking, analytic, and interpretative skills and read about cultures around the world. As a result, they have the tools necessary to empathize with and understand others.
Why choose to study at Huntington University?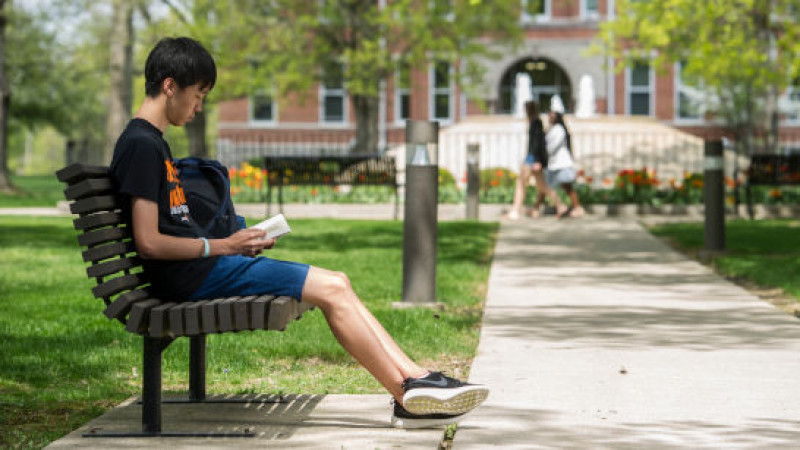 A Christ-centered foundation.
Like Huntington University, the English department is committed to keeping Christ at the center of our mission. This means we view literature through the lens of the redemptive Gospel. With God's truth in mind, we study how authors express the human condition.
We also recognize the importance of sharing the Gospel through our individual testimony in written and spoken word. Our courses prepare students to enter the faith conversation in ways that are creative, articulate, and well-supported.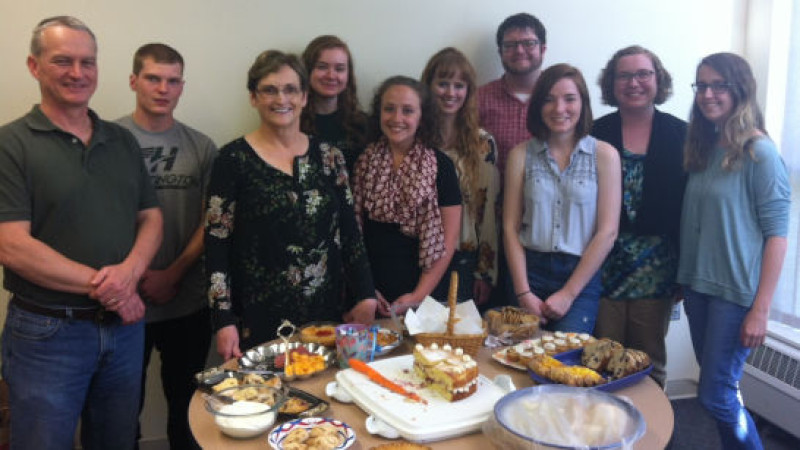 Opportunities for collaboration.
Your professors will get to know you by the time you receive your diploma. English students and faculty members meet every Friday for lunch and schedule outings together such as biannual trips to Hyde Bros. Book Store.
We collaborate with other departments so you can take newswriting and screenwriting. As a result, you can emerge from our writing program with an array of adaptable writing skills.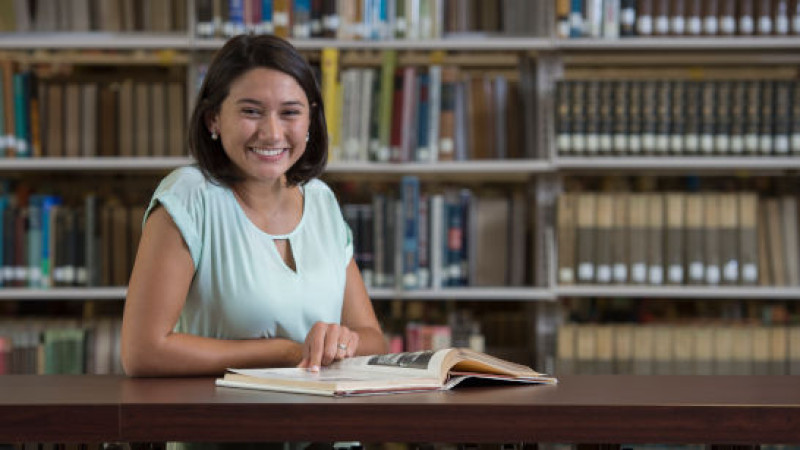 Amazing resources.
All of these resources make our majors even more employable:
RichLyn Library has a wide-ranging collection of titles and online databases, including the MLA International Bibliography and JSTOR.
Students write for, edit, and produce Ictus, Huntington University's annual literary magazine.
Faculty and staff work closely with students to craft internships in Huntington, Fort Wayne, and beyond.
Master the art of language.
Our programs in literature, writing, and English education prepare students not just for specific careers but for all of life by listening to, learning from, and sometimes arguing with the thinkers and writers who continue to shape our world.
Apply today!
Gain professional experience outside the classroom.
Ictus
Students produce Huntington University's literary magazine, Ictus, every spring. An editor-in-chief and team of readers and editors sort through content and put together a booklet of poetry, short stories, and original artwork. Students, faculty, and staff of all disciplines are welcome to submit content, but the Ictus staff readers and editors are all members of Sigma Tau Delta, the English honor society.
Sigma Tau Delta
Membership to the Sigma Tau Delta International English Honor Society is available to English majors with a B or above after at least two semesters of upper-level English coursework. Alpha Beta Sigma, Huntington University's chapter of Sigma Tau Delta, is responsible for assisting the faculty with English department social events and producing Ictus.
Professional Conferences
Our majors have traveled far and wide to present their academic work, and our professors have traveled even farther. Sigma Tau Delta members have attended the International English Convention that takes place every spring in cities across the nation. Students have also presented at area universities' conferences and the Academic Research Forum at Huntington University.
Take advantage of cultural experiences.
In 2013, Dr. Jack Heller, Associate Professor of English, began Shakespeare at Pendleton, a program for inmates at Indiana's Pendleton Correctional Facility. Inmates study and perform selections of Shakespeare's works, discussing along the way themes of love, hatred, revenge, and redemption. The program in Pendleton takes inspiration from Shakespeare Behind Bars, a pioneering arts organization that guides prison inmates through the study, rehearsal, and performance of Shakespeare's plays.
Dr. Heller has been a regular academic consultant for Shakespeare Behind Bars. He regularly invites English and social work students to attend performances at Pendleton and a prison in Kentucky that hosts the Shakespeare Behind Bars program.